Welcome to the world of Microsoft Dynamics 365 Copilot, the first customer relationship management (CRM) and enterprise resource planning (ERP) Copilot that uses cutting-edge artificial intelligence (AI) to empower every line of business. By leveraging Microsoft Dynamics 365 Copilot, companies can streamline processes for optimal efficiency.
ProServeIT is proud to share our expertise as a trusted Microsoft Business Applications Solution partner with our customers. With real-time insights and intelligent guidance from Dynamics 365 Copilot, navigating the dynamic business landscape becomes seamless, enhancing precision, efficiency, and style. This transformative tool elevates operations to unprecedented heights, offering users a copilot-like experience.
In this blog, you will find:
👁️ A Quick Overview of Microsoft Dynamics 365 and Microsoft 365 Copilot
🤔 What is Microsoft Dynamics 365 Copilot?
💪How Does Copilot Enhance Various Departments in the Dynamics 365 Ecosystem?
🚀 Implement Microsoft Dynamics 365 Copilot with ProServeIT


A Quick Overview of Microsoft Dynamics 365 and Microsoft 365 Copilot
Think of Microsoft Dynamics 365 as your trusty sidekick in business operations. It's not just a tool; it's your trail-blazing partner in crime, handling CRM and ERP with unparalleled finesse. Now, let's add a sprinkle of AI brilliance, and you get Microsoft 365 Copilot. This smart sidekick tucks a layer of intelligence into the mix, optimizing processes with real-time insights and guidance. It's your suave navigator easing you through the ebb and flow of your business terrain. Let's explore these groundbreaking technologies and their potential to enhance your business!
What is Microsoft Dynamics 365?
At its core, Dynamics 365 is an integrated collection of business applications combining customer relationship management (CRM) and enterprise resource planning (ERP) functionalities. It is widely used and respected and has earned the title of leader in CRM suites and enterprise ERP technology. The suite seamlessly integrates with other Microsoft products, such as Microsoft 365 and Power Platform, creating a unified ecosystem that fuels collaboration, data-driven decision-making, and accelerated digital transformation.
Beyond its core functionalities, Dynamics 365 offers specialized solutions tailored for various departments. Whether it's enhancing customer interactions in Customer Service, optimizing operations in Supply Chain Management, or driving targeted campaigns in Marketing, Dynamics 365 provides tools and insights to elevate each department's performance and outcomes.
You can find more detailed information in our previous blog: Benefits of Dynamics 365: Empowering Your Business in the Digital Age.
What is Microsoft 365 Copilot?
Microsoft's latest AI-powered tools, Bing Chat Enterprise and Microsoft 365 Copilot, can revolutionize organizational data management. In our recent blog post: Bing Chat & Microsoft 365 Copilot Explained - Evolving How We Work, you can learn about the benefits and how they can enhance your business in the digital world.

What is Microsoft Dynamics 365 Sales Copilot?
Microsoft has introduced its new Microsoft Sales Copilot. This role-based Copilot aims to help salespeople improve their efficiency in delivering more value to more people quickly and efficiently. Sales Copilot has been created as the seller's companion and can be paired with Salesforce CRM software. Sales copilot reduces unproductive time for your sales team with automated tasks, emails, and meeting summaries.
Three Foundational Technologies in Dynamics 365 Copilot
Microsoft Dynamics 365 Copilot is built on three foundational technologies that work together to enhance the efficiency and productivity of sales teams. These technologies include Microsoft Dynamics 365, the Microsoft Graph, and a Large Language Model.
Microsoft Dynamics 365 is the key tool used by sales professionals daily and is at the heart of the Dynamics 365 Copilot system.
The Microsoft Graph, on the other hand, provides a unified programmability model and comprehensive access to data across Microsoft 365 (including Outlook, Word, Excel, PowerPoint, OneDrive, Teams, and SharePoint) and connected applications like Dynamics 365. This allows for intelligent insights and actions which assist in connecting with customers more effectively.
A Large Language Model aids in understanding and generating human-like text based on the information provided.
Together, these technologies empower Dynamics 365 Copilot to streamline processes, automate tasks, and deliver actionable insights, making it a comprehensive solution for sales teams looking to drive more value with less.

How Does Copilot Enhance Various Departments in the Dynamics 365 Ecosystem?
The Microsoft Sales Copilot, combined with Dynamics 365 Customer Insights, empowers your sales force with predictive insights, turning data into valuable information. This powerful combination streamlines sales processes and enables personalized customer engagement. The Sales Copilot automates routine tasks using AI, freeing salespeople to focus on relationships and closing deals. Dynamics 365 Customer Insights provides a comprehensive view of customers, revealing their needs, preferences, and buying behaviour. This technology mix helps organizations anticipate customer needs, engage effectively, and drive sales performance.
Let's explore how Copilot can enhance each department in the Microsoft Dynamics 365 ecosystem.
Copilot
in Microsoft Dynamics 365 Viva Sales
Be more productive and keep the focus on connecting with customers. Use generative AI on combined CRM and Microsoft 365 data to deliver real-time insights and assist with content creation with Copilot in Viva Sales.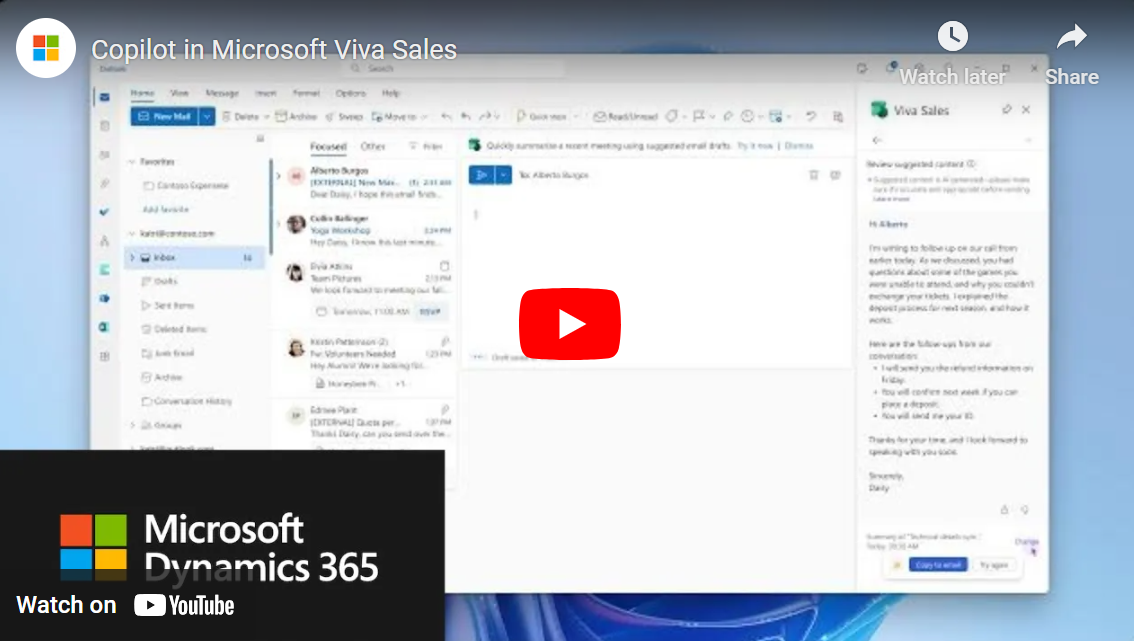 Microsoft Viva Sales empowers you a focus on relationship building by automating tasks using AI-generated emails, meeting summaries, and data entry. It harnesses insights from Microsoft 365 apps and various CRMs, enhancing productivity. AI-powered analytics offer recommendations and reminders, sustaining momentum effectively.
Copilot in Microsoft Dynamics 365 Customer Service
Copilot is designed to provide constant support and assistance for customers powered by AI technology. Its goal is to resolve customer issues quickly and efficiently while automating various tasks to streamline the customer service process. This includes 'asking a question, drafting emails, drafting a chat response, summarizing cases, as well summarizing conversations.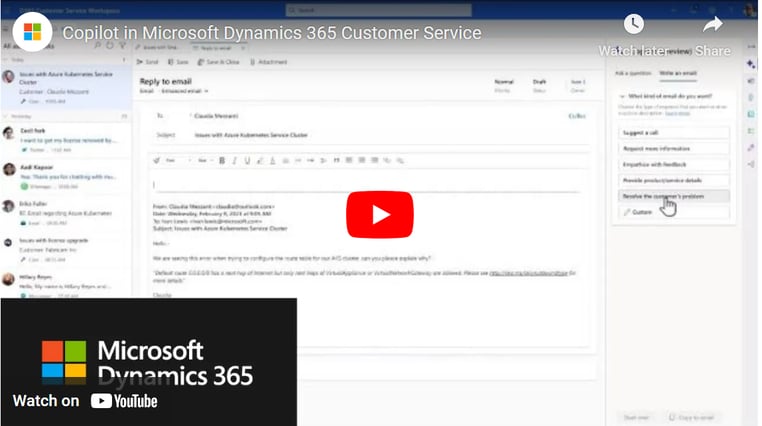 In addition, Copilot can provide real-time insights on customer service operations based on data from Dynamics 365 Customer Service. This helps organizations make informed and timely decisions to optimize their processes, allowing them to provide better customer service.
Copilot in Microsoft Dynamics 365 Customer Insights and Marketing
In Dynamics 365 Customer Insights, Copilot allows marketers to create personalized customer segments through natural language queries. Copilot can suggest additional features and handle complex calculations to match customers with a specific profile.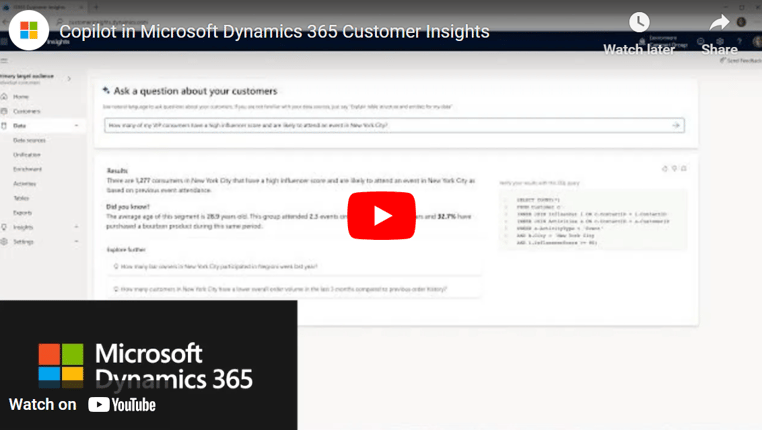 In Dynamics 365 Marketing, Copilot enables marketers to describe their customers in their own words to create target segments and inspires email campaigns based on key topics.
Copilot in Microsoft Dynamics 365 Business Central
Copilot in Dynamics 365 Business Central simplifies creating product listings for online commerce. You can generate captivating product descriptions within seconds by leveraging attributes like colour, material, and size. Customize the reports further by selecting the right tone, format, and length. For Business Central customers utilizing Shopify, publishing products with these enhanced descriptions to their Shopify store is just a matter of a few clicks.


Implement Microsoft Dynamics 365 Copilot with ProServeIT
Are you ready to embark on your journey to Copilot Readiness with ProServeIT? We're your trusted Microsoft Cloud Solutions Partner! Get ready to unlock the full potential of Microsoft Copilot. As your organization gears up for this transformative AI adventure, we've got your back in conquering the challenges, including safeguarding sensitive data, spotting misclassified data, fortifying data access, and steering clear of oversharing.
Discover the power of Copilot with ProServeIT today!

Book a meeting with us now and create your Cloud migration strategies based on your business requirements and objectives.