There is a great need to track consumer behaviour. Many businesses are not in tune with their customers and how they behave. There is a ton of consumer data out there – it's all about looking in the right places, asking the right questions and using the relevant tools to collect this data. Knowing the behaviours of your consumers is an important aspect in helping shape your business strategies and discover new business opportunities – especially for small businesses.
What is Consumer Behaviour and Why Is It Important?
Consumer behaviour is the study of how customers act with companies and products. In particular, it is the consumer's decision-making processes when choosing, purchasing and using products and services. As a small business, it is important to note that the customer should be observed on how he or she interacts with all of your products. This allows for a complete view of the consumer.
Studying Consumer Behaviour is crucial. Why? Understanding your consumers' decision-making process when choosing, purchasing or using products & services helps you improve their experience, which will increase their Brand Loyalty.
The data related to consumer behaviour is broad and can be obtained from many sources. Depending on the amount of time and budget your company has, your data gathering sources will vary. Analyzing the sales information that you already have is a good start. Products purchased, at what amounts, and what time of year can become crucial pieces of information. With more time and effort, data can be collected from sources such as surveys, interviews, reviews, analytics, social media, website traffic, etc.
Collecting this consumer behaviour information is important to your business because it will be a key player in how you market your business and your products. As well, it will help you develop new products and think about your current processes, customer support, and ways to improve them by standing in your customer's shoes.
What to Look for When Gathering Consumer Behaviour Data
Gathering consumer behaviour data helps you understand your customers better. With consumer behaviour data, you can measure and analyze ways that you can better engage your customers, which will lead to more revenue for your business in the long run.
What information should you gather? Here are eight important questions to keep in mind:
📊 Are you tracking key factors that can help you segment your customers?
📊 Are you looking at the real-time behaviour of your customers?
📊 Are you making use of your customer service records?
📊 Are you tracking referral sources?
📊 What are the personal tastes and/or preferences of your customers?
📊 Are you tracking your customers' activities on your website?
📊 Do you have a comprehensive list of contact information on all your customers?
📊 Are you collecting demographic information about your customers?
By answering these questions, you'll be able to gather meaningful and insightful consumer behaviour data that will help you to better develop target messaging.
Tools for Gathering Consumer Behaviour Data
According to the feedback we get from our customers, many of them are facing challenges around tracking data efficiently: from vast amounts of data, to rapidly changing consumer behaviours, to increased pressure from executives and boards to find insights. You may have felt these challenges in your organization, too. Here are two tools we recommend that can help your organization to harness the power of consumer behaviours.
1. Power BI
What is Power BI?
A powerful analytics tool from Microsoft, Power BI allows you to harness the power of your business data. Power BI provides your organization with a unique opportunity to delve deeper into your data and make more informed business decisions. With Power BI, you can create dashboards that give you a full, 360˚ view of all of your business processes. This data that Power BI is harnessing can give your organization the opportunity to hone in on new customers, track how effective your sales and marketing campaigns are, obtain fact-based insights that will help you make more accurate financial and business decisions, and much more.
What makes Power BI so powerful?
Power BI can pull data from a number of sources, giving you a way to easily consolidate your data together into one place. And, by being able to aggregate your data into that one place, you can start looking for patterns to determine which pieces of data will affect your business the most. The dashboards and graphs you can create will give you up-to-date assessments of what's happening at your organization. These handy bits of information can be customized to fit individual user needs and can be easily shared with other team members.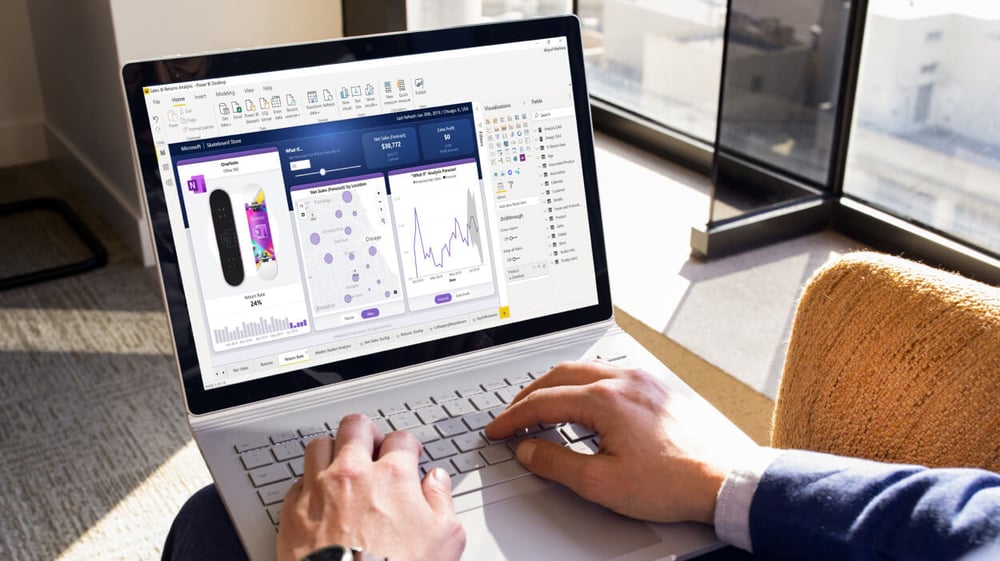 2. Dynamics 365
What Is Dynamics 365?
Easily integrating with other Office 365 products, Dynamics 365 is your go-to CRM platform. Uniting both CRM and Enterprise Resource Planning (ERP) capabilities, Dynamics 365 provides your organization with the ability to track data from each of your teams, and easily organize that data into one centralized place that all team members can update and share. Although highly effective out-of-the-box, Dynamics 365 can also be configured to fit your organization's exact data-gathering requirements, both now and in the future.
What Makes Dynamics 365 So Powerful?
By incorporating familiar productivity tools, like Outlook and Excel, Dynamics 365 makes inputting data simple and easy for your team members (which, in turn, vastly increases adoption rates within your organization). Through Dynamics 365's familiar tools and actionable insights, you can anticipate and manage your organization's needs with more intelligent processes and predictive guidance. Dynamics 365 is also Cloud-based, meaning that your employees can get the data they need at any time, from any device.
PowerBI and Dynamics365 – two effective tools to harness the power of Consumer Behaviour Data.
Using Consumer behaviour data to Improve Your Business Strategy
Marketing Strategy
As a small business, you should consider more personalized communication with your customers in order to better cater to their unique needs. Something as simple as tailoring an email to include your customer's name, or offering products similar to ones they previously purchased can go a long way in generating more interest and, ultimately, revenue.
Knowing your consumers' demographics will ensure your communications are aimed at the right target audience. The data collected can be used to identify niche markets – under-served markets where you can focus your product to consumers looking for it.
Product Development
Consumer behavior data also helps organizations decide what products and services to develop or offer. When you know what a customer buys and how they choose what they buy, your business can identify a product need that has not yet been met. Asking your customers what features they would like to see on a product will help future product developments by ensuring the customers get what they want.
Customer Support
Putting yourself in your customer's shoes by using the data collected about them can also be useful. Data such as reviews or surveys are key drivers for this strategy. Understanding what works and what doesn't from your consumer's perspective will help highlight areas of improvement for your business.
Customer Retention
Customer support goes hand in hand with customer retention. A good business model isn't just acquiring customers but also keeping them. A simple example is if there is a decline in customer visit frequency for a certain demographic, there are a few tactics that can be used to entice them back. Things like rewards programs, special promotions or reminder emails if they have not visited after a certain amount of time are examples of ways to uphold customer retention.
---
This blog post is co-authored by ProServeIT and Change Connect. We publish a monthly blog specifically written for small businesses. Some of the topics we have discussed include security, CRM, Cloud computing, and Business Intelligence (BI).
About ProServeIT
Modern IT encompasses much more than servers and networks and needs to be considered as part of a broader technology framework to effectively become a business enabler.
ProServeIT, a multi-award winning Microsoft Gold Partner, is your modern IT specialist, helping organizations to unlock their digital future and make technology become a true business enabler.
About Change Connect
Change Connect specializes in helping clients to work more efficiently and effectively in pursuit of their revenue goals. We offer customized solutions for small to midsized businesses with a focus on Sales Transformation, which includes implementing strategic Sales and Marketing plans. Whatever stage your business is at, whether you're a start-up looking to expand or an established company looking to move from a plateau to record growth, Change Connect is your partner in transformation.  Change Connect – Making Sales Scalable.
---
HIROC was looking to find a business intelligence tool that would work for their data and analytics tracking needs
HIROC's data team was looking to find a business intelligence tool that would work for their data and analytics tracking needs.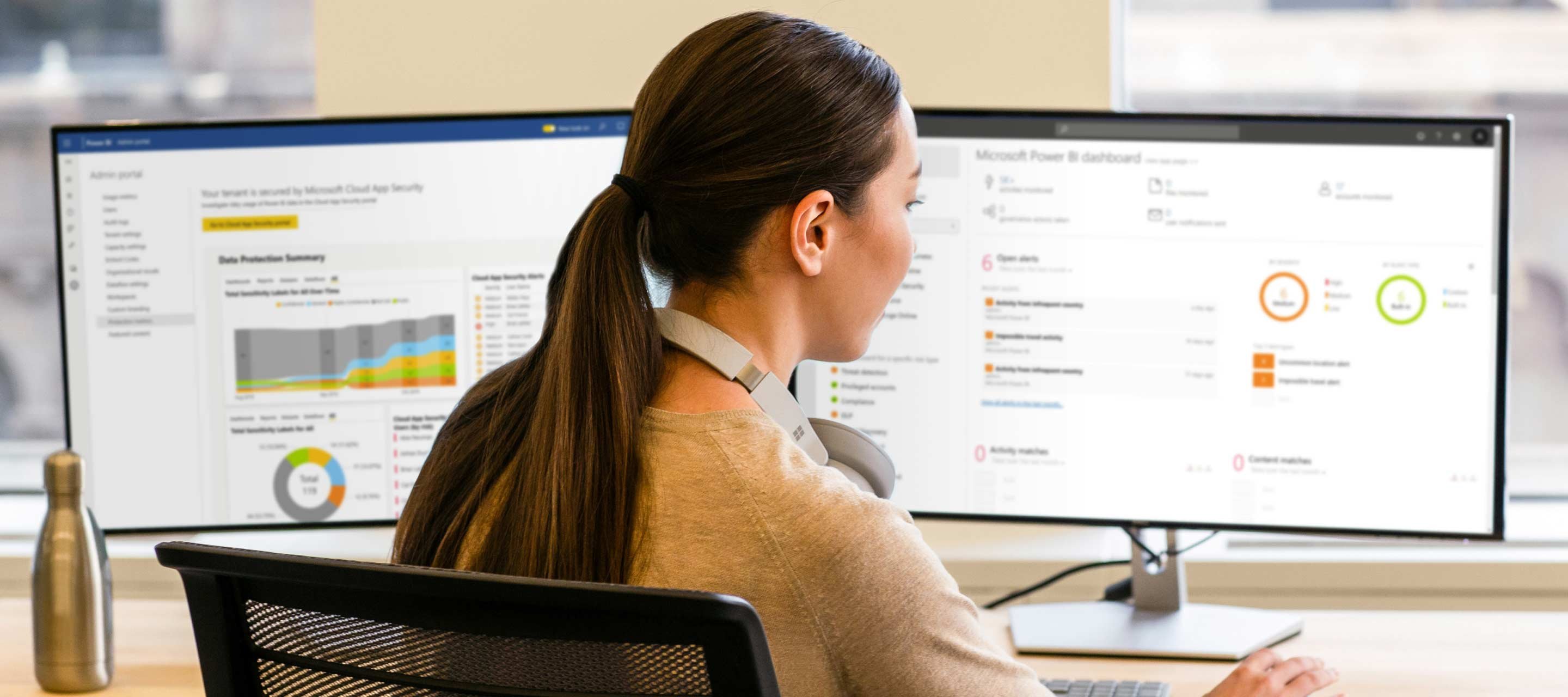 Art of the Possible: ProServeIT provided a demo to both their business and technical audiences to showcase what is possible with the Power BI software.
Power BI Training: ProServeIT provided support if HIROC employees were not familiar with Power BI.