How resilient is your business? Is your business technologically resilient?
These are questions that we've begun to encourage customers and prospects to begin thinking about, especially in light of the swath of cybersecurity-related incidents that have occurred over the past several months.
Resilience, especially from a technology perspective, is something that needs to be considered. In fact, our CTO has begun reaching out to our customers to have the important conversation around their business's technology resilience – not only to ensuring that their business is technologically resilient, but also, that their resilience and their agility can carry them through the worst of a disaster, should it come to that.
In this blog, we'll explore resiliency from that technology perspective, and talk about the 5 key stages of technological resilience that CEOs, like you, should know. Read on to learn more.
* Duration: 6:51 min
What is Technology Resilience? Why Is It Important for Businesses?
Whether we like it or not, cyberattacks aren't going away any time soon – in fact, we'll most likely see continued onslaught from ransomware and other types of cyberattacks, especially as our dependency on technology and digital infrastructure continues to grow.
So, from a technology perspective, we need to be sure that your business is resilient enough to bounce back from anything that life may throw your way.
Harvard Business Review defines resilience as "a company's capacity to absorb stress, recover critical functionality, and thrive in altered circumstances." Their recent article says that resilience is especially important today because the business environment is becoming more dynamic and unpredictable. If that doesn't sum up the last 18 months, we don't know what does – natural disasters, cybersecurity risks, and a global pandemic have severely tested businesses all over the globe.
How to Build a Technologically Resilient Business
When we say "technologically resilient", we're talking about your organization's ability to maintain acceptable service levels in worst-case scenario events. Start by asking questions like "how fast would it take us to get back up and running after an event?", and "what were to happen if our critical IT systems and processes were to fail?".
Let's take a look at these 5 key stages, which will help you get a clear grasp on your business's technology resilience.
5 Key Stages of Technology Resilience for Your Business
1. Awareness ⚠️
From a business operations perspective, be aware of your technology requirements. What systems do your organization rely on? Do they need to be consistently running? What would happen if they were to be taken offline? Are these business-critical systems backed up in a way that, if something were to occur, you'd be able to easily restore them?

Awareness also takes into consideration recovery requirements. In the event of failure or disruption, what are your recovery requirements in terms of time, system capacity, or performance. Have you identified the IT systems – i.e., servers and networks – that you need to be able to recover, and, more important, do you know how much time you have to do so before you start to see impact to your business?


2. Preparedness ⚙️
Thinking about awareness leads to preparedness – being prepared for all eventualities. As a recent Forbes article says, "resilience isn't just having the tools and technologies to succeed. It also means being able to recover from unexpected challenges by recognizing issues as they arise and being prepared to fix them – and then move beyond them." So, does your organization have specific action steps and/or plans in place in case of a disruption?

3. Protection 🛡️
Of course, after making sure you're prepared, it's time to think about protection. With ever-evolving concerns threatening how we do business, protecting your environment and your digital assets is something that every organization needs to think about. How can you protect your organization in a cost-effective and efficient manner, that doesn't take up your IT team's valuable time? Or, if you don't have an IT team, how can you make sure that you're being protected 24 x 7 x 365?
Investing in automated, managed solutions (like ProServeIT's Alarm Guardian) can help to answer these questions. Similar to an alarm system for your physical building, Alarm Guardian uses Azure Sentinel to proactively monitor your environment. If suspicious activity is detected, Alarm Guardian can take action to protect your environment. Want to learn more? Book a call with us and let's talk!

4. Recovery ✔️
Of course, even the best, most prepared businesses out there can find themselves the victim of a disaster, or a breach. That's just the unpredictable nature of the world we live in. So, the next key stage to consider is the recovery stage. Recovery focuses on being able to return your services and operations to "business-as-usual" levels as quickly as possible, and with as little data lost as possible.
Do you have a disaster recovery plan? Have you tested it out prior to any incidents to ensure that it works? How long will it take you to recover? What steps do you need to take in order to do so? Will you be able to do the recovery in-house, or will you need a technology services provider to step in and help? These questions may sound similar to the questions we asked in the Awareness and Preparedness stages, and they should – you need to know the answers to them prior to anything actually happening, so that your recovery can be as smooth as possible.
Also, and we think this is a big component of recovery, do you have cybersecurity insurance with the appropriate coverage, to be able to help you recover the costs associated with the breach or disaster? Consider the costs you will incur in the event of a disaster or a breach: employee downtime and/or overtime, purchasing new equipment, technology, and/or solutions, hiring disaster recovery experts to assist you with your recovery, performing tests to determine what occurred, etc. These costs add up.

5. Review 🔍
The last stage that we think is important to consider is the review stage. After the dust settles and all is said and done, it's time to go through the incident in question and determine what caused it, what could have been done to prevent it, and what can you do in the future to mitigate the incident being repeated?
Are there technologies you can be investing in that would make recovery easier? Were your back-ups sufficient to get your business back up and running, or do you need to increase the frequency of your back-ups to ensure you don't lose as much the next time? Do you have older critical business applications that were painful to try and restore? Were your employees storing important files on their desktops or laptops that were not able to be restored?
By asking these types of questions and coming up with suggestions for improvement, you will continue to evolve your business into a more technologically resilience organizations.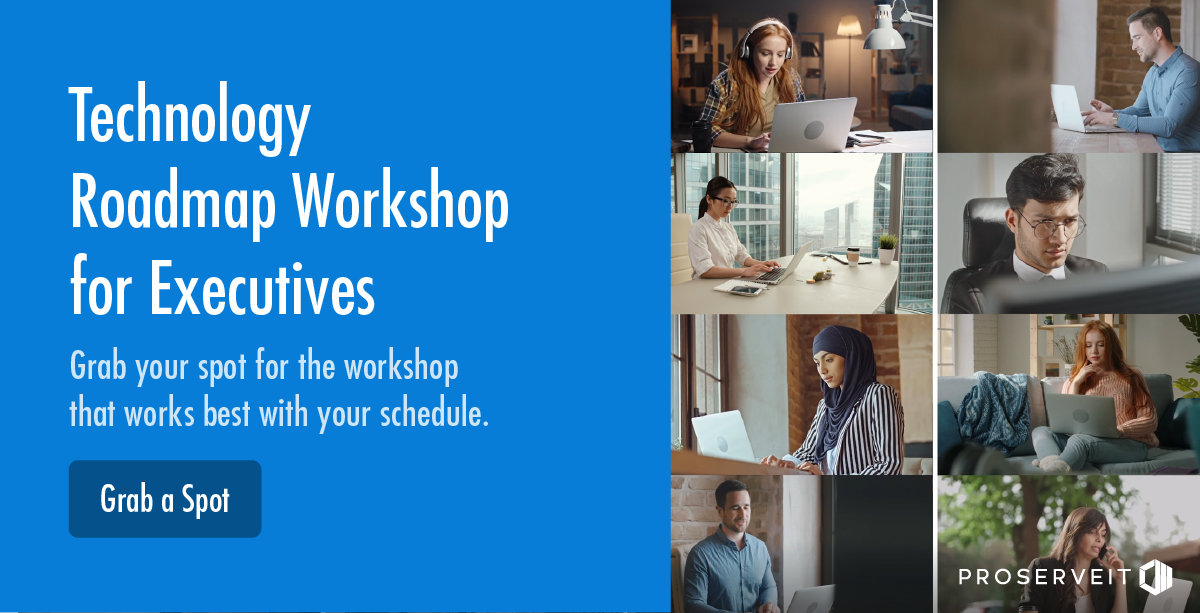 Technological Resilience Can Be Yours, and We Can Help!
Every executive, like you, understands the importance and necessity of technologies in achieving your business objectives. To build technological resilience, a simple, easy to understand bird's eye view of your technology requirements can be a game changer in achieving growth and sustainability of your business, while also avoiding redundancy and overspend.

If what you've read in this article today strikes a chord with you, then ProServeIT's Technology Roadmap Lite, designed for CEOs and executives, is a great first step in achieving technological resilience. Designed to give you a simple and clear view of your technology landscape, the Technology Roadmap Lite will reveal gaps between your business objectives and technology capabilities, and can help you avoid redundancy, overspend, and security breaches. Book yours today!