Alexia Maschowsky, Nova One Consulting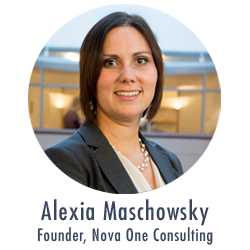 As a certified PMP, with a Bachelor of Economics from McGill University, and an MBA from the Rotman School of Management, Alexia Maschowsky is a multi-talented professional. With 15 years of experience in senior roles within Corporate Strategy, Change Management, Finance, Performance and Project Management across a variety of industries, Alexia has worked in both the private and public sector.
Alexia's energetic, optimistic, and "leave no stone unturned" mindset makes her the ideal operational expert to assist founders & CEOs looking to complement their skillset. She founded Nova One consulting in 2015 to focus on her passion for helping businesses and employees reach their full potential. Alexia's ability to understand the complex ecosystem of a company and identify simple, streamlined solutions helps both small and medium businesses to execute strategy and scale up efficiently, and she uses a knowledge-based approach to ensure that new solutions are properly implemented and fully adopted.