Ever found yourself overwhelmed by the amount of content that your team's producing on a daily basis, and you're really not sure how to manage all that great content? Is it difficult to find the content you're looking for? Don't worry – you're not alone. According to Harris Interactive, 73% of knowledge workers waste time looking for files and 47% of knowledge workers have worked on the wrong document. Even though you realize the need for better content management, it's not easy to know exactly where to start. There are many tools available and different ways to utilize the tools – so the content management market can be confusing.
We understand that many organizations face these challenges; hence, we've put together this post that explains what content management is, the common challenges organizations face when implementing content management, and tips and suggestions that you can apply when thinking about your own content management.
When deployed and managed properly, a content management platform provides a foundation for organizations to build out advanced information capabilities. Read along to get to know about content management a little better and get in touch with us if you don't find the information you were looking for. Our team of SharePoint experts will be happy to answer any questions you have.
What Is Content Management?
Content management refers to the way in which your organization stores and shares the content you have, whatever that content is. Documents, videos, infographics, photos, presentations… these are all examples of content. How you choose to store and share the content you have, therefore, is "content management".
Implementing Content Management – Top 3 Challenges and Suggestions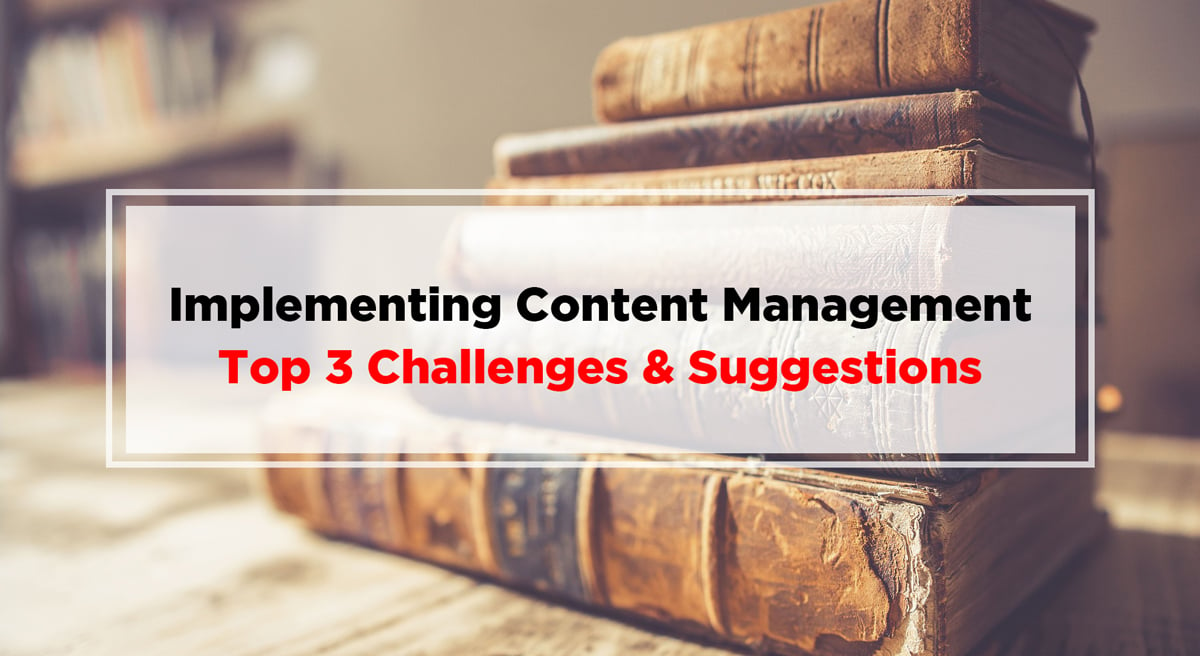 We understand that implementing a content management solution can be confusing and that organizations often face challenges in doing so. Here are 3 of the most common challenges that businesses face, and our suggestions on how to deal with them:
ONE. Content management technology solutions aren't all created equal. Understanding the differences between the various solutions and how they'll help your organization becomes a daunting task.
What you can do: It is best to talk to an expert about your options and learn what would work best for your organization.
TWO. Content Management is multi-functional, meaning that a number of your organization's individuals and/or team members contribute to content management. To coordinate all these needs, you're going to require a structured approach to content management.
What you can do: Map out your content management strategy before implementing anything.
THREE. Your organization may underestimate the effort that's involved with content transformations and you may be tempted to roll out too many areas at once.
What you can do: Take an "Agile" approach to rolling out a content management strategy – break your organization out into teams, and gradually integrate each team into your strategy.
Content Management Pain Points and Benefits
Did you know 40% of organizations report lowering costs and improving IT efficiency as the number one driver for implementing content management in their workplace (Source: AIIM). It plays an important role in running an intelligent, efficient and lean organization.
The bottom line is, content management done well allows your organization to improve your processes, manage resources more efficiently, and increase your ability to mitigate risks. Here are the top 3 benefits of implementing a content management system:
Benefit 1. It Increases Process Efficiency:
Are you unable to find content? Maybe your employees need to recreate content because it's too difficult for them to locate it? Perhaps your content is stored inaccurately; the file names aren't properly labeled or the folders are jumbled up.
By implementing a content management system, you'll be able to give your employees faster content retrieval, implement automated content indexing, provide just-in-time content delivery, and create digital workflows. Each of these benefits lead to faster collaboration and creation of content, and improves your employees' overall experience.
Benefit 2. It Increases Resource Efficiency:
Does your IT team spend too much time managing your storage environments? Do your repositories store redundant, outdated or trivial content that doesn't need to be there?
A content management system reduces network demand, reduces storage consumption, helps you to optimize your storage and archival media, and allows you the opportunity to reallocate your resources so that you can pursue more innovative options.
Benefit 3. It Helps with Risk Mitigation:
Is your organization required to store content for legal purposes? Ever been hit with a non-compliance fee, or exposed to litigation because you stored content beyond the retention period necessary? Ever had the hassle of going through records to find the information you need?
Through implementing your own content management system, you can standardize your branding, naming conventions and terminology, automate content disposal, and, depending on the content management system you choose to use, you can even implement eDiscovery, making it easier for you to search for the content you need.
Whether your organization chooses to embark on content management as a stand-alone initiative or as a part of a broader digital transformational effort, the positive impacts of content management can be used to gain executive buy-in and organizational support.
Implementing Content Management – 3 Tips to Keep in Mind
Tip 1. Content Management is a key piece of digital transformation. You need to understand where you want to go by setting your content management program's vision so that it fits seamlessly within your organization's overall IT vision.
Tip 2. Without carefully planned architecture, governance and management, your organization's users will end up resorting to do things the way they've always done it. In other words, if your current content management solution does not meet your needs, plan ahead to make sure that your new content management solution can.
Tip 3. Content management technology on its own is just a small part of the whole program. In order to get the full benefits from content management, you need to have a plan for a full program, including architecture, governance and management.
Thinking of Implementing Content Management?
Although the content management market can be confusing, what with all the options available, it doesn't have to be. Working with the right partner can make the content management journey smooth and seamless. Contact us today for more information on how you can get started with your content management solution, and to find out why we recommend SharePoint as your go-to content management solution.
Related Posts: