What if we told you that a more secure Azure environment isn't that difficult to achieve?
At ProServeIT, we know that Microsoft Azure is an incredibly powerful platform, but we're also aware that some organizations are hesitant or unwilling to adopt it because they're worried about how secure it really is. To help them, our Azure experts have put together two great offers that have proven to create a more secure Azure environment. Read along to find out what these offers are, and the benefits of implementing them in your organization today!
Not sure if Azure is the right fit for your organization? Check out this short video excerpt from our recent "Getting to Azure: Assessment, Migration & Security Considerations" webinar below for more information on Azure. Or, sign up to watch the full version at your convenience!

#1: An Azure Security Assessment Leads to A Secure Azure Environment
Is your Azure environment secure? Is it scalable? Do you know how to delegate admin rights in Azure? If you're new to Azure and aren't quite sure how secure it is, start with an Azure Security Assessment!
What is it?
ProServeIT's expert Azure staff will review your Azure environment and provide you with a summary of findings, including high to low risk items, recommendations for remediation, and specific action items that you can do to ensure a secure and stable Azure adoption within your organization.
Deliverables:
ProServeIT's Azure Security Assessment includes a holistic audit and review of your Azure environment, including:
A review of your existing Azure deployment.
A review of your Azure subscription settings.
A review of your Azure network configurations.
A review of your Azure security configurations (Global and Delegated).
An audit of Microsoft portals & tools to add to Azure capacity.
An audit of Azure purchasing vehicles for software & consumption.
An audit of existing virtual server configurations.
An audit of tools & processes used to determine platform consumption and spend.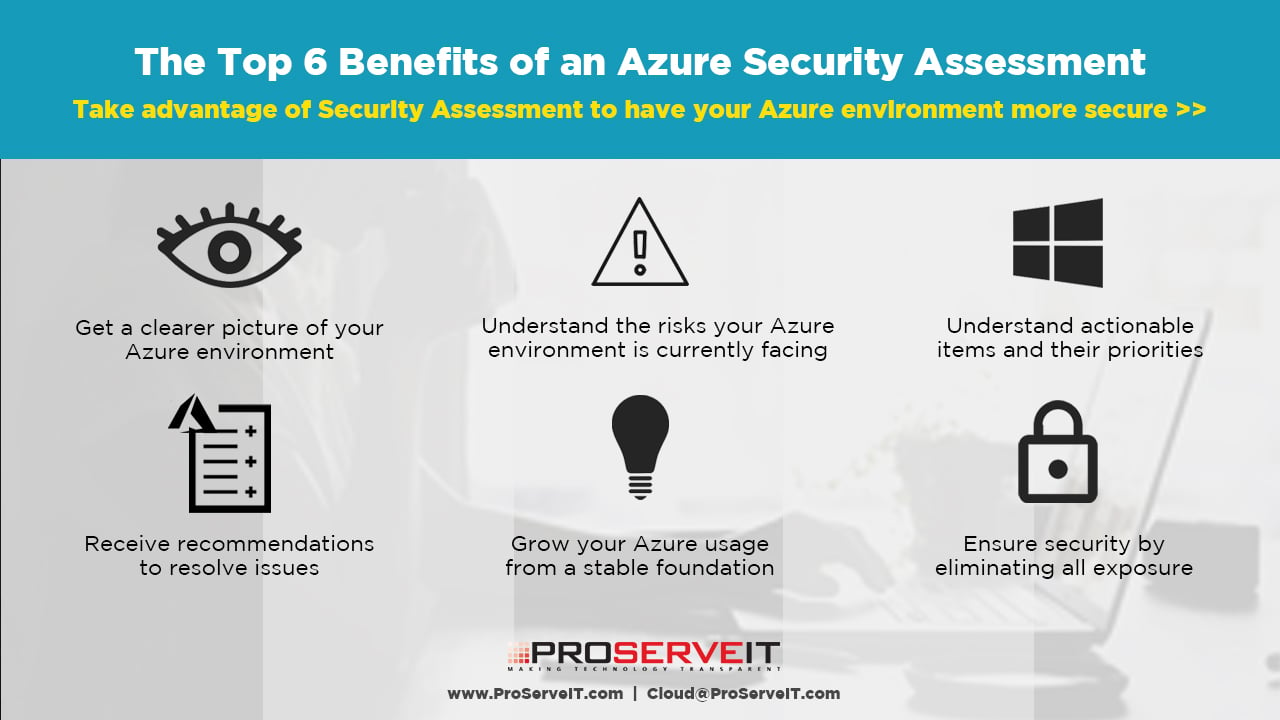 Benefits:
A ProServeIT Azure Security Assessment will help you:
Get a clearer picture of your Azure environment.
Understand the risks your Azure environment is currently facing.
Understand actionable items and their priorities.
Receive recommendations to resolve issues.
Grow your Azure usage from a stable foundation.
Ensure security by eliminating any and all exposure.



Want to see a sample report from an Azure Security Assessment?
Click the button below to download it.
---

#2: A More Secure Azure Environment through Disaster Recovery as-a Service (DRaaS)
It's no surprise that businesses are increasingly dependent on technology, and, with those technological advancements come greater risks of disaster. Today's environments are more difficult to protect, and multiple disaster recovery solutions are often needed in order to address the various applications and environments that an organization has.
Unfortunately, disaster hits everyone sooner or later. It's no longer a matter of "if" a disaster will hit, but "when". That's where ProServeIT's Disaster Recovery as-a Solution (DRaaS) Program can help.
What is it?
ProServeIT's DRaaS Program is a simple, comprehensive, and robust solution that can be customized to meet your unique needs. Our team of experts will create a disaster recovery solution using Azure Site Recovery (ASR) that will help you in the event of a disaster.
Don't know what Azure Site Recovery is? Check out this short video below for more information, or download the full on-demand webinar and watch it at your convenience!
Deliverables:
ProServeIT's experience team will use Azure Site Recovery to automate the recovery of your necessary services in the event of an outage. Your organization can bring over applications in an orchestrated way to help restore your services quickly, even if you have complex multi-tier workloads.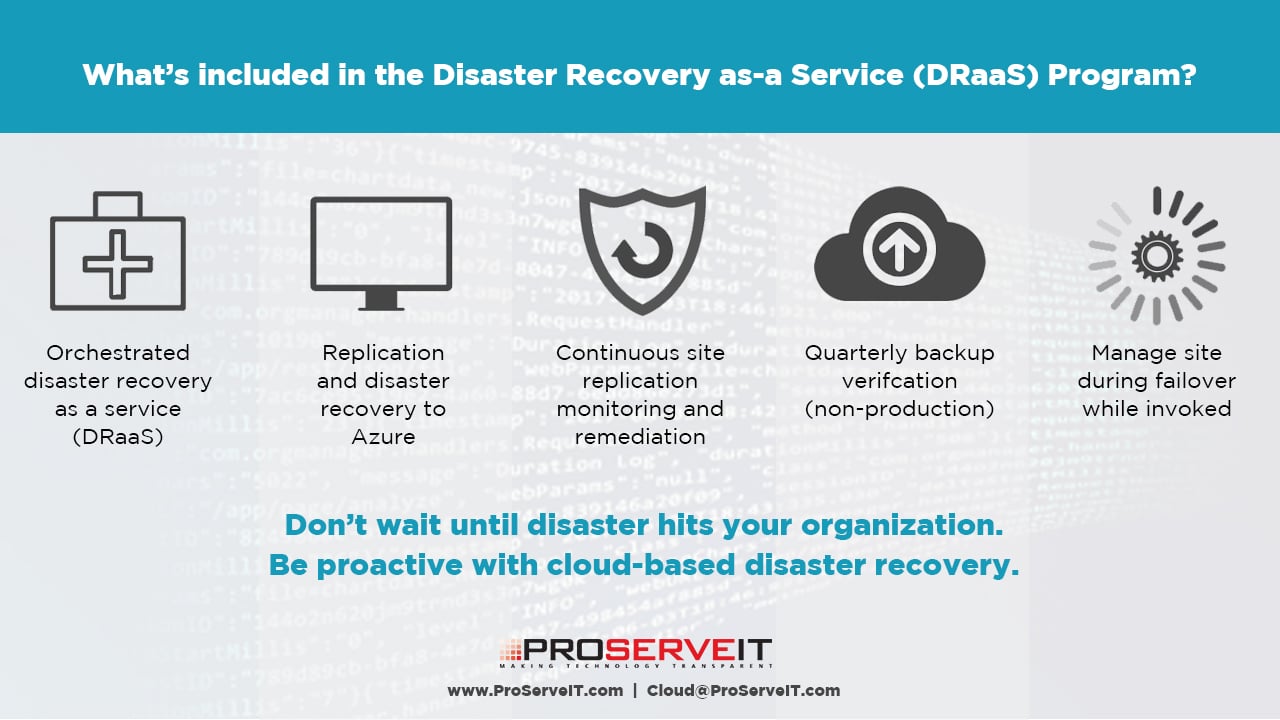 Our DRaaS Program includes:
Orchestrated disaster recovery as a service (DRaaS).
Replication and disaster recovery to Azure.
Continuous site replication monitoring and remediation.
Quarterly backup verification (non-production).
Manage site during failover while invoked.