In our previous blog post about Microsoft Dynamics CRM, we discussed how the platform can streamline and automate processes, plus cut down on duplication, as well as a few other key reasons why organizations should leverage Microsoft Dynamics CRM. See our previous post for more details:
This blog continues that train of thought. In it, we'll go over 5 key functions of Microsoft Dynamics CRM and 6 main areas that you need to focus on in order to be successful in your implementation of Microsoft Dynamics CRM. Also, we'll provide you with insight into why it's important to avoid "feature focus" and put the emphasis on your end users instead.
5 Key Functions of Microsoft Dynamics CRM
1. Microsoft Dynamics CRM helps you increase collaboration within your organization.
Right from within Dynamics CRM, you can use Office 365 Groups to leave messages for team members who work on the same opportunity/customer, asking them for information, reports, relevant documents, etc. No need to email your colleagues, plus, this keeps all of the notes within the opportunity, so you can easily reference what's been asked for.

2. Your sales team can make better business decisions by prioritizing their workload in Microsoft Dynamics CRM.
Dynamics CRM provides your sales team with every information belonging to each sales rep's opportunities and customers. Plus, this information is displayed visually in charts and tables so that it is easy for reps to understand and digest the information quickly. For example, with Dynamics CRM, your sales rep can prioritize her workload by organizing her open opportunities by a "close probability." She can see opportunities with a close probability of 80% - 100% only. This information can help other departments as well (such as a service delivery team), who can have visualization into what's happening in the pipeline and plan accordingly.

3. The Machine Learning in Microsoft Dynamics CRM can help you cross-sell your organization's products/services.
Taking the guess-work out of what your customer might need next is another one of Dynamics CRM's functions. Using Machine Learning, Dynamics CRM can use the products and services that your customer has already purchased from you, and can suggest other potential services or products to cross-sell, all with just a few clicks of your mouse.

4. You can link your Microsoft Dynamics CRM to other tools to save time and increase your lead potential.
Dynamics CRM links with LinkedIn Sales Navigator, to enhance your sales team's process and help sales reps identify leads. When your rep has a new organization in her pipeline, without leaving the Dynamics CRM platform, she can find out who in the organization would be the most appropriate person to start a conversation with (i.e. identifying a lead and saving it in Dynamics CRM), what the organization has been up to, and who in her own LinkedIn network has a connection to people in the organization.

5. Send emails, schedule follow ups and reminders, and more – all from the Microsoft Dynamics CRM platform.
Of course, saving time is always a big feature for sales teams – the more time you can save, the more you can sell. So, one of the biggest features with Dynamics CRM is the functionality within the platform itself. Many things can be done right from the platform, for example, sending emails to your leads and scheduling reminders to yourself to follow up at a later time. All of these activities are tracked within the opportunity, so you can see everything to do with that particular lead all in one place.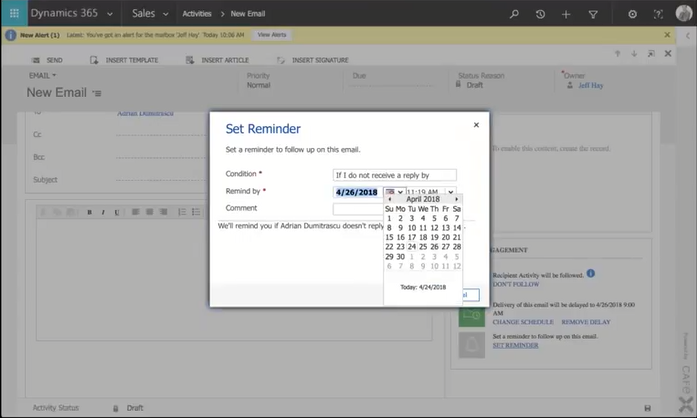 All of these functions can be seen in action in our recent CRM On-Demand Webinar for Executives & Managers, where we show a live demo of Dynamics CRM, including how it can link to LinkedIn Sales Navigator.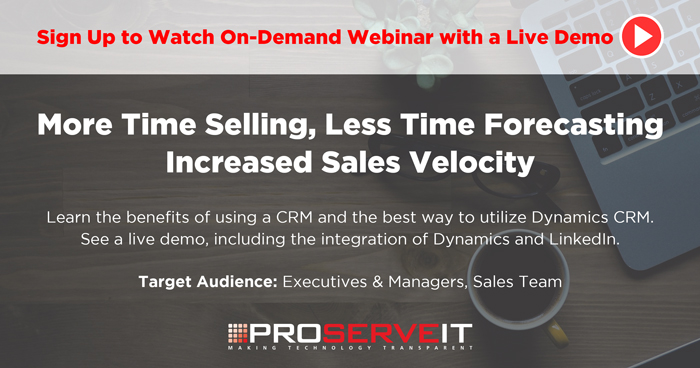 6 Main Areas of Focus for a Successful Microsoft Dynamics CRM Implementation
Your Dynamics CRM allows you to capture a whole bunch of data, which can provide insights that can further increase your sales abilities and improve sales velocity within your organization. To fully enjoy the benefits of Dynamics CRM, here are 6 implementation tips:
Secure Executive Sponsorship
Successful implementation needs support from the top. That's where the decisions come from. If the executives sponsor and support the idea, it helps your team to embrace that particular system.
Choose People and Process Over Technology
Like we mentioned in our previous blog, while CRM's (like Microsoft Dynamics CRM) have great features, it's easy to lose focus of the people and processes. Ensuring that people and processes align with the technology allows you to streamline the process and realize a much higher ROI.
Define What Success Looks Like To You
Why implement a CRM in the first place if you haven't determined or defined what success is to you? This success needs to take into account what you want that Dynamics CRM to do. Define your value propositions, document them, then communicate those to your team.
Communication, Communication, Communication!
Which brings us to our next point – communication is key. Clearly defined goals are not helpful if they're not shared. Keep your employees engaged and productive with your Dynamics CRM implementation project by communicating with them often on how it's going. It's important to communicate with your team, so that they can understand the strategy for why this change is necessary.
Wins are more than just the beginning and the end of a project. You need to celebrate the milestones in between these two points, too. So, tracking these wins is important, and a Dynamics CRM helps to do so. By celebrating these milestone wins, it helps to remind you and your team of why you took the project in the first place, especially during the rough patches that all projects have.
Identify the "What's In It For Me?" Factors
Although top-down change is important, that authority can only get your team to go so far. Bottom-up changes are far more successful, especially when you can show your teams why it's in their interest to get on board with a project like implementing a Dynamics CRM.
Don't Focus on Just Microsoft Dynamics CRM – It's Also About Your People!
A system is only good and effective if your organization's end users actually use and adopt it. In your business analysis of whether Dynamics CRM is the right move for your organization, be sure to keep in mind the human factor. If you don't put a strong focus on the people who are going to be using the system, your project will be a disaster.
It's easy to focus on the great features of Dynamics CRM. After all, it does provide a lot of functionality for your business. But a lot of people we deal with tend to get caught up in these features and lose sight of the people and processes within their organization. Without ensuring that those people and processes are in alignment with the technology you're implementing, you won't be able to streamline your process and realize that much higher ROI you're looking for.
Thus, it's important to keep in mind the end users.
Start with a Microsoft Dynamics CRM Jumpstart Today
Collaboration. Automation. Saving time. Better business decisions. Prioritizing. These are great ways that Microsoft Dynamics CRM can help make your organization better. Not sure how to get started? Our Microsoft Dynamics CRM Jumpstart offer can help! A full Microsoft Dynamics 365 CRM deployment for up to 25 of your users, our CRM Jumpstart offer includes customized dashboards, forms, fields and workflows. Interested? Talk to ProServeIT today and get started on your Microsoft Dynamics CRM journey!