As IT professionals, we are constantly looking for new ways to stay ahead of the curve when it comes to technology and cybersecurity. This year, Microsoft is introducing a revolutionary wave of AI-powered products that will change the way we think about security and data protection. From their groundbreaking Microsoft 365 Copilot Early Access Program to their passwordless authentication system, they are paving the way for a new era of cyber defense.

In this blog post, we'll explore some of these exciting developments from Microsoft and how they can help you take your business's security measures up a notch!

In a hurry? Jump straight to your section of interest:
🚀 Introducing the Microsoft 365 Copilot Early Access Program
🚫🔑 Going Passwordless with Microsoft for Better Security
🛡️📣 Microsoft Security 2023 RSA Conference Highlights
💡Announcing a Revolutionary AI Wave with Microsoft Bing and Edge
✅ Conclusion


Introducing the Microsoft 365 Copilot Early Access Program
For the last 2 months, Microsoft has been collaborating with several of its enterprise customers such as General Motors, Dow, and Chevron to test its Copilot product and the product's capacity to revolutionize how employees currently work.
To help garner more quality feedback to improve Copilot and better prepare employees as they adapt to work together with artificial intelligence (AI) for increased productivity, Microsoft has announced its new Microsoft 365 Copilot Early Access Program which is a paid preview of Copilot that will be available for 600 selected customers worldwide.
"Early access to Microsoft 365 Copilot has given us visibility into how it can further streamline processes, speed insights, spark ideas, enhance productivity and evolve the way we work. The potential of Copilot is undeniable, and it's energizing to explore the possibilities as we couple the ingenuity of our people with the functionality of the tool." – Guy Moore, Workforce Enablement Lead, Chevron
And, to assist its customers' workforce to be equipped for productivity with AI, Microsoft has deployed its Semantic Index for Copilot (a sophisticated map of your user and company data available in Microsoft 365 E3 and E5). The Semantic Index for Copilot is vital to getting relevant, actionable responses to prompts within Microsoft 365 Copilot. It improves enterprise search results for E3 and E5 customers – even if your organization is not currently using Copilot.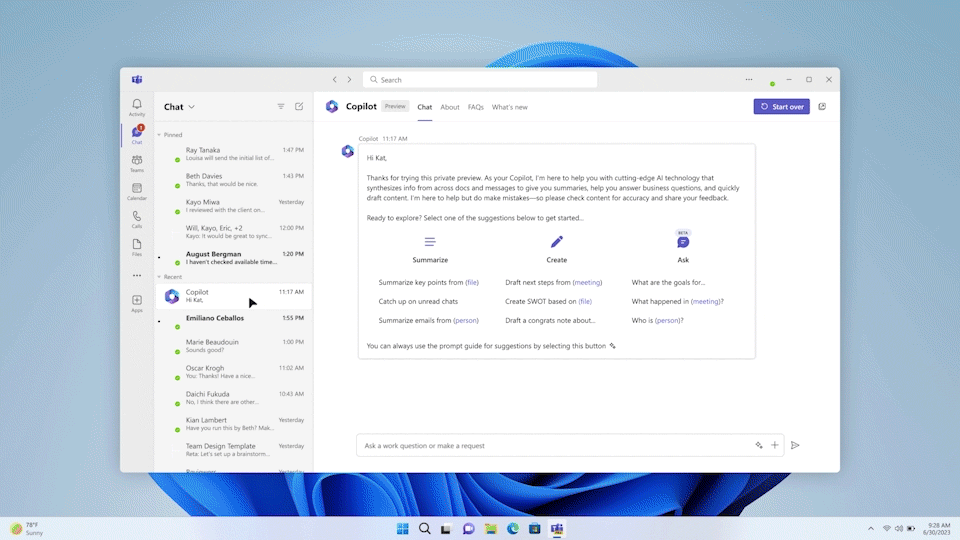 Example of Copilot on Microsoft PowerPoint
Here is how Semantic Index for Copilot works:
Example: You ask Copilot about the "June Sales Report," the tool goes beyond just looking for documents with those keywords in the file name or body. Semantic Index for Copilot recognizes that "sales reports are produced by James on the Sales team and created in Excel" and utilizes that conceptual understanding to determine your query intent and help you find what you need.
Here are some Microsoft 365 Copilot capabilities for your organization:
🎯🖍️ Get ready to take your Microsoft Teams meetings and brainstorming to the next level with the Copilot in Whiteboard. Create more effective and creative output by using natural language to generate, organize, design and summarize whiteboard content into themes that capture your ideas perfectly.
🖼️🔥 Enhance your PowerPoint presentation with DALL-E, OpenAI's image generator that's now integrated with Copilot. Easily ask Copilot to generate custom images to complement the content you're presenting and take it to the next level.
✉️✍️ Write more professionally and confidently with Copilot in Outlook. Receive coaching tips and thoughtful suggestions that help improve your emails' clarity, sentiment, and tone.
📓💡 Make the most out of OneNote with Copilot's prompts! Quickly draft plans, generate ideas, create lists and organize information with ease.
📚🚀 Help your workforce with Copilot in Viva Learning to construct a customized learning journey including scheduling time for assigned trainings, determining relevant learning resources at work and creating upskilling paths.
🔄📝 Copilot in Loop assists your work team to stay in sync by instantly summarizing the content on your Loop page so everyone can work together efficiently and remain aligned.
Interested in harnessing the power of Microsoft 365 for your organization? Talk with one of our experts to see how we can get you started!


Going Passwordless with Microsoft for Better Security
Whether you are at work or home, using passwords for better online protection has become the norm in today's society. Unfortunately, hackers have adapted their efforts to breach even the most secure login via the use of sophisticated phishing techniques (between 2021 and 2022, phishing attacks increased by 61%).
Your password was once vital in preventing hackers from accessing your valuable data but now it could be used by malicious actors as the key to enter your organization's digital environment.
To help mitigate this issue (and the increasing number of password attacks), Microsoft has developed a passwordless authentication process to help deliver better robust, efficient cybersecurity (by eradicating password vulnerabilities and delivering simplified access) for your organization and its workforce.
Microsoft has partnered with the FIDO Alliance to support passkeys as a common method for passwordless sign-in. These passkeys aim to address the security vulnerabilities of passwords while being more intuitive and user-friendly. Microsoft's passwordless technology, such as Windows Hello based on FIDO standards, strengthens security by verifying user credentials on the device, rather than over an online connection.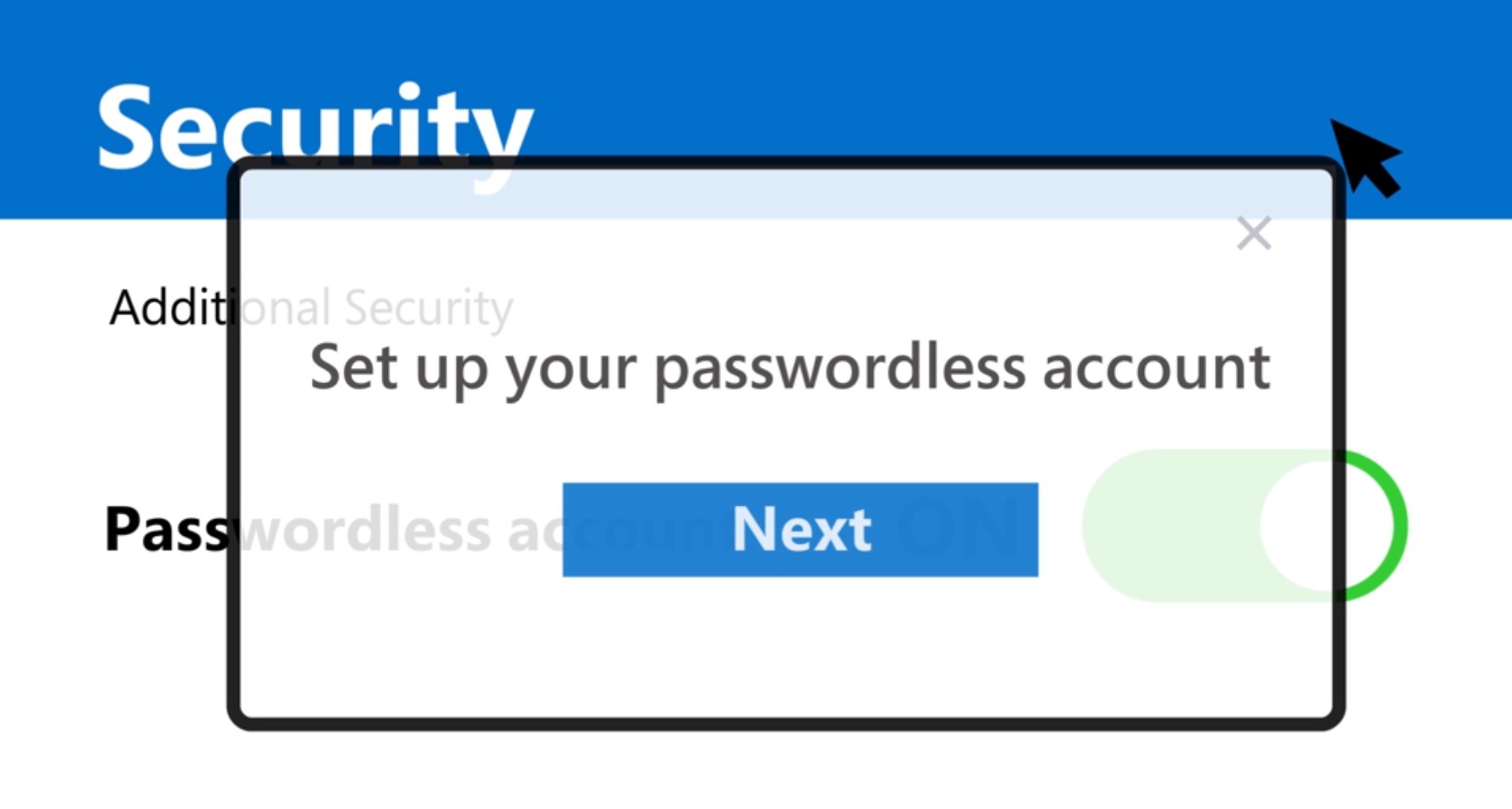 One example of a company successfully adopting Microsoft's passwordless authentication solutions is Accenture, which has 738,000 employees worldwide across 49 countries. The company chose the Microsoft Authenticator app, Windows Hello for Business, and FIDO2 security keys for their passwordless authentication needs, leading to faster login times, heightened security, and a more streamlined user experience.
Microsoft Azure Active Directory, now integrated with Microsoft Entra, offers an authentication methods policy that simplifies passwordless authentication management for all users through a single dashboard. This feature is suitable for both small startups and large global organizations such as Accenture. Additionally, a recent study by Forrester Consulting revealed that businesses using Azure AD to secure their business apps enjoyed a 240% ROI over three years (with a net present value of $8.5 million USD) and decreased password reset requests to their help desk by 75% annually.
Is your organization in need of an Azure migration? Discover how ProServeIT's expert team can assist you today!


Microsoft Security 2023 RSA Conference Highlights
From humble beginnings as a small cryptography conference in 1991, the RSA conferences have grown to become a global phenomenon, taking place across several locations including the United States, Europe, Asia, and the United Arab Emirates annually. It is the ultimate destination for IT security enthusiasts with approximately 45,000 participants attending one of the conferences each year and provides an opportunity for attendees to learn, network and showcase their achievements in the IT industry.

During the 2023 RSA Conference, Microsoft announced its new generative AI solution, Security Copilot, which combines Open AI's large language model with Microsoft's security-specific model to offer organizations the ability to defend themselves at machine speed while keeping data privacy at its core. Microsoft also announced that Microsoft Defender Threat Intelligence is now available directly within Microsoft 365 Defender, allowing licensed customers to automate incident response and work with a broad ecosystem of security tools.
In today's World of Work, the state of cybersecurity is an ever-changing landscape due to the evolving technology and variety of potential cyber threats.
According to the SlashNext State of Phishing Report for 2022, cybercriminals are increasingly targeting mobile and personal communication channels, with mobile attacks increasing by 50%. Furthermore, there has been an 80% increase in threats from trusted services, such as Microsoft and Amazon Web Services. 54% of all threats were zero-hour threats indicating that hackers are shifting their tactics in real-time to improve success. The report also identifies Healthcare, Professional and Scientific Services, and Information Technology as the top three attack sectors for cyberattacks.
These findings highlight the importance of companies investing in cutting-edge security solutions, like those offered by Microsoft, to protect themselves against ever-evolving cyber threats and the need for continuous monitoring and training to stay ahead of these attacks.

Announcing a Revolutionary AI Wave with Microsoft Bing and Edge
Microsoft's AI-powered Bing and Edge browsers were launched just three months ago to address the problem of unanswered web searches. Using large language models like OpenAI's GPT-4 and an extensive search index, Bing has brought users better search results, answers to their questions, and a new level of ease of use through natural language chat. In the last 3 months, Bing has grown to exceed 100 million daily active users, with over 500 million chats and 200 million images created using Bing Image Creator.
Today, Microsoft is moving to the next generation of AI-powered Bing and Edge, aiming to greatly expand Your Copilot for the Web. This new generation will offer more visual and multimodal search and chat capabilities, along with multi-session productivity experiences and persistent chats within Edge. The platform will also open up capabilities for developers and third parties to build on top of Bing, helping people take actions on their queries and complete tasks.
These moves by Microsoft demonstrate their commitment to innovation and improving their products to better serve the needs of IT professionals. With its advanced capabilities and increased accessibility, Bing and Edge are poised to become even more valuable tools for IT professionals in their search for information and solutions.


Conclusion
The introduction of Microsoft 365 Copilot and their plans to go passwordless are just two of the many examples in recent years of how Microsoft continues to propel our businesses into a safe and secure future. Now is the time for organizations everywhere to stay updated with these new tools and utilize them in their day-to-day operations so they can benefit from their capabilities and stay competitive.
Thinking about upgrading your organization with Microsoft 365? Discover how we can help brings those possibilities to life with our tailored approach and comprehensive support services.