What does customer-centric IT mean to you? What's the correlation between customer-centric IT and the phrase, "walk a mile in their shoes"? A customer-centric approach is a matter of competitive advantage, and, some might argue, is even vital to the survival of your business. But does this customer-centric approach also extend to your IT department? Does your IT department actually need to care about your end customers?
We think so! In this blog, we'll explore customer-centric IT in greater detail. Read along to find out why we believe it's important to have your IT department "walk a mile" in your customer's shoes, and a few ways that you can implement customer-centric IT in your organization.
What do We Mean by Customer-Centric IT?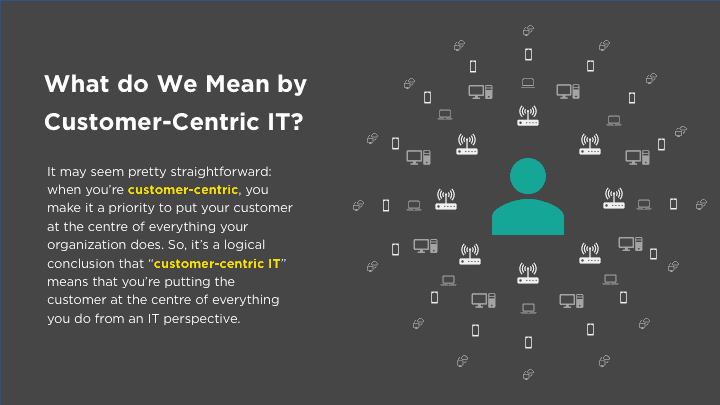 It may seem pretty straightforward: when you're customer-centric, you make it a priority to put your customer at the centre of everything your organization does. So, it's a logical conclusion that "customer-centric IT" means that you're putting the customer at the centre of everything you do from an IT perspective. This, however, may be a somewhat new concept.
Whether we like it or not, there is a major stereotype of your "typical" IT person – they sit in a dark room, typing away, and rarely venture out into the light of day. Of course, nothing could be farther from the truth, but there is one reality to the stereotype that we felt necessary to point out – IT typically does not interact with the end users unless something goes wrong.
So, the question becomes, how do you get your IT department more connected to your customers?
At ProServeIT, we've heard from several organizations who are re-evaluating and undergoing both cultural and organizational changes in an effort to help their IT departments get more in touch with their end users' needs and wants – to make their IT department "walk a mile in (the customer's) shoes", so to speak. When your IT department can experience your services through your customers' lens, it opens up a whole new understanding for what the customer goes through, and the potential issues and frustrations that the customer might experience.
In fact, Jesse Carrillo, senior vice president and CIO at Hines, a global real estate development and management firm, was quoted in a CIO.com article saying, "IT people have a tendency to complicate and over engineer things, but when they started putting themselves in the shoes of a customer, they start to act and see things differently." He goes on to say that their historical evaluation of a solution focused on technical aspects, like networks, databases, and code, and they weren't as in tune to what it actually feels like to use the solution. "Through these exercises, the team is much more in tune with user interface and UX simplicity."
Why Does Your IT Department Need to Concern Themselves with Customer-Centric IT?
A customer-centric approach is important for many reasons – Forrester found that organizations with superior customer experience (CX) had superior revenue growth, and, in one particular case they site, a one-point improvement in a mass market auto manufacturer's CX index score could result in $874 million in increased revenue.
That is to say, if you want your revenue to grow, it's not enough to just have the sales team or the marketing team focusing on customers' experiences. You need everyone in your organization to be engaged and thinking about your products or solutions from a customer perspective – this includes your IT team, too.
Consider Vail Resorts, who has taken customer-centric IT to a whole new level. Their IT team has created several initiatives that has completely taken the customers' experiences into account – whether it's the RFID-enabled lift tickets and passes that help to shorten the wait times, or the mobile apps for tracking lift line wait times and how many vertical feet you've skied. Vail Resorts has even gone so far as to create an AI-based digital mountain assistant called Emma, that provides current grooming and ski conditions, rental or dining recommendations, and other information that's important to skiers.
Tim April, the company's senior vice president and CIO, was quoted in a CIO.com article saying, "We have a responsibility to think through IT operations as a guest experience. That changes the experience of being a technologist – you're not done when the technology is done and deployed, you have a responsibility for the whole solution and that is a huge win."
How Do You Get Started with Customer-Centric IT?
So, how can you take the first steps towards customer-centric IT in your organization, and help your IT department begin to think like the customer? In this section, we'll talk about two ways that we recommend on getting started with a customer-centric IT approach – security and CRM.
Security
It should come as no surprise to you that security is one of the first ways that you can introduce customer-centric IT. After all, every bit of Personally-Identifiable Information (PII) you collect, from birthdates to credit card numbers, is of value to a threat actor. It stands to reason, therefore, that customers you deal with want to ensure that their data is protected, and that you have the appropriate solutions in place to protect their PII.
Security should not just be about keeping your organization safe – to those customers giving you their data, it's literally their financial and personal well-being at stake. Every transaction they make with your organization is showing their trust in your IT department, and every piece of PII that they give you needs to be treated with the utmost care.
Think for a second what a stolen credit card number means to a customer:
They need to call their bank and cancel that card, then order a new one.
They need to dig through their credit card records and make sure that no purchases have been made without their knowledge. If they do see irregular behaviour, they need to dispute the charge with their credit card company, which is a hassle in and of itself.
If they're doing automatic payments, they need to call each company (or log into their accounts online) and update their new credit card information. If this incident should occur during a billing cycle and their credit card is declined, your customer's service from that company could be interrupted, resulting in even more headaches.
They need to memorize a new credit card number.
Let's face it… if you make a customer have to jump through that many hoops to replace that credit card because your organization was careless with their data, you really can't blame them when they stop wanting to do business with you.
This is just one example of a customer-centric IT attitude – how are you going to protect your customers' data so that you don't inconvenience them?


---
---
CRM
Another place where you can apply a customer-centric IT lens is your Customer Relationship Management (CRM) system.
CRMs can do far more than just store data on customers and provide your sales team with a place to record their notes and interactions with your leads and customers. Technology today has progressed your CRM to also help you predict what your customers will need next, help your sales team upsell to your current customers by suggesting complementary products or services, and even use artificial intelligence to reduce wait times, proactively alert your customers to potential issues, and increase overall customer satisfaction.
With all this in mind, of course it's easy to see the correlation between customer-centric IT and CRM. And by involving your IT department in the customer journey, they can help you build out a better CRM that takes the customer into account.


---
---

Is Your IT Department Ready for a Customer-Centric Approach?
Ready to get started with a customer-centric approach? Not sure how to begin? At ProServeIT, we can help you. Our Breach Prevention Workshop lets you utilize ProServeIT's security expertise to be able to efficiently deploy the most important security features to your organization when you need them the most, and shows you how to dramatically increase your security posture, stopping phishing and ransomware attacks in their tracks and preventing the possibility of ending up as another statistic.
Or, if you'd prefer to look at your customer-centric approach from your CRM perspective, check out our Dynamics 365 Jumpstart, which will provide you with full Dynamics 365 CRM deployment for up to 25 users, personalized user training, and post-deployment support for your team. For more information, click here, or contact us to get started.