May is Asian American and Pacific Islander Heritage Month in the United States and Asian Heritage Month in Canada. This May is Canada's 20th anniversary - Canada officially started celebrating Asian Heritage Month in 2002 (Source). In the United States, it's been officially celebrated since 2009 (Source).
As background, I am Korean Canadian. I was born and raised in Seoul, Korea. I moved to New York City as a student in 2004 and immigrated to Canada about 12 years ago in 2010. As we were getting into the month of May, which is a special month for me (my wedding anniversary and my daughter's birthday are in May, in addition to it being Asian Heritage Month), I took a moment to reflect. And as I was reflecting on my journey and that of my fellow sisters and brothers, I thought about a book I recently read, Twelve and a Half by Gary Vaynerchuk. In his book, Gary, one of my favourite entrepreneurs, authors, and content creators, talks about twelve and a half ingredients necessary for success in business and life. One of the ingredients is curiosity.
"A strong desire to know or learn something." - This is the definition of curiosity according to the Oxford dictionary.
Being open-minded and curious about different cultures leads to learning about them. This leads to appreciation and respect of such different yet similar ways humans have survived, thrived, loved, enjoyed this thing called life for thousands of years. And this helps us achieve not only more diversity but also inclusion and belonging.
I've always been fascinated by different cultures and to me, the fact that our world is filled with such diverse cultures and that there is so much to learn about them makes life exciting. I was born and raised in Korea but there is still so much to learn about the culture I'm from. I recently read a novel written by a Korean author and while I was reading it, I could not stop thinking how much I did not know about my own country's history. It was fascinating to connect the dots between the historical events I was reading about, and the values widely shared and appreciated by Koreans.
If I still have so much to learn about Korea, how much is there for me to learn about the other parts of Asia? There are more than 40 different countries on the continent of Asia. Within those countries, there are numerous subgroups and cultures.
When we label people from different cultures as "others" (i.e., othering), as opposed to having true empathy and curiosity to learn about them, that knowledge gap is filled with biases. Conscious and unconscious biases lead to discrimination. Having a strong desire to learn is such a good start to foster diversity.
Celebrating Asian Heritage Month
In the highly digitized world we live and operate in, technology makes a significant difference when it comes to achieving your organization's objectives. We continue to see statistics that show the positive impact of tech intensity on business growth. A recent HBR (Harvard Business Review) article, Democratizing Transformation, states that companies with high tech intensity (top quartile) experienced revenue growth and a compound annual growth rate twice that of more than the laggards (bottom quartile). See the image for more details. Tech intensity means "the extent to which employees put technology to use to drive digital innovation and achieve business outcomes." In other words, tech intensity means more than how much you as a business invest in technology. It also means how much of the technology is utilized by people across your business.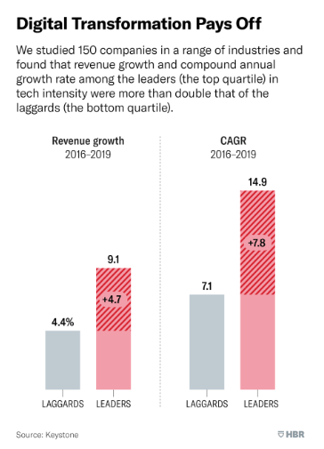 This HBR article is just one of many with direct evidence of the correlation between tech intensity and business growth. We are a technology consulting company. With our mission of helping organizations unlock their digital future, one of the ways we celebrate Asian Heritage Month is by partially donating our expertise.
Women and the BIPOC (Black, Indigenous, and people of colour) population still only hold a fraction of all leadership roles. According to the annual research conducted by McKinsey & Company and LeanIn.Org, while they represent 64% of the entry level roles, they represent only 37% of the executive roles. White men represent 35% of the entry level roles but the percentage goes up at every step up on the corporate ladder and 62% of executive roles are held by white men. We looked at our own customer organizations and the percentage of organizations led by white men is 67%, white women 19%, men of colour 7%, and women of colour 2%. Our data is very similar to what McKinsey and LeanIn.Org found from their research.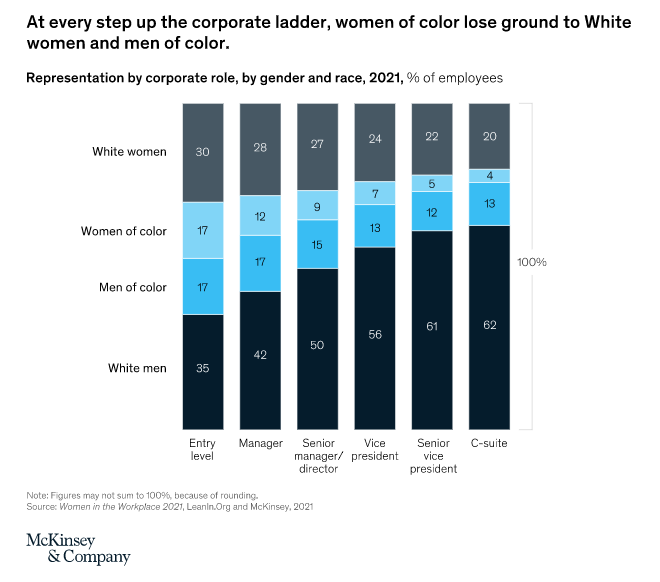 Also, there is the pay gap. According to the OECD, there is a 16% difference between men's median earnings and women's median earnings. Canada has the eighth worst gender gap. According to the Canadian Women's Foundation, in Canada, for every dollar men make, women make 89 cents. Racialized women make only 59% of white men's earnings on average. What is most concerning about the gender pay gap in my opinion is that according to Statistics Canada's 10-year analysis, two-thirds of the reasons are unexplained. This means the gender-related biases are so incredibly prevalent. It is extremely difficult to call out unconscious biases.
 The reality in the United States is not any better. According to the Pew Research Center, women make 84 cents for every dollar men make. Hispanic women make 54 cents for every dollar that white men make. Black women make 64 cents for every dollar that white men make (Source: The Center for American Progress).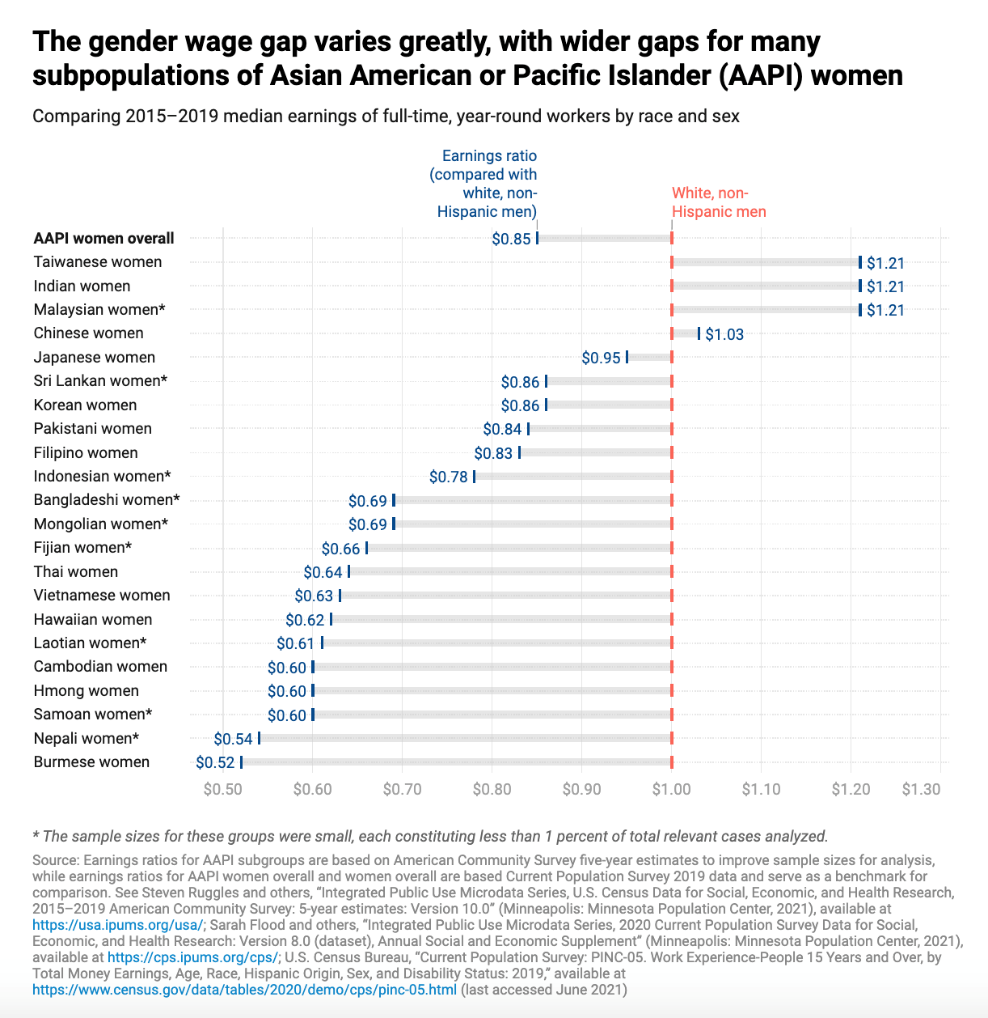 With heightened racism, EDIB (equity, diversity, inclusion, and belonging) has become a priority in many organizations. The research by McKinsey and LeanIn.org reveals that women leaders are taking a lead.
"Compared with men at their level, women leaders are up to twice as likely to spend substantial time on DEI (diversity, equity & inclusion) work that falls outside their formal job responsibilities—such as supporting employee resource groups, organizing events, and recruiting employees from underrepresented groups. They are also more likely than men to take allyship actions such as mentoring women of color, advocating for new opportunities for them, and actively confronting discrimination." (Source: McKinsey and LeanIn.org)
When this is the reality we live in, not doing anything to contribute to improving this disturbing reality is not an option for us. We wanted to find our own way to contribute. So, this is what we know:
○ We fully understand the role technology plays in business growth and success.
○ Women represent only 24% of C-level executives (white women 20%, women of colour 4%) and they are the ones who tend to take additional responsibilities to foster EDIB.
○ The C-suite is still largely a white man's world: they represent 62% while men of colour represent 13%.
○ Almost 70% of organizations stated that the effort from employees to promote EDIB is very important but less than a quarter of them formally recognizes the effort by including it as part of performance reviews.
And here is our own way of contributing:
We want to lower the barriers for women-led and BIPOC-led organizations to improve the technology landscape in their organizations. The higher the tech intensity, the bigger the business growth. Our belief is that the better their business performs, the more opportunities there will be for female leaders to continue their efforts to promote EDIB. This is why we are partially donating our expertise by offering a significant discount to women-led and BIPOC-led organizations for our flagship offer, Technology Roadmap Lite designed for CEOs.
To learn about Technology Roadmap Lite designed for CEOs, we invite you to have a look at our page here: Technology Roadmap Lite for CEO's (proserveit.com)
To learn about our EDIB offer, please have a look at this offer page: Technology Roadmap Lite for CEO's - EDIB Special Offer | ProServeIT