After you complete structuring your Business Intelligence (BI) project, identifying BI requirements and researching BI platforms and partners, now the fun part begins! It's time to build your BI implementation roadmap and implement your BI project. This is the fourth step of the 5-step approach to your BI project: Structure, Identity, Choose, Implement, and Measure. Our previous blog posts have helpful tips for the first, second and third steps.
Feel free to review them before or after reading this post:
The benefit of following the 5-step approach to your BI project is that the implementation step should not be difficult with no surprises experienced because you have been engaging critical stakeholders. This fourth step – implementation of your BI project – is where your work to ensure alignment and engagement with the major stakeholders in your organization will pay off.
BI Implementation Roadmap
Here is a BI Implementation Roadmap you can utilize. We recommend leveraging an implementation roadmap like this to streamline your implementation activities.
1. Environment Selection
Select environment for the BI platform
2. System Architecture
Architect the BI platform
3. Data Architecture
Model a data architecture to serve BI data
4. Development
Conduct pilot and conduct agile development
5. Production
Move into production
6. On-Going Test
On-going and continuous testing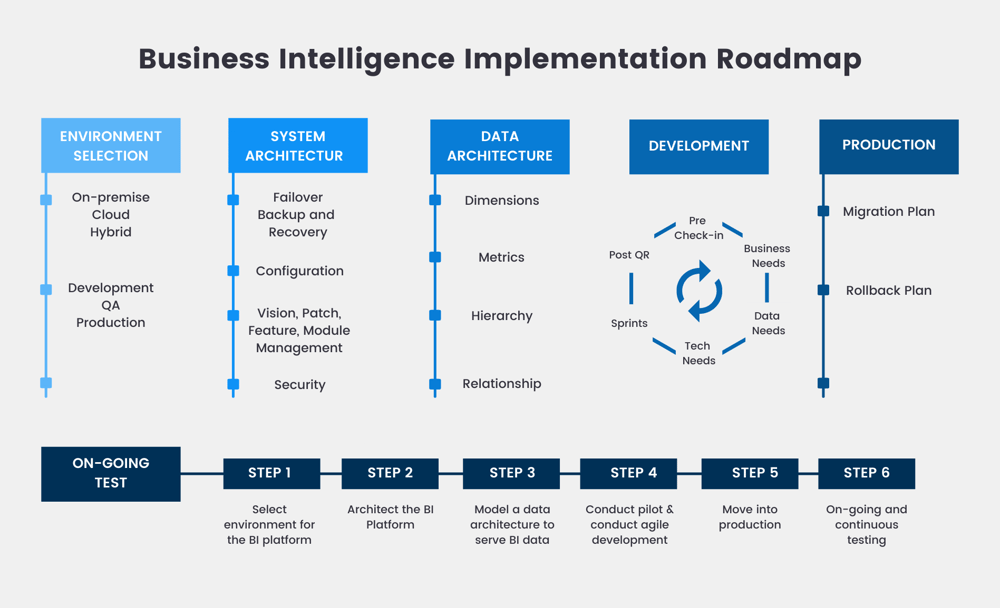 Things to Consider Before Building Your BI Implementation Roadmap
Our next blog posts will discuss the 6 steps in detail but before we get there, it is worthwhile considering the items below:
There are 3 main ways to implement your BI project:
Implement in-house with your own staff.
Implement using a combination of your own staff and professional services from an implementer.
Implement by professional services.
6 BI implementation decisions to be made:
Implementation Type
Environment
Availability
Configuration Management
Pitch Management
Security Planning
Factors affecting your BI implementation decisions:
The size of your IT department
The capability of your staff
Your industry and business complexity
Your data landscape depending on whether you have specialized applications, data quality issues or a data warehouse
Need to accelerate the implementation
Your budget
A system architecture planning team needs to be assembled:
The project manager and the technical lead should review the organizational structure of the IT group.
Identify the personnel required. They usually come from architecture, infrastructure, and security.
Recruit them to the planning team.
Collaborative decision making is critical:
The planning team should collaboratively discuss and come up with system architecture options.
Present the options back to the BI select and implement team and/or project sponsor.
Make final decisions and document the decisions.
6 Recommendations When Building Your BI Implementation Roadmap
As you build your BI Implementation Roadmap, it is important to remember that value is captured not only in the functional capabilities of the tool, but also in its ongoing support and utilization. We have selected 6 recommendations for you as you start building your BI implementation roadmap:
Installation and configuration of a BI tool is just the beginning of the journey. The real value is found in modelling data to make it consumable and in developing a compelling BI deliverable with the BI platform.
Determine the mode and rigor of end-user and developer training.
Be aware of the role of a third-party integrator in your steps.
Know the degree of your BI partner's involvement in initial implementation, data modeling, and end-user training.
Outline your BI partner's role and the expected results related to the configuration and implementation of the BI solution.
Identify the level of support your organization requires for the ongoing maintenance and performance of the tool.
Let's map your BI journey together!
Business Intelligence is no longer a luxury or niche. Organizations of every size and across all industries are taking advantage of the benefits of BI. Having an appetite for BI does not mean that the initiative will be an automatic success. It is imperative that organizations take the time to select and implement a BI suite that aligns with business goals and fosters end-user adoption.
Our team of BI experts will be happy to help you start your BI journey. Contact us today. We will be happy to discuss how we can help you!