"
What are some of the best customer retention strategies available for my small business?"

Gaining new customers is key to a company's initial success, but keeping those customers is equally important. For one thing, it's a lot cheaper to retain a customer than to spend time and resources to be constantly replacing them (up to 25 times more expensive, according to the Harvard Business Review). Plus, if you have a loyal customer base, that provides the consistent revenue that you need coming in while you try different approaches to attract new customers.
So, the question is, what are some of the best customer retention strategies available to you? What can you do to retain your current customers? This blog highlights six of the best customer retention strategies that we think will have a positive impact on your small business. Read along to learn more!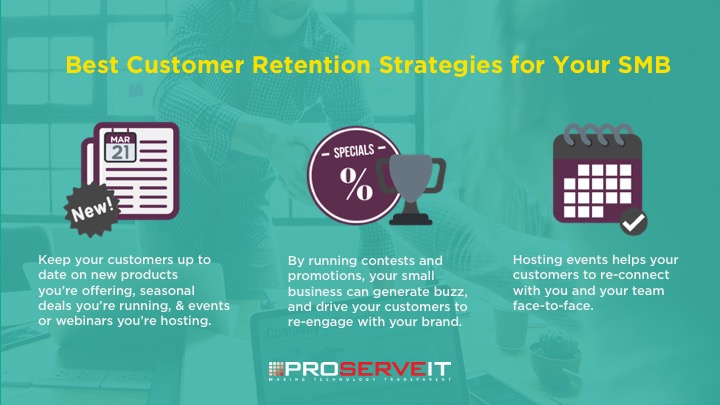 Best Customer Retention Strategy #1: Monthly Newsletters
You've probably heard this expression before: "the most valuable customer is the one you already have." So, one of the best customer retention strategies you can do to make sure you hold on to those customers is to send out a monthly newsletter. It's one of the easiest ways to stay in touch with your customers, and it lets them know what's new and interesting with your company.
Keep your customers up to date on new products you're offering, seasonal deals you're running, events or webinars you're hosting, or anything else that they would find of interest. Remember, this isn't necessarily the right channel to "toot your own horn", so to speak - if your customers don't find value in what you're sending them, they'll unsubscribe, so be sure to put yourself in their shoes and make sure that your content is both interesting and relevant to your customer.
If you're looking for a way to reach out to your customers using your CRM, several of them do have the capability to create email campaigns, which would go out to your customers. Microsoft Dynamics 365, for example, does allow you to send marketing newsletters to all of your leads, accounts, or contacts.
Interested in seeing a live demo of what Dynamics 365 can do? Check out this on-demand webinar for more details.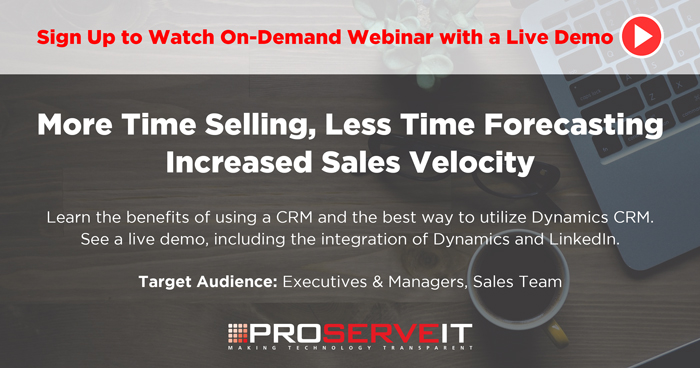 Or, if you've been considering a Dynamics 365 implementation, our Dynamics 365 Jumpstart program is a great way to get started.
Best Customer Retention Strategy #2: Contests & Promotions
Contests and promotions are a great way to boost your sign-up, sales, and conversion numbers, so they're clearly one of the best customer retention strategies out there. By running contests and promotions, your small business can generate buzz, and drive your customers to re-engage with your brand. Plus, contests have the ability to use your current customers to attract new customers to you – who doesn't like a referral from a friend about a contest that's happening?
Here are two of the most common types of contests out there, to get you started.
Contests: Your participants are doing something that needs a skill or some effort to win. For instance, you could consider running a short video or photo contest, where your customers have to post a video or photo of them using your product for a chance to win the prize.
Sweepstakes: This type doesn't require skill, and instead is based on chance. For instance, you could hold a random draw of all your current customers who respond to your latest email campaign, or sign up on your website.
Want to create some stunning visuals for your contest? Check out Microsoft Sway, an easy and effortless way to create and share communications (like your award announcement), presentations, or even newsletters. Their built-in design engine takes care of formatting for you, so you don't need to be a design expert to use this app.
Or, consider using the Pickit add-in for PowerPoint and create professional-looking slides in just a few clicks. Pickit allows you to access high-quality clipart and unlimited stock photos, and choose from suggested ready-made slide designs, all from PowerPoint.
Want to know more about either of these options? Give us a shout and we'll show you how to get started.
Best Customer Retention Strategy #3: Hosting Events
Can you honestly say that you don't feel special when you get an invitation to an exclusive event? It shouldn't come as a surprise, therefore, that one of the best customer retention strategies out there is to host an event and invite your existing customers to attend! Hosting events helps your customers to re-connect with you and your team face-to-face.
Experts suggest that hosting a customer event twice a year is a good way to ensure that you don't lose touch with your customers for a significant period of time. Here are 5 types of event ideas that are guaranteed to get your customers interested in re-engaging with you:
Learning Event – At this type of event, focus on teaching something to your attendees; consider a "how-to" (do something) session that your brand excels in and get to planning! Don't have much budget for an event? Webinars are a great way to share your ideas, set yourself up as a thought leader, and provide good content to your attendees, without breaking the bank. Invest in a good-quality webinar host, like

Microsoft Teams

, which can host up to 250 people.
Interactive/Hands-On Event – A hands-on event takes your learning event to the next level, literally putting the learning into the hands of the attendees.
Charitable Event – Everyone likes to feel good? And what better way to feel good than to do good? Hosting a charitable event, with a cause tied to it, is a great way of retaining your customers and keeping them engaged, while also helping a worthy cause.
Special Guest/Speaker Series event – Why not consider a special guest or speaker series, where you invite an industry leader, local personality, or other interesting guest to speak about a topic that would appeal to your customers?
VIP Event – Invite your best customers to attend a VIP event and give them an opportunity to feel like they've got the exclusive edge.
While planning your event, why not keep the planning committee on track using Microsoft Teams? It's an easy way to share and store those important documents and contracts you're working on, collaborate on the guest list for your event, and more. Microsoft Teams helps you manage all your files, conversations, and tools into one convenient team workspace. Plus, Microsoft Teams is capable of supporting Microsoft Phone System & Calling Plans, and will be replacing Skype for Business Online in the near future. Interested in Microsoft Teams? We have an on-demand webinar and eGuide for you to watch and read at your convenience! See below.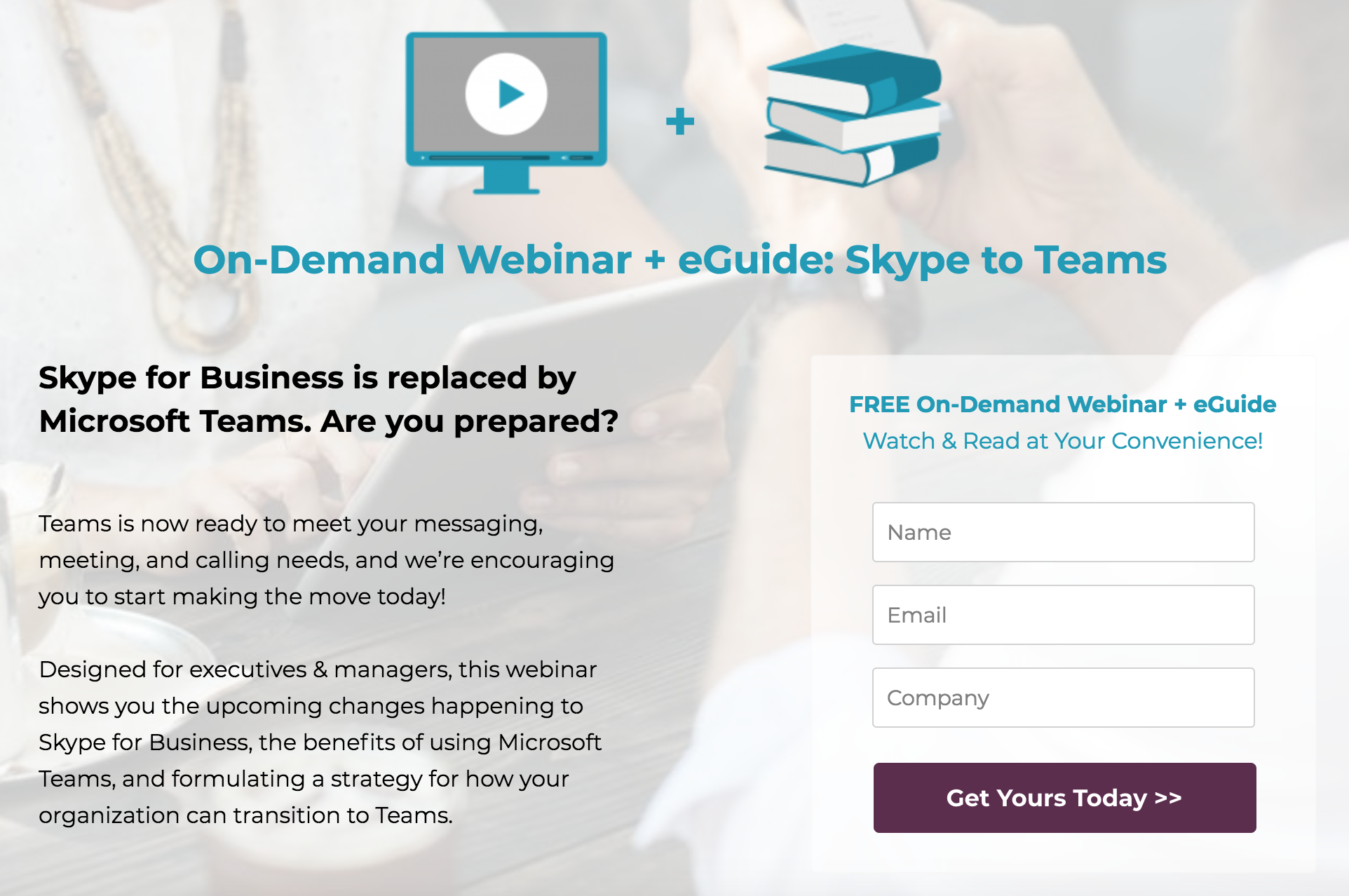 Best Customer Retention Strategy #4: Loyalty Programs
Loyalty programs come in many different shapes and sizes, but in a nutshell, they are programs that entice your customers to continue using or purchasing your products or services. Six customers out of ten cite surprise rewards as a reason they stay loyal to a brand.
Check out these 5 ideas for a loyalty program that can keep your customers happy:
Rewards program – This is the most common form of a loyalty program, where a customer collects points by purchasing a business's products, then is rewarded with a coupon, free item or similar compensation.
Go mobile – Rather than use a physical loyalty card that can either get lost or is put aside because it takes up too much space in the customer's wallet – go mobile! There are many mobile platforms that allow you to set up a rewards program and track the progress of that program. Can't find an app that works for you?

ProServeIT's software development experts

are capable of helping you build your own customized app that suits your unique needs and requirements.
Reinforce your brand with free stuff – A good loyalty program provides good incentives for its customers as well as raise brand awareness by how it offers rewards. If a business prides itself on a quality product, then a free sample pack after a certain number of purchases could be a good idea.
Social media deals – For those customers that follow you on social media, offer them a reward for their following, such as a promo code to use on their next purchase.
Customer feedback – It is very important that you are hearing from your customers to ensure your rewards program is always being improved. Rewarding customers who take the time to provide you with their feedback is a good way to retain their loyalty. You can keep track of this feedback by using a number of tools – your CRM, for example, or Microsoft Teams, where you could create a group for customer feedback. Also,

OneNote

is a good place to keep track of your customers' notes, because you can create a new notebook for customer feedback, or even a new notebook per customer. Want to learn about these tools in detail?

Contact us to see live demos!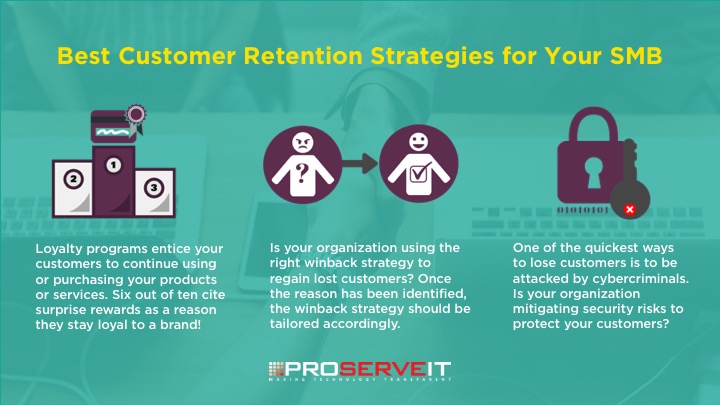 Best Customer Retention Strategy #5: Winback Promotions
Winback promotions are used specifically to regain lost customers. To implement a successful winback campaign, you must first identify the reason the customer left. Were your prices too high? Did too much time pass before needing to purchase another of your products? Were there more competitive products out there?
Once the reason has been identified, the winback strategy should be tailored accordingly. Here are a few winback promotion ideas that could entice your customers to come back:
Provide a special discount – If a customer has not returned after a certain period of time, offer a special discount that may be a bit better than the usual discount. Further to that, sending out a personalized email to that customer with a "We miss you – come see us again and use this 25% off coupon" (or similar) will certainly pique their interest.
Share your new, improved product – If a customer has left due to a product's lack of features, ensure you are communicating to them any new and upcoming products that may address those features they were missing before.
Partner incentives – Partnering with another company and offering incentives provides benefits for all three parties – the customer, your business, and your partner.
Best Customer Retention Strategy #6: Protect Yourself & Your Customer Data
These days, one of the quickest ways to lose customers is to be attacked by cybercriminals. When your customers' sensitive data is leaked, your customers trust you less, your brand image suffers, and you run the risk of potential lawsuits, depending on what information the cybercriminals were able to access.
So, a good customer retention strategy, therefore, would be to ensure that you're taking security seriously and your customers know you are. Office 365 Advanced Threat Protection (ATP) and Multi-Factor Authentication are two inexpensive, yet incredibly helpful tools that can be implemented relatively easily in your small business. Ask us if you want to find out how you can implement these two tools.
The best way to make sure that your organization is secure is to start with a cybersecurity assessment; the first step in understanding how to better secure your data. This gives you an overview of your cybersecurity infrastructure, including detailed recommendations from our experts on how you can remedy any risks that are identified. Plus, you'll learn how to better educate your employees on cybersecurity, tools you can use (like ATP and MFA), and you'll come away with a clear plan on what you should be focusing on.
Want to learn more about cybersecurity, landscape, and how to mitigate the risks? Here is a short video for you that explains cybersecurity in plain English:


---
This blog post is co-authored by ProServeIT and Change Connect. We publish a monthly blog specifically written for small businesses. Some of the topics we have discussed include security, CRM, Cloud computing, and Business Intelligence (BI). Click here to view a list of the previous co-authored blogs for small businesses.
About ProServeIT
As a multi-award winning Microsoft Gold Partner, ProServeIT has been helping SMBs increase their efficiency for over fifteen years. We're constantly looking for ways to help our customers get the most out of their technology investments, and we love to introduce our small business clients to new tools that can help them be more productive. Interested in implementing Microsoft Teams, Dynamics 365, Sway, or any of the other technology we've talked about in this blog for your small business? Talk to us to arrange a complementary demonstration of these, or other tools, that might be right for you!
About Change Connect
Change Connect specializes in helping clients to work more efficiently and effectively in pursuit of their revenue goals. We offer customized solutions for small to midsized businesses with a focus on Sales Transformation, which includes implementing strategic Sales and Marketing plans. Whatever stage your business is at, whether you're a start-up looking to expand or an established company looking to move from a plateau to record growth, Change Connect is your partner in transformation.  Change Connect – Making Sales Scalable.