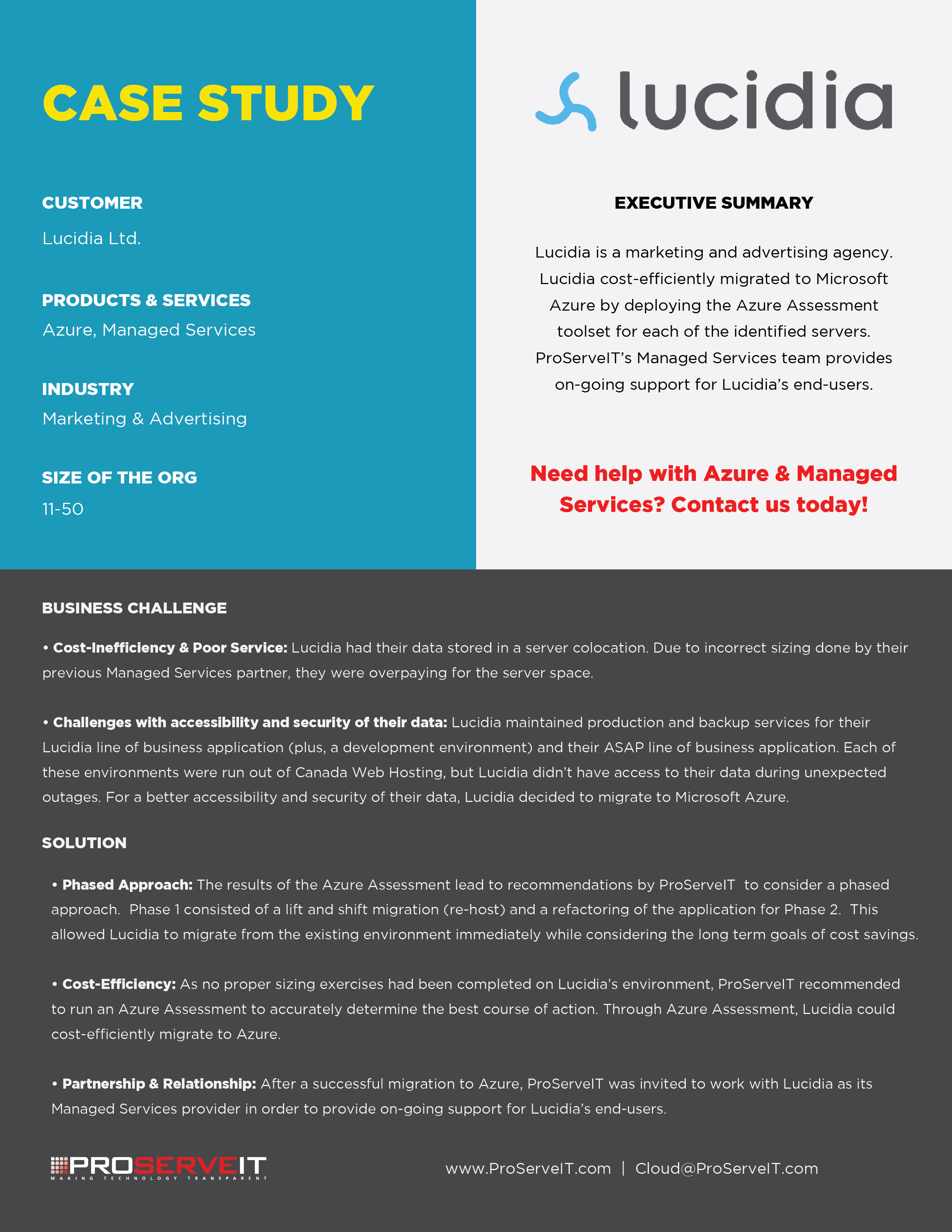 Lucidia: Azure & Managed Services
Executive Summary
Lucidia is a marketing and advertising agency. Lucidia cost-efficiently migrated to Microsoft Azure by deploying the Azure Assessment toolset for each of the identified servers. ProServeIT's Managed Services team provides on-going support for Lucidia's end-users.
Business Challenge
• Cost-Inefficiency & Poor Service: Lucidia had their data stored in a server colocation. Due to incorrect sizing done by their previous Managed Services partner, they were overpaying for the server space.
• Challenges with accessibility and security of their data: Lucidia maintained production and backup services for their Lucidia line of business application (plus, a development environment) and their ASAP line of business application. Each of these environments were run out of Canada Web Hosting, but Lucidia didn't have access to their data during unexpected outages. For a better accessibility and security of their data, Lucidia decided to migrate to Microsoft Azure.
Solution
• Phased Approach: The results of the Azure Assessment lead to recommendations by ProServeIT to consider a phased approach. Phase 1 consisted of a lift and shift migration (re-host) and a refactoring of the application for Phase 2. This allowed Lucidia to migrate from the existing environment immediately while considering the long term goals of cost savings.

• Cost-Efficiency: As no proper sizing exercises had been completed on Lucidia's environment, ProServeIT recommended to run an Azure Assessment to accurately determine the best course of action. Through Azure Assessment, Lucidia could cost-efficiently migrate to Azure.

• Partnership & Relationship: After a successful migration to Azure, ProServeIT was invited to work with Lucidia as its Managed Services provider in order to provide on-going support for Lucidia's end-users.
---
Client Lucidia Ltd. Industry Marketing & Advertising Size 11-50 Finished On-Going Website https://www.lucidia.com/