Darrell Booker, Microsoft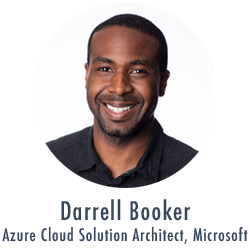 Darrell serves as a Cloud Solution Architect with Microsoft, working directly with CxOs of the world's largest nonprofits in their digital transformation to the Azure Cloud. His passion for the nonprofit sector began while serving as CTO for Think of Us, where he and his co-workers to this day are striving to use technology to improve the lives of youth transitioning out of foster care.

Darrell also co-founded a tech startup serving the fitness industry, helping staff engage with members, which is used in over 100 clubs in the US and Canada. Prior to his leadership efforts, Darrell, a software developer by education and passion, created and managed hundreds of websites, mobile apps and enterprise integrations for small businesses to large organizations such as state and federal government, banking and automotive.