There are two great things to keep in mind when it comes to Office 365 for Mobile. First and foremost is, how you can take advantage of having apps like Word, Excel and PowerPoint at your fingertips, so you can be much more productive. But another important thing to keep in mind is Microsoft's commitment to providing best-in-class experiences, regardless of the device you're using.
In this blog, we'll look at some of the most recent updates to Office 365 for Mobile platforms (iOS, android, and Windows Mobile), showing you the new features that are designed to make you more productive than ever before. Plus, we'll also talk a little bit about Office 365 for Mobile security through Mobile Device Management.
Updated Features in Office 365 for Mobile
Below, we've listed some of the recent Office 365 for Mobile updates from Microsoft and explained how you can take advantage of them in your environment.
Calculations and Commands at Your Fingertips
New In: Excel
Operating System:iOS, Android, Windows Mobile
In March, Microsoft updated the capabilities of Excel to have a quick access bar that gives you the ability to use some of the more common functions (i.e. sort, filter, expand, and more) without having to open a drop-down menu. Also, for those who are doing calculations on the go, this new update will allow you to perform common calculations like SUM, COUNT, or AVERAGE on a selected range of data within the spreadsheet.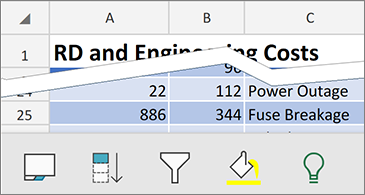 Real-Time Co-Authoring Capabilities for Excel and PowerPoint
New In: Excel, PowerPoint
Operating System:iOS, Android, Windows Mobile
Microsoft's new update allows you to work on an Excel spreadsheet or PowerPoint presentation with your colleagues. Real-time co-authoring capabilities shows you where your colleagues are on the page, and what revisions have been made.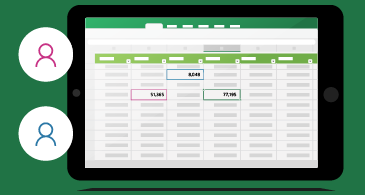 Speech Recognition & Reading Capabilities in Word
New In: Word
Operating System:iOS
Another recent update for iOS is the ability for Microsoft to read your documents to you aloud while highlighting the text that it's reading. Plus, with iOS, you can also use the speech recognition feature to dictate directly to your mobile device, saving you the need from having to type something into the document. These features are especially helpful for situations where reading and writing are not necessarily possible.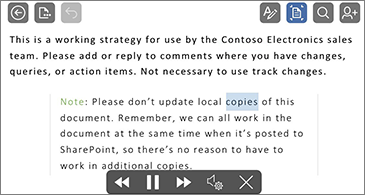 New Scroll Handles
New In: Excel
Operating System:Windows Mobile
If you're using a Windows Mobile phone, you can now scroll through Excel spreadsheets much faster, using Microsoft's new scroll handles. This upgrade will help you navigate through long spreadsheets with greater ease. New to touch devices? Using a Windows 10 Touch phone and having a little trouble finding your way around a spreadsheet? Check out this Excel Mobile guide for some tips on what you can do.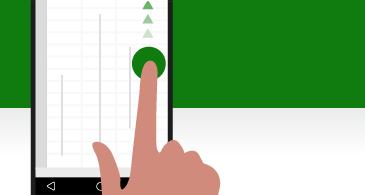 More Appointment Notification Options
New In: Outlook
Operating System:iOS, Android
The updates that Microsoft has done has also focused on how you can RSVP to events, and how those events are displayed in your mobile calendars. When accepting meeting requests in the mobile Outlook app, both Android and iOS allow you to edit your response to include comments before you send it or, if you'd prefer, you can choose not to send a response at all – just like on your desktop. Also, like the desktop version, you can now set your time as free, busy, tentative, out of office, or private in your mobile calendar.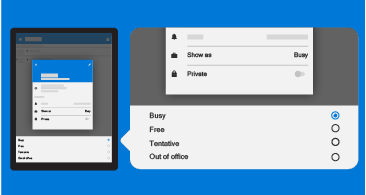 Improved Accessibility
New In: Word, Excel, PowerPoint
Operating System:iOS, Android
Microsoft now allows you to use larger text to make documents, presentations, and worksheets easier to use and work with. Plus, if you're using VoiceOver, you can use dictation to enter text, or use the rotor to move across links, slides, tables, sheets, or containers. Accessibility features are also available for Android mobile users, too.
There are other updates available besides the ones we've listed above, depending on the mobile operating system you're using. To see the full list of updates done in 2018, click here.
Stay Safe Using Office 365 for Mobile: Set Up Mobile Device Management (MDM)
Of course, one of the biggest concerns with companies that are enabling mobile devices is security. How do you make sure that using these new and updated features doesn't compromise the safety and security of your organization?
If your organization is moving toward a mobile-first mentality, it's definitely wise to consider setting up Mobile Device Management (MDM) in your organization. MDM for Office 365 allows you to secure and manage your users' mobile devices (iOS phones or iPads, Windows phones, Android phones or tablets, etc.). By enabling this in your organization, you can manage your device security policies, view device reports to see if there are any issues, or even remotely wipe a device of your corporate data.
MDM can be enabled in four steps.
Want more information on MDM? Microsoft has put together some Frequently Asked Questions that you should check out.
Get Started with Office 365 for Mobile!
There is a major shift to moving to Office 365 for Mobile. Those companies who are hesitant to take advantage of the multiple capabilities in Office 365 for Mobile may find themselves experiencing less productivity, and greater worker frustration. If you haven't already considered going mobile, talk to us today and see why it's the right move for your organization.