Do you find your Not For Profit (NFP) organization is having to choose between quantity vs. quality when it comes to technology? NFP Organizations face the tough decision of allocating budgetary funding across their goals and company initiatives. How we do business plays a fundamental role in how a company can carry out their mission statement.
The aggressive and competitive pricing advantage of Office 365 for nonprofits allows organizations to leverage a professional cloud platform that increases the efficiency of your team's internal communication and collaboration efforts. The move to the cloud gives your team the capability to work wherever, whenever in a secure environment.

What is included and what are the benefits of Office 365 for nonprofits?
Hosted Email: Accessibility is key to running a successful organization. Your team will now be able to access their emails and shared calendars on their laptops (PC or MAC), smartphones and tablets via Outlook. Each mailbox receives up to 25 GB of storage and your IT department will also thank you, as they no longer have to manage an on-premise exchange server.
Security: All mailboxes have built in spam and malware protection. Additionally, Microsoft has made it crystal clear that although your data is hosted in the cloud it is still and will always be your data. Your IT team is also able to manage your security options through the web-based admin center.
Office Web Apps: Producing and editing content has never been easier. With Office Web Apps you are able to open, view and edit your documents online via a web browser. Office Web Apps include – Word, Excel and PowerPoint
Collaboration: SharePoint Online is a cloud-based file sharing tool that allows your team to share documents with one another and simultaneously edit documents together. Skype for Business is an instant messaging, video, voice and web conferencing tool that gives your team members the ability to not only connect internally but also collaborate with volunteers and staff that are not in the office.
Social Networking: Yammer is an internal social networking tool. Engage with all your employees by giving them a space to use their voice on innovative ideas, company events and upcoming current events. Yammer gives your company an environment to collaborate holistically as a team and provide team unity across all departments.

How does Office 365 apply to my organization?
Microsoft's Office 365 is a productivity suite that fully integrates with one another to provide a seamless user interface experience. The easy-to-use customer interface gives your organization the opportunity to leverage each of the applications with simplicity. The best part about Office 365 is the promptness of adoption among your team and the lack of maintenance/upgrades required by your IT department.

Is there only one pricing model?
Now it comes down to the finances, what is it going to cost me and how am I going to be able to justify this? Microsoft Office 365 for nonprofits has two free donated plans - Office 365 NonProfit Business Essentials and Office 365 Nonprofit E1. The other three plans are also heavily discounted – Office 365 Nonprofit Business Premium, Office 365 Nonprofit E3 and Office 365 Nonprofit E5. Click here to see more information on Office 365 options.
Click here or the image below to download a pdf: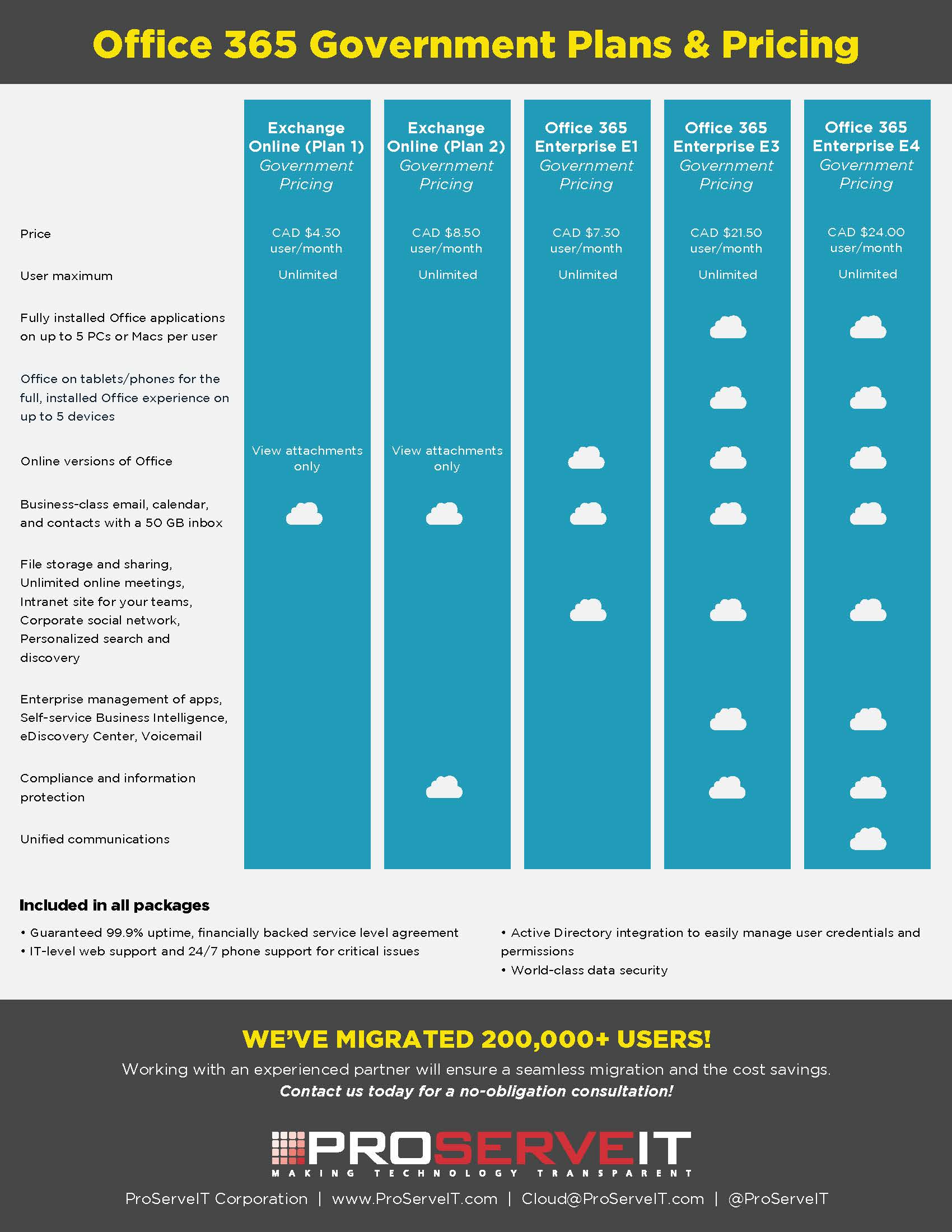 Alright, you've convinced me. Now what are the next steps?
You've come to the right place! ProServeIT has helped over 200,000 customers migrate to the cloud. Contact us today to figure out how you can take advantage of Microsoft Office 365 and start your journey to the cloud.