Is your organization aware of what Cloud storage benefits are available to you? Do you currently use Cloud-based storage solutions, like OneDrive, SharePoint, or Google Drive, to store your data?
Knowing what Cloud storage benefits are available to you can help you make the right decision that best meets your organization's data storage needs, so in this blog, we'll discuss the top 5 Cloud storage benefits and how you can maximize them. Plus, we'll look at some of the best Cloud storage options you should consider for your business.
What is Cloud storage, in plain English?
Cloud storage lets your users store data in the Cloud, rather than in servers, and access it through the internet.
While on-site solutions remain a viable option for data storage, more and more businesses are taking notice of Cloud-based storage options because of the convenience and the benefits to the bottom line. With Cloud storage, you can manage, maintain, and back up your data remotely, and there's no need to maintain any on-premises environments (i.e. physical servers in your server room or somewhere else). This eliminates the need for a large capital investment to purchase and refresh on-premises servers, which can get quite expensive. Instead, you can pay a monthly Cloud-based storage option, which is more cost efficient overall.
But what are the benefits of using Cloud storage?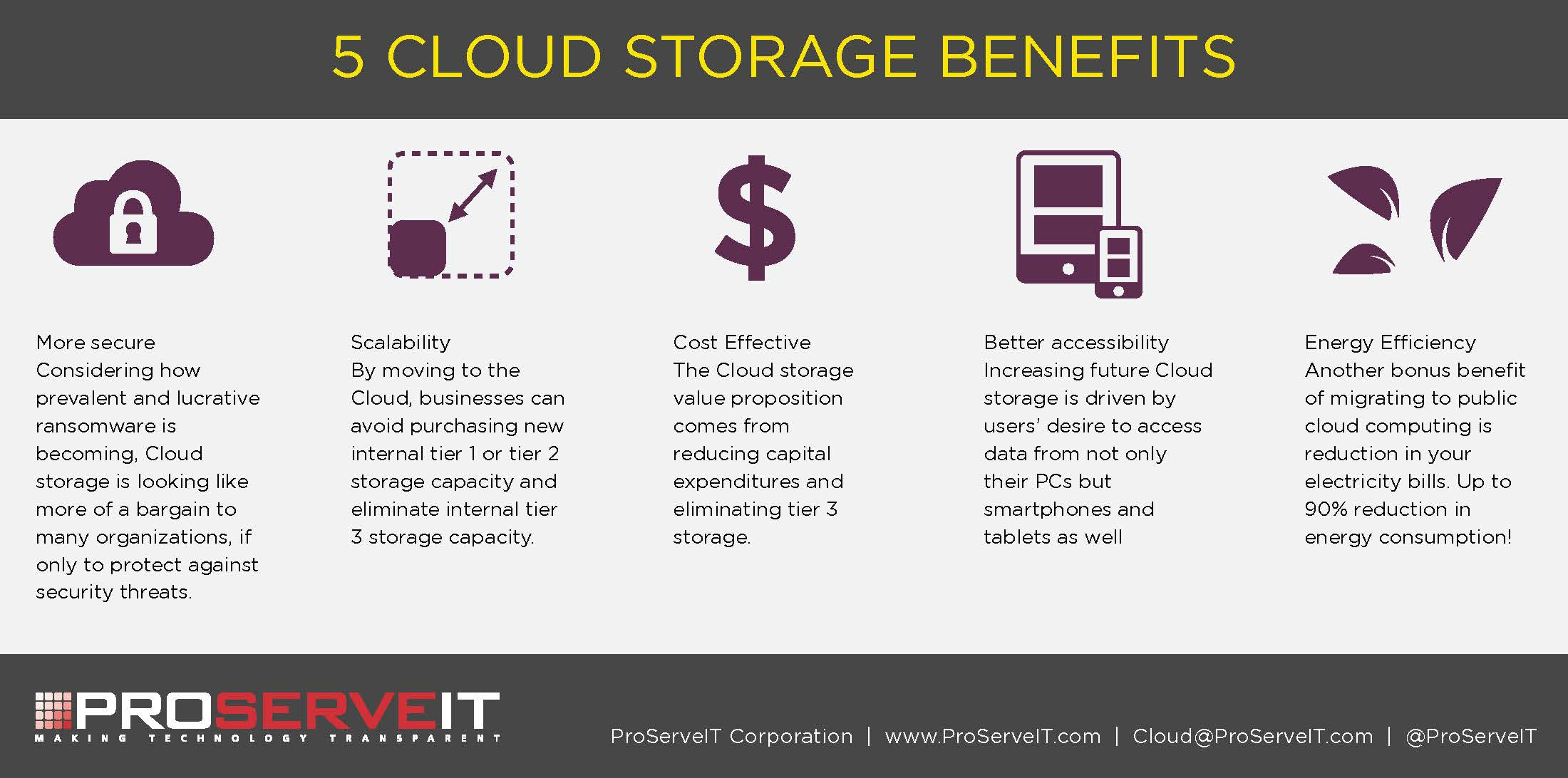 The Top 5 Cloud Storage Benefits Your Organization Can Take Advantage Of
Cloud Storage Benefit #1. Cloud storage is more secure.
Imagine that your data has been encrypted, you cannot access it, and you have to pay a hefty fee to get it back – if you get it back. Ransomware attacks are on the rise, and the reason for it is clear: organizations will pay to decrypt their data. It's important to know that it doesn't matter to hackers which business sector you're in, or how big your organization is – any organization can be a target for a data breach.
With Cloud storage, you can implement security controls to defend your organization's sensitive data against threat actors. Having a Cloud-based storage solution means that your Cloud Service Provider (CSP), like Microsoft, can routinely plan for vulnerabilities, test for weaknesses, and remotely back up your organization's data.
When you store your data in the Cloud, there is a measure for you to take to make your data (and your overall IT environment) even more secure. That is, to have a Disaster Recovery Plan. Disaster hits everyone sooner or later, so it is strongly recommended that organizations be proactive and have a Disaster Recovery solution in place. Not sure where to start? Take a look at our fully managed Disaster Recovery (DRaaS) program, designed to protect your IT infrastructure by proactively monitoring your environment, continuously backing up your data, and deploying customized Disaster Recovery solutions if your organization becomes a victim of a data breach.



Cloud Storage Benefit #2. Cloud storage offers scalability.
Storing data to the Cloud can help organizations take advantage of increased scalability. Does your organization need to be able to scale up and down easily? Going through a recent growth period within your organization? Have a lot of seasonal workers that might need Cloud storage only part of the year? If the answer to these questions are yes, take advantage of Cloud storage benefits to expand and contract your file storage needs on-demand, with just a few clicks of a mouse.
Cloud Storage Benefit #3. Cloud storage is cost-effective.
With a Cloud environment, the physical devices used for storage are not the organization's responsibility, but the responsibility of the Cloud Service Provider (CSP). This results in major cost savings for your organization, as your organization doesn't need to invest in and maintain their own on-premise resources (like physical servers).
Another measure of cost savings that may not be obvious is that, when using a Cloud-based infrastructure, a business will only be charged for the storage capacity that is in use, not for future capacity that may be required. This results in fewer wasted resources because you only pay for the resources you use. So, if your Cloud system is only using 250 GB of 1 TB of provisioned storage, you'll only be charged the monthly fee for 250 GB.
Cloud Storage Benefit #4. Cloud storage provides better accessibility.
Storing your data to the Cloud has many advantages for your employees. Do your data and files need to be shared among team members, across departments, or remotely? Storage of data in the Cloud means that you can access your content from any device, wherever you are (so long as you have an internet connection). Plus, you have access to a back-up of your files (that won't be wiped out) in case you lose your phone or your computer malfunctions.
Cloud Storage Benefit #5. Cloud storage is energy efficient.
An added bonus of migrating to the Cloud is the reduction in your organization's electricity bill. As mentioned earlier, with on-premise solutions, an organization would normally be responsible for purchasing, provisioning, and maintaining their IT infrastructure – this contributes to your monthly electricity bill! Compared to a traditional IT environment, however, you can enjoy up to 90% reduction in energy consumption by migrating to the Cloud.
What are my cloud storage options?
There are various Cloud-based storage options to consider, so it's important to deploy the solution that meets your business needs and integrates seamlessly with other apps and services that your organization already uses. Here are some of the questions you need to ask yourself:
What types of files does your organization want to store?
What level of security is required?
Does your organization need to plan for collaboration among team members, or not?
What devices do you currently use to edit and access your files?
Some Cloud storage services, such as Microsoft OneDrive or Google Drive, offer folder syncing, file syncing, device syncing, media-playing, and real-time document co-editing. Other Cloud storage services, such as Box (Personal), offer only certain features, like File Versioning or Windows App, but they don't allow for real-time co-editing capabilities. See the chart below for more information.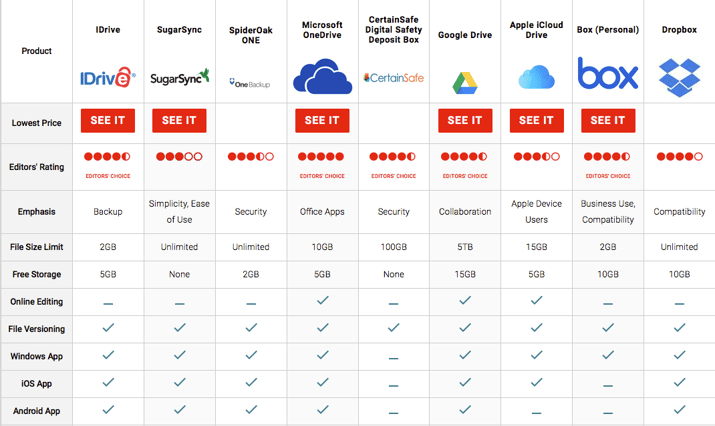 Get Started Maximizing Your Cloud Storage Benefits Today!
The good news is, maximizing your Cloud storage benefits doesn't have to be difficult! But, choosing the right cloud storage option to fit your organization's unique needs and requirements can certainly be daunting. ProServeIT has significant expertise in planning and implementing Cloud-based environments. Contact us to learn how to choose and deploy the right cloud storage option for your organization. Let ProServeIT help you extend and protect your IT infrastructure by leveraging Cloud technology today!