Small to medium-size businesses (SMBs) often hesitate to migrate to the Cloud. They believe they are too small an operation to benefit from the Cloud but the truth is that you will benefit from the Cloud because it offers direct relief for several of SMB business issues.
There are many SMBs with similar business issues that you are experiencing who have benefited from the Cloud. In a survey of Cloud adopters, companies like yours that we have migrated to Microsoft Office 365 are saying...
80% experienced steady productivity gains within the first 6 months
72% say the Cloud helps grow their business
66% reduced business process costs
82% say the Cloud enables employee mobility
This blog post suggests 6 keys to help you navigate next steps to maximize the benefits of the Cloud and define your path to business success.
Top 10 SMB Business Challenges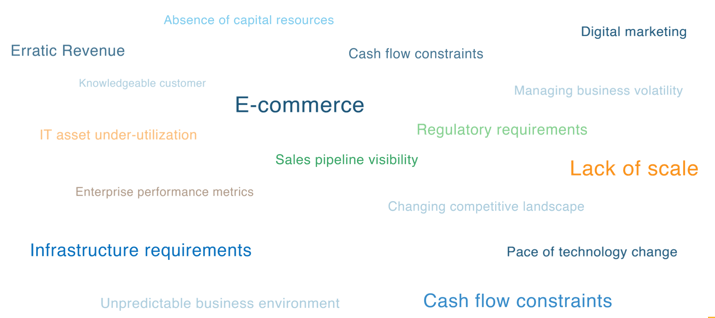 What business challenges do you have? Here are the top 10 business issues that SMBs often face:
Improving quality of products and processes
Improving workforce productivity
Attracting and retaining new customers
Increasing business growth
Increase profitability
Creating innovative products
Managing inventory
Reducing operational costs
Managing uncertainty
Improving speed to market
6 Keys to SMB Business Cloud Success
So how can you maximize the benefits of the Cloud and define your path to business success? Here are the 6 keys to your Cloud success:
1. Consider Cloud as your work ally
It is a key means of improving employee productivity, mobility, collaboration. The difference in the results experienced by passive followers and mature adopters is encouraging. While 76% of mature adopters improved their employee productivity through the Cloud, 27% of passive followers did. While 82% of mature adopters could successfully enable employee mobility, 39% of passive followers did. While 68% of mature adopters fostered better collaboration, 25% of passive followers did.


| Passive Followers | Results | Mature Adopters |
| --- | --- | --- |
| 27% | Improved employee productivity | 76% |
| 39% | Enabled employee mobility | 82% |
| 25% | Fostered better collaboration | 68% |
2. Cloud roadmaps really matter
Link tasks & processes so that each deployment is accretive to overall capabilities. Choose Cloud capabilities and design your own Cloud roadmap that delivers enterprise-wide efficiencies.
One of the great examples we are proud to share with you is Goodlife's Cloud roadmap that we helped design. With the right roadmap for their business needs, we were able to migrate all of their 15,000 users to the Cloud within 16 weeks. View the details of each step they took here.




3. Cloud must spread rapidly through the organization
It is a mistake to adopt a "wait & see" approach after initial adoption because the delay erodes the knowledge and experience gained from first deployment. In addition, it is recommended not to delay the incremental value obtained from deploying multiple cloud solutions. Mature Cloud adopters are using three times as many Cloud solutions as passive followers.


4. Focus on deeper use of SaaS (Cloud software applications)
Cloud is the agility platform and SaaS offers a zero-friction option for automating processes.
73% of SMBs are using one or more SaaS applications, up from 27% in 2011.
• SaaS addresses common SMB business pain points & needs.
• Its pace of adoption can be governed by points of pain.
51% of SMB started their Cloud journey with SaaS.
• Either with foundational operational apps (Microsoft Office suites).
• Or, with solving specific business pain points (sales, finance).
5 is the average number of SaaS application categories being used by small businesses.
• SaaS is priced and delivered that encourages experimentation.
• It reduces friction in new automation.


5. Do not ignore additional Cloud security
Cloud matters to SMB business success, and security matters to Cloud success. 32% of SMBs believe they are better prepared than others to meet security breaches. 40% of SMBs say that Cloud usage puts them at a higher risk of a data breach.
Here are some of the perceived security threats to use of the Cloud:
• Data exposure during transfers
• Hijacking of accounts in public Clouds
• Unauthorized access or data breach
There are many effective ways to improve your security posture, including the following 7 ways. To read more details of each method, refer to our blog post, "Protect your data: 7 ways to improve your security posture."
1) Reduce threats with identity and access management
2) Manage mobile device and apps
3) Leverage conditional access
4) Increase enterprise data protection
5) Prevent data loss
6) Enable secured collaboration
7) Reduce malware exposure


6. Work with the Right Cloud Partner
Cloud partners are focused on creating customer value in the Cloud. Identify the right partner and let them do the heavy lifting. 74% of SMBs begin the Cloud purchase process by establishing contact with the right Microsoft Cloud Solution Provider (CSP).
Why CSP?
Your partner can help you when you move to a subscription-based or "Cloud" licencing model from a traditional perpetual licencing model. Your partner can also help you determine what licencing and purchasing mechanism would provide you with the greatest opportunity for increased ROI. In addition, your partner will be a good resource to get answers to questions like: "How do we move from our current infrastructure over to the Cloud and what is the overall impact and associated cost savings?"
The Partner you choose for your subscription should provide tangible value to your organization, which at the end of the day means saving you money and helping your business become more agile, robust and efficient.
Let us help you!
Cloud computing can be confusing and overwhelming. That's why we are here! Get in touch with us today to get all the information you need to get started.