By: Stephanie Baskerville, Content Writer & Marketing Assistant, ProServeIT Corporation
What does Gumby have to do with corporate values?
At ProServeIT, a lot! In fact, "be like Gumby" is one of our three core values that every person in our organization lives by. But, what exactly do we mean by "be like Gumby"? And, furthermore, how does this help us become a better IT company and provide our customers with a better overall experience?
In this blog, I'm happy to show you how our experienced and knowledgeable team spends every day focusing on these primary core values, and what that means for you as a customer.
What Are ProServeIT Corporate Values?
Before getting into them in detail, I'd like to briefly point out ProServeIT's 3 core corporate values:
People Matter,
Be Like Gumby, and
Do It Right.
This may not make much sense to you at the moment, but in the next few sections, I'm going to show you how keeping these values in mind with everything we do translates to some major benefits of being our customer.
ProServeIT Corporate Value #1: People Matter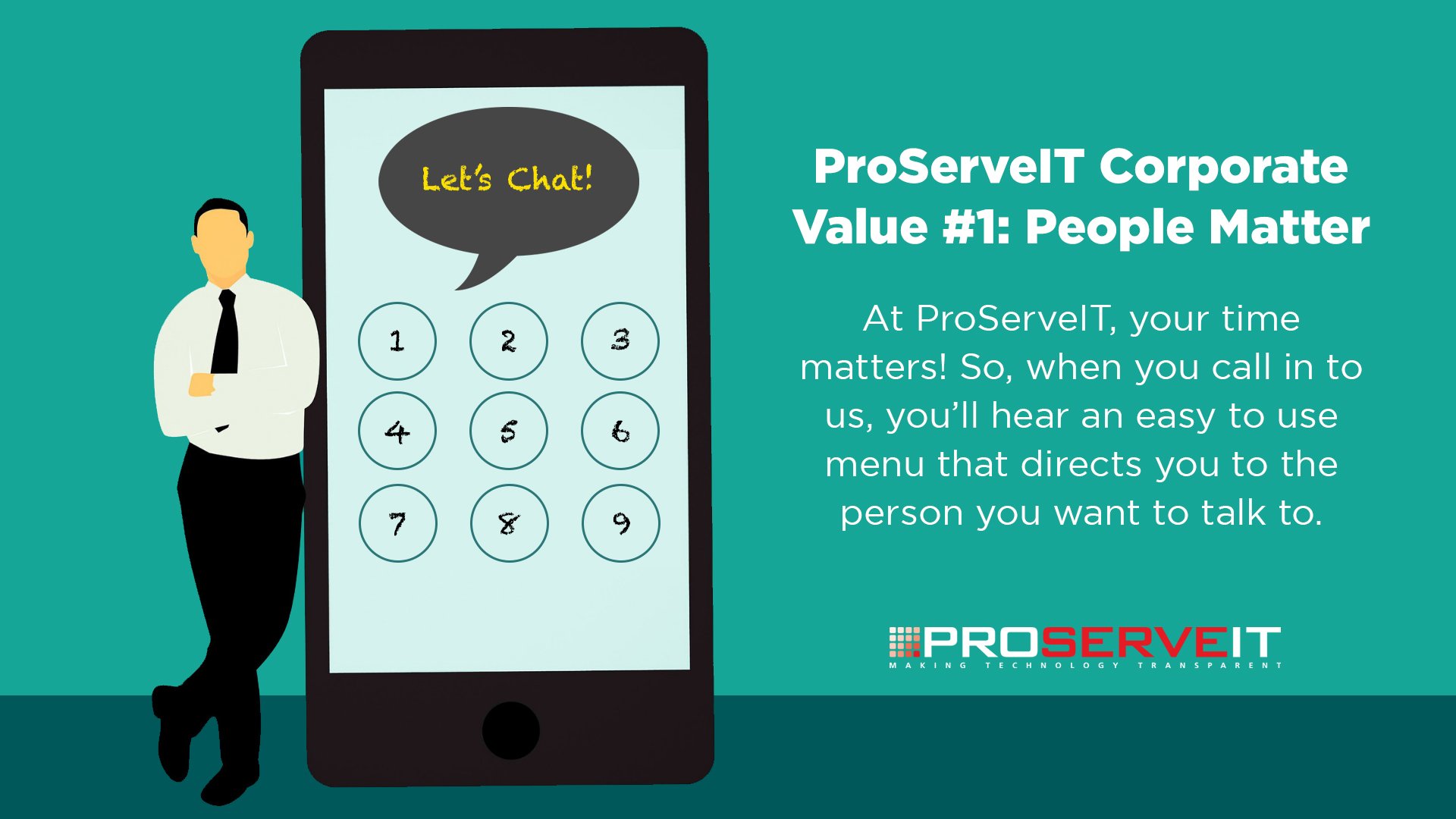 Here's a scenario you might be quite familiar with. You have a problem with your Internet, so you call your Internet Service Provider. After navigating through several automated menus, you're finally redirected to the correct department. But the automated voice on the end of the line informs you that you're number fifteen in the queue. Frustration mounts as one minute turns into ten, then thirty, then forty-five, then an hour. All the while, that elevator music is playing in your ear, and every thirty seconds, that maddening automated voice comes on the line and says something to the effect of, "your call is important to us. Please stay on the line and one of our representatives will be more than happy to serve you."
If your blood began to boil just reading this, believe me, I share your pain. It hurt me to write it! I can't tell you the number of times that I've been on the end of the line, and just wanted to scream with frustration. Why can't I just talk to a real, live person? Why must I have to navigate through an automated voice telling me, "okay, I think I understand you. Do you want…"?
ProServeIT's first corporate value, People Matter, is a direct challenge to this status quo. At ProServeIT, we don't feel that it's right to make someone go through such torture just to talk to a person. People matter! Your time matters! So, when you call in to us, you'll hear an easy to use menu that directs you to the person you want to talk to – and if you don't get the person because they're in a meeting or unavailable, you'll at least get their personal voicemail so you know they've received your message and will return your call.
But, it's not just our helpdesk that gets this People Matter treatment – one of our key differentiators is the security lens that we put on everything that we do. One of the big things that we've come to understand through many of our conversations with our customers is that many people don't understand that threat actors aren't targeting them personally. Your company can be the most benign company out there, not ruffling any feathers or drawing attention to yourself, and you'll still end up a target. This is because, with threat actors, it's a numbers game. Those threat actors are asking themselves, "How many people do I need to target in order to make money?" As such, threat actors look for easy targets. They look for those companies who aren't prepared for an attack, or those companies with minimal security – this is where ProServeIT's key differentiator kicks in.
We want to make sure that you never have to experience the shock of finding yourself a victim of a cyberattack. You've worked hard to build your business. You've put time, effort, and, more importantly, money into building what you have. That matters to us, just like you matter to us. Whatever we do, however we help you, security is first and foremost in our minds.
Want to understand a little more about our security offerings and getting your business prepared? We're here – chat with us today, or check out these resources below:
---
---

Corporate Value #2: Be Like Gumby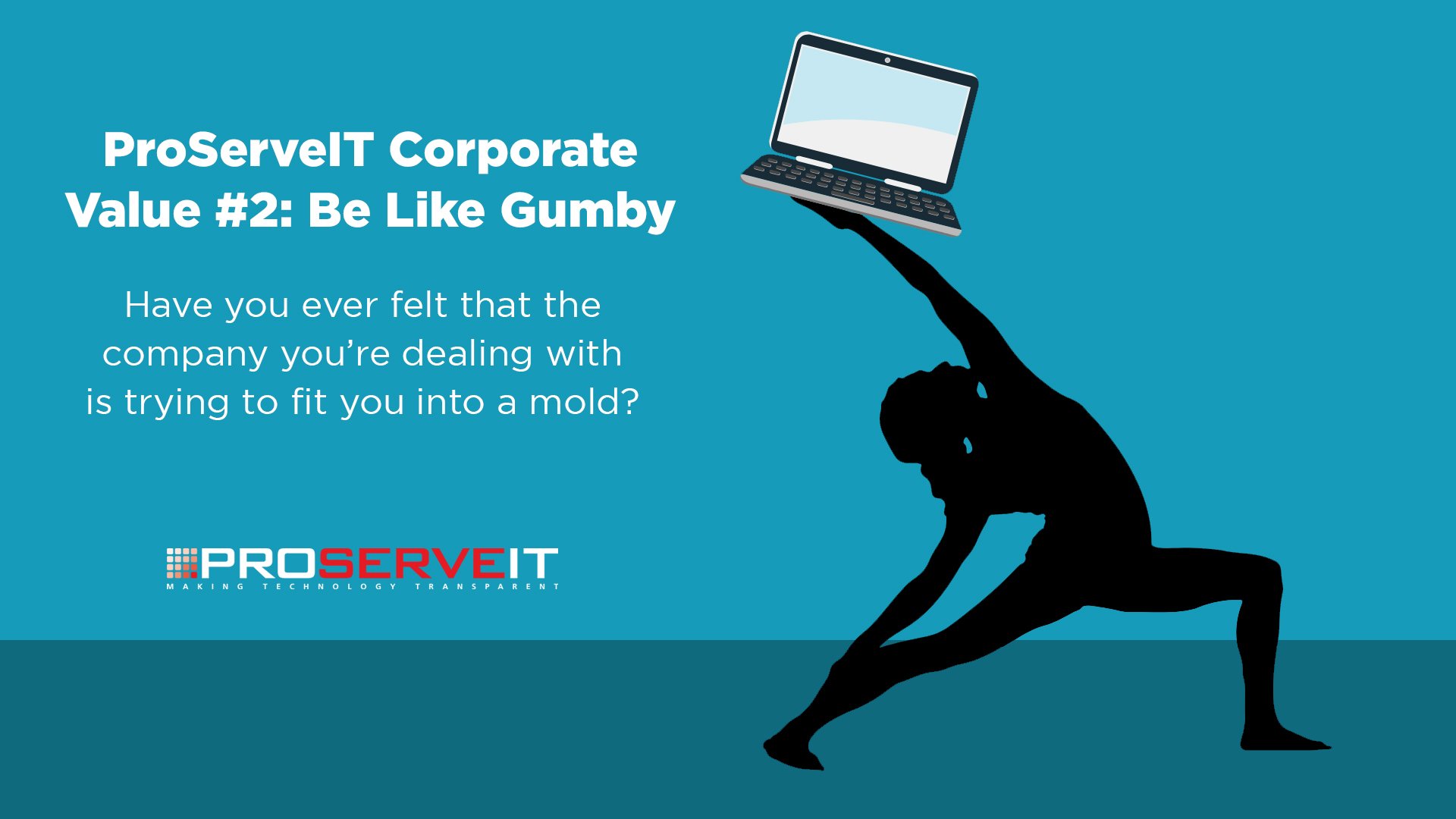 Have you ever felt that the company you're dealing with is trying to fit you into a mold? They say they care about how unique your organization is, but then they try to sell you a standard solution that doesn't tick off all the right boxes on your wish list? And when you try to ask them questions about the gaps in their solution, they prevaricate, telling you to trust them that this solution will solve your troubles.
So, where does ProServeIT's second corporate value, "be like Gumby" come in? At ProServeIT, flexibility is our middle name! When you work with ProServeIT's skilled and talented employees, you'll be working with flexible, workable, and adaptable people who want to ensure that they understand exactly what your needs are in order to tailor their solutions to tick off all of your boxes.
Like the versatile and supple character from the 50's and 60's, our team wants you to be 100% satisfied with what you're purchasing.
Of course, this flexibility of "being like Gumby" also applies to the many ways our industry is constantly in flux. It's a known fact that technology is always changing, but at ProServeIT, we're always on top of what's happening. When Microsoft makes a change, like phasing out Skype for Business in favour of Microsoft Teams, our experts are aware of these changes, and we're already reaching out to customers to advise them on what's happening and make plans to move forward.
Are you currently using Skype for Business? You may want to check out these two blogs for more information on what's coming:
---
---

ProServeIT Corporate Value #3: Do It Right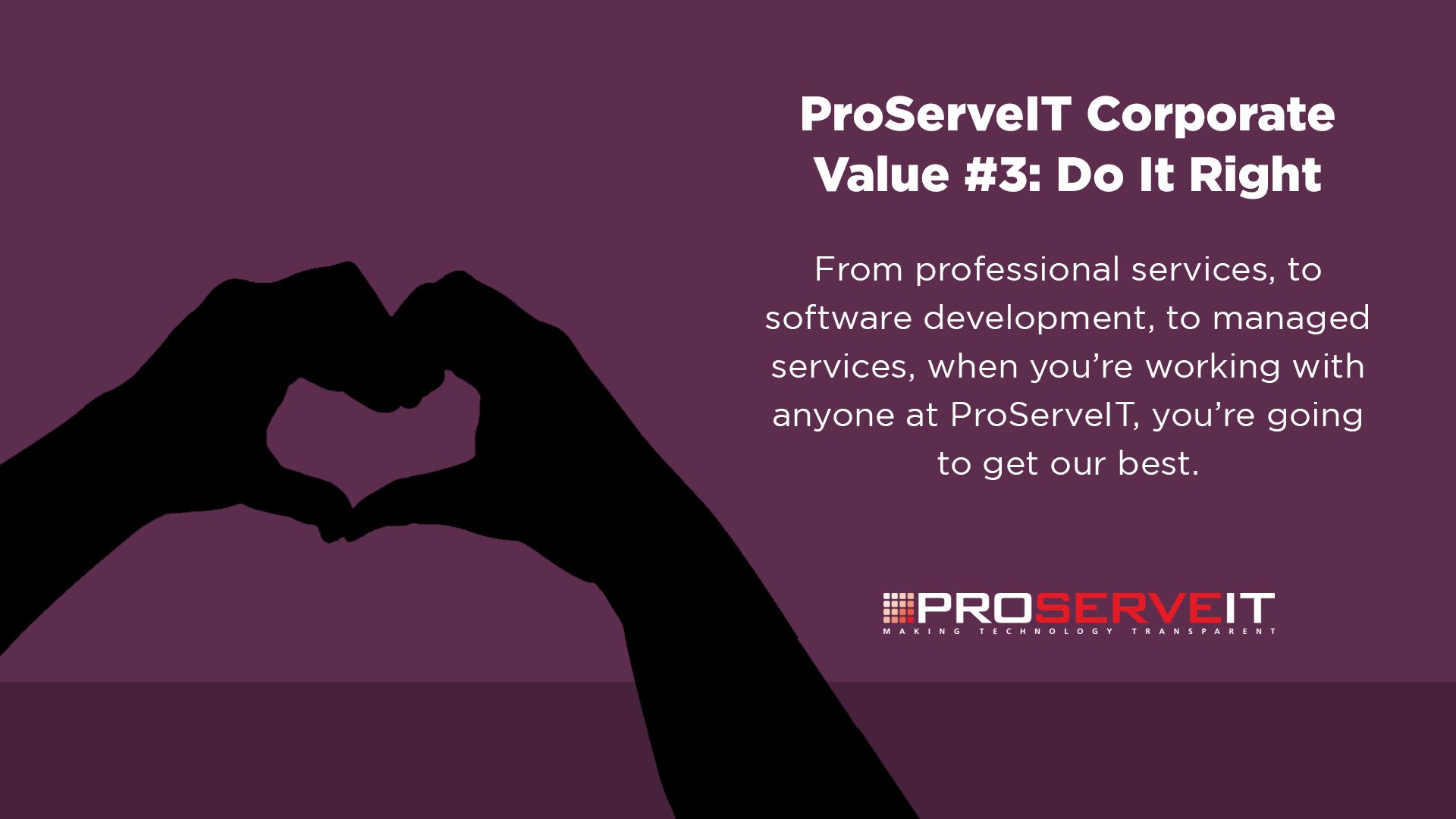 When I moved from my apartment to my house, I called my telecommunications company to move my phone, internet, and cable services to my new address. On the day they came, the technician hooked everything up, then told me that the signal to the box was so weak, that they had to connect me to my neighbour's box which had a much stronger signal. I was puzzled, but since everything was working at that time, I didn't question it.
However, over the next year, nothing seemed to work quite the way it should – my Internet was slow, and my cable often went out. I called numerous times to get another technician to come out and fix these issues, getting more and more frustrated each time. Two years later, a technician from a competing company knocked on my door and told me that he'd noticed the fact that I was hooked into a neighbour's box. When I explained to him what happened, he smiled and said there was nothing wrong with my box. Ten minutes later, he'd hooked everything up properly, I was no longer piggy-backing off my neighbour's box, and (surprise surprise) I had no further trouble with my Internet or my cable!
I was left wondering why the first technician (and subsequent technicians, for that matter) couldn't just do it right the first time?! Why did I have to spend a minimum of an hour on the phone waiting to get through to a real person, then keep having to book time off work to get someone to come out and try and fix something that wasn't broken in the first place?
This memory came back to me when I heard ProServeIT's third corporate value – "Do It Right". Regardless of the role in the company, each employee at ProServeIT wants to do the right thing for our customers. From professional services, to software development, to managed services, when you're working with anyone at ProServeIT, you're going to get our best. Because we want to do it right – the first time!
This goes along with another one of our key differentiators – eliminating your IT debt. Many companies out there love to upsell you. You go to purchase a single item, and you end up with accessories that you may never actually use, but they were part of the "good deal" that you got. At ProServeIT, we think, even if you did get a good deal on something, what's the point of wasting your money on something that you didn't even need in the first place?
That's why, when ProServeIT sells you a solution, like Office 365, we want to make sure that your maximizing your investment. There's no point in getting an Office 365 Enterprise E3 license if you're not going to use half the tools and apps that it comes with – you might as well just go with Enterprise E1 in that case!
Think you might have some unused "debt" lying around? Are you currently using an Office 365 license and don't know whether or not you're getting the maximum ROI from it? Talk to us! Or, check out these blogs that we have on the subject:
---
---
Our Corporate Values are for Your Benefit!
In short, ProServeIT's three corporate values says a lot about how we treat our customers. You matter to us. We're flexible in our approach. And, we're going to make sure that whatever we do, it's done right the first time!
Remember, we're your full stack technology partner, helping you start your digital journey. We've migrated over 300K+ users to the Cloud. Why not find out how our corporate values can be of benefit to you and utilize our expertise and experience to digitally transform your business through the Cloud? Give us a shout and let's get started!