In honour of Earth Day on April 22nd, we asked nonprofit organizations and charities to share their stories related to this year's theme of #RestoreOurEarth. ProServeIT's promise was to choose a winner and share their story on environmental restoration to our audience via our blog, our social channels, and our monthly newsletters. We received 9 inspiring submissions of nonprofits and registered charities that are all making a difference, from providing sanctuaries for penguins, to providing courses and content related to environmental preservation, to switching to a Cloud-based infrastructure to reduce the amount of paper being used, and more! Our team at ProServeIT was inspired to read about all the ways that nonprofits and charities are working to restore our earth, and we want to take a moment to thank each of you for sharing your stories with us.
The winning story for the Share Your Story challenge this month belongs to Mennonite Economic Development Associates (MEDA), chosen because of their commitment to environment and climate change through a number of global projects taking place.
It was my privilege to sit with Katie West, Communications Coordinator, and Mujtaba Ali, Technical Specialist for Environment and Climate Change on their technical team and hear more about these initiatives in greater detail. Ready to be inspired? Listen, watch, or read the fascinating interview below!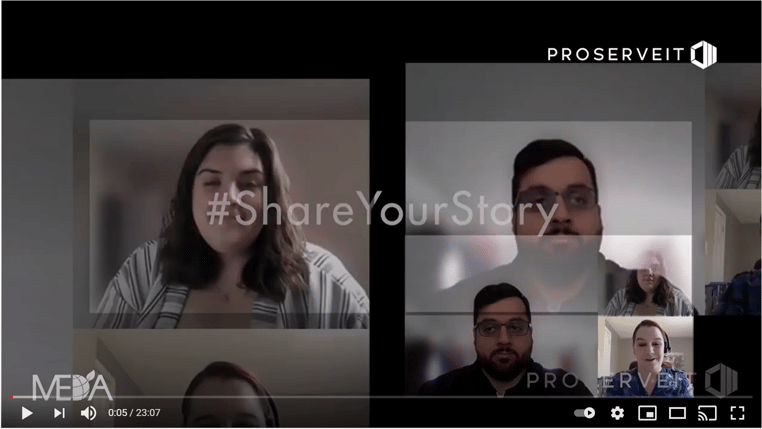 MEDA's Environmental Initiatives are Changing Lives
Stephanie: Joining me today is Katie West, Communications Coordinator, and Mujtaba Ali, Technical Specialist on the Environment and Climate Change Technical Team. Let's start off with a quick introduction to what your organization is and what it does.
Katie: MEDA is an international economic development organization that creates business solutions to poverty, and what that means is that we're looking for sustainable, measurable, scalable, and replicable solutions to global poverty. We believe that the intersection between business, environment and climate change, gender equality, social inclusion, market system development, impact investing, and inclusive financial services creates a sustainable solution to poverty that benefits everyone. And this is a methodology that we've used for over 60 years in over 70 countries around the world.
"We believe that the intersection between business, environment and climate change, gender equality, social inclusion, market system development, impact investing, and inclusive financial services creates a sustainable solution to poverty that benefits everyone."
Stephanie: I know MEDA has a focus on environment and climate change, and the story you wrote about was in Myanmar - let's chat about that particular story, because what you're doing there sounds quite fascinating.
Katie: Yes. Myanmar is a predominantly rural company, and it relies on a lot of agriculture for its national income. Climate change has impacted rainfalls and weather patterns, resulting in more dryness and more desertification and those kinds of things. Myanmar is seeing less predictable rainfall and increased dryness in parts of the country. At the same time, there's also been high growth in consumer demand for chemical-less, chemical-free, and organic produce. This is a newer aspect to agriculture in the country, because for many years, it was quite closed off from the rest of the world due to political and social reasons.
Harmony Myanmar Agro Group opened its doors for business in anticipation of this growth and demand of organic produce, realizing that farmers that want to have organic produce will need organic inputs to support the produce they want to grow. This meant a need for fertilizers, different soils, watering techniques, etc. MEDA saw what Harmony Agro Group wanted to do and decided to partner with them through a business matching grant program to expand retail outlets. MEDA and Harmony works with farmers, especially women farmers, to improve their knowledge of good agriculture practices and provide them access to good quality seeds and fertilizers created from chicken manure and other things that are better for the environment and better for the soil, and so that their produce can be certified as organic.
Mujtaba: Another thing that's very prominent in this story is water issues. Myanmar is a country that relies heavily on rain-fed irrigation and there's no proper water storage in some of those rural communities that we work in. So, our focus was trying to provide these proper irrigation systems, so we work with local organizations that provide these irrigation supplies, or other irrigation technologies. In 2018, Myanmar suffered a devastating flood that destroyed a lot of the crop land that MEDA and its farmers were working on, and we noticed that farmers were having difficulty rebounding from it. So, MEDA, along with a local partner, was able to provide seeds that would be able to withstand the salinity of the water that was coming in. And that's something that's been a focus for us.
MEDA's Briquette Project in Northern Nigeria is Helping to Restore Our Earth
Stephanie: That's amazing. Now, MEDA's got other projects outside of Myanmar, too. There's a briquette project in northern Nigeria – let's talk about how that's helping restore our earth.
Katie: Sure, I'll speak a little to that. Deforestation is a common challenge across the world, especially on the continent of Africa, and, in the northern Nigerian region specifically, this deforestation is contributing to the desertification and ongoing expansion of the southern Sahara Desert. And this ongoing desertification is really concerning because it's eating up arable farmland, which is a threat to food security. The deforestation is actually caused by the use of charcoal for the majority of cooking in the region – this is bad for forests, and, since the majority of cooking happens indoors, it's bad for indoor air quality. Women do most of the resourcing of the wood and they do the majority of the cooking, so women are actually most at risk when it comes to this bad indoor air quality. In addition to this, agricultural waste from daily living is also bad for the air and it produces methane during the early onset of the rainy season – this also impacts air quality.
MEDA saw an opportunity for this agricultural waste to be reused, specifically reusing peanut shells and rice husks to create fuel briquettes to burn instead of charcoal. MEDA brought a group of men and women together – predominantly women because they have more experience burning charcoal and using firewood – and helped train farmers and micro-business owners in teaching them how to use the leftover farm waste to earn an income, decrease the waste, and create safe fuel, all at the same time.
"Women do most of the resourcing of the wood and they do the majority of the cooking, so women are actually more at risk when it comes to bad indoor air quality."
Mjutaba: Ever since we started the project, and it's in its second year, we've been working with briquette manufacturers within northern Nigeria, and our whole goal is to focus on women and youth, to ensure this machinery that is being developed can be properly used by women and youth once they've had the proper training. Briquette manufacturing used to be very expensive in northern Nigeria, and, obviously because firewood is cheaper - or sometimes free if you just cut down a tree – it's been quite a process to create briquettes. But, with the new machinery and the new processes in place, businesses are noticing that it's now much cheaper to rely on briquettes. It's available continuously, throughout the year. We're hoping this will help to solve the deforestation and the desertification of the southern Sahara Desert that Katie talked about.
Stephanie: That sounds like the project works on two levels. You're not only increasing the economy there and giving a voice to women, which was the subject of our #ShareYourStory challenge last month, but you're also working to stop that deforestation and work to restore our earth as well. That's amazing! So, are there other environmental initiatives that are happening that MEDA's involved in?
Great Green Wall Initiative Plants Trees to Reduce Desertification
Mujtaba: Well, in addition to the briquette project, MEDA's also involved with the Great Green Wall initiative, where many of the sub-Saharan African countries are planting trees to reduce desertification. So, what they're trying to do is plant trees, and you'll see it during Earth Day, with countries like Ethiopia, Nigeria – they plant millions and millions of trees, all in one day. So, for Nigeria specifically, there were 9 states within northern Nigeria that fall in the Great Green Wall initiative, and 4 or 5 of them are the areas we're working in. We're working with local governments to also contribute and be involved to this initiative.
Stephanie: Amazing! So, let's talk about your journeys; how you folks found MEDA and what you've been getting out of the experience of working with all of these amazing initiatives.
Katie: I was really attracted to MEDA's sustainable solutions to poverty. I studied international relations in school, and I was very passionate about having a job that was meaningful, but I was very specific about what cause I would work on. MEDA's cause – the blending of business with areas like environment and gender equality were two areas that I was very passionate about, but then I added on new areas – impact investing, for example. Learning what that is and why that's important, how people's investments can change the world and further climate-safe practices and environmental sustainability. My own understanding of the issues and causes I cared about intersected perfectly with MEDA's business. And so MEDA's work is really galvanizing because I work at MEDA and I see the sustainable solutions. We just had a report and we went back to a project in Pakistan that closed four years ago to see the long-standing impact. So I can see the sustainable longevity of the work that we do, and that's really inspiring.
Mujtaba: I studied environment in my undergrad and my Master's program, and my focus was on climate change, specifically climate change adaptation. I wanted to see if there were organizations out there that can make the positive changes in the communities that I grew up in, and I wanted to see if I could bring some of that positive change there. Seeing the growth of environment and climate change within MEDA has been great, and it's been great to be a part of it! To see that we're going into these new projects and current projects and we're making this positive contribution, we're providing proper training, and we're learning about these local communities and some of the traditional methods of how they're tackling climate change. Things you can't just read about; unless you're there and you see it in person, it's really hard to understand.
Stephanie: That's phenomenal! So, I wanted to finish off the interview with this final question – what's one thing you'd like our viewers today to know about the financial costs of climate change and how it impacts them?
Addressing the Financial Costs of Climate Change
Mujtaba: It's a very interesting question, because when you think of the financial costs of climate change, you hear people saying "oh, we have to spend more of our taxes", or "we have to spend more on this and more on that." It makes it seem like a burden. But, what's harder to see is that climate change is a long-term challenge. We could provide facts - $2.9 trillion is the cost of extreme weather and climate change impacts over the past decade globally. But we can't put a number on the loss of people's livelihoods, income, or even people's lives – these are things we can't put a cost on. So, that's something I'd want to say – if you invest now on trying to solve a particular challenge, you'll reap the benefits 3, 4, or 5 years down the line.
"We could provide facts, but we can't put a number on the loss of people's livelihoods, income, or even people's lives."
Climate change is unavoidable. A focus on mitigation and reducing greenhouse gas emissions is great and it solves the problem for future generations, but things such as adaptation, where you're trying to properly ensure you have climate-resilient infrastructures, and seawalls, and drought-resistant seeds – these are here for now, and they're going to solve our current problems so that we can continue to adapt and continue to survive.
Stephanie: Amazing! Thanks so much to both of you, Katie and Mujtaba, for being on the line with me today and sharing your story! We look forward to seeing what MEDA does in the future!
To learn more about MEDA, visit their website and connect with them on Facebook, Twitter, LinkedIn, and Instagram.
Ready to Share Your Nonprofit's Story?
In our continuous effort to give back and support the nonprofit sector, we have recently launched this #ShareYourStory initiative. Each month has a dedicated topic/cause. We're asking nonprofits and charities to share their stories related to the topic/cause of the month. We'll review the submissions and vote internally to choose one story to share with our broader audience on our website and other digital channels.
MEDA's story above is our story of the month for April. May's #ShareYourStory challenge will centre around International Day of Families on May 15, 2021. Got a story you want to share about how your organization is supporting families as it pertains to your mission and objectives? Fill out our form before Monday, April 19th, 2021 to be considered. If you want to learn more about this initiative, or topics for the other months, please reach out to us.