By Jaime McMahon, VP of Sales & Marketing, ProServeIT Corporation
IT disasters strike everyone – sooner or later. It's understood that, in today's world, it's not a matter of if an IT disaster will strike, but when. Unfortunately, many people either don't believe that a disaster will strike, or they believe, but they're inadequately prepared for one.
Per a 2014 survey done by the Disaster Recovery Preparedness Council, 73% of organizations consider themselves to be failing in terms of disaster readiness. In particular, small businesses typically believe that disaster preparedness strategies are only needed for enterprise-scale IT budgets.
The good news is that there are solutions out there that organizations of any size can take advantage of when formulating or modifying their Disaster Recovery Plans. One of those solutions is Microsoft's Azure Site Recovery (or ASR), which is a cost-effective, Cloud-based solution that can be utilized in multiple scenarios.
In this blog, we'll be looking at how Azure Site Recovery compares to other similar Disaster Recovery solutions out there today.
What is Microsoft Azure Site Recovery?
A true public Cloud Disaster Recovery service is on-demand, heterogeneous and automated. Microsoft Azure Site Recovery protects many environments, including physical servers and virtual servers (Hyper-V or VMware). For more information on Azure Site Recovery, click here to read more about it or watch an on-demand webinar with a live demo.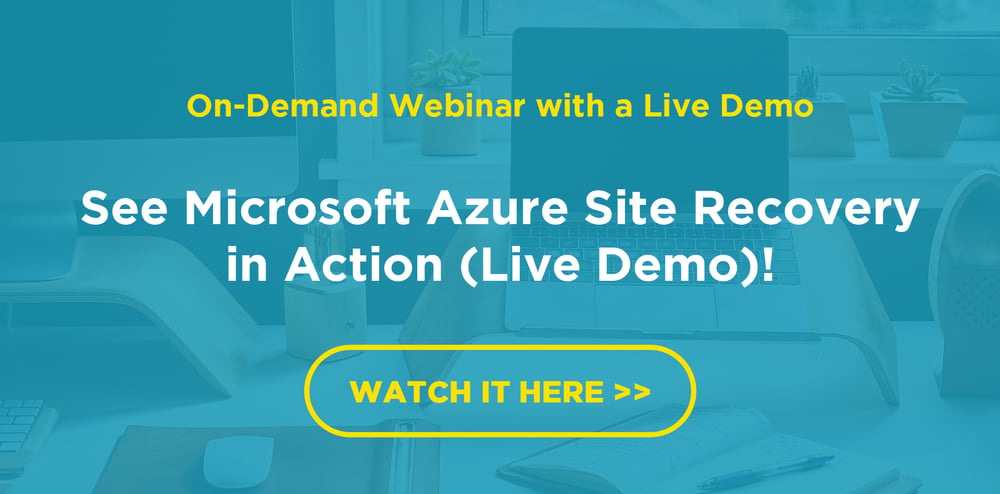 Azure Site Recovery vs Other Disaster Recovery Solutions [Comparison]
Now let's turn our attention to the various Disaster Recovery solutions that are available on the market today, and how they compare to Azure.

Disaster Recovery Infrastructure
When comparing the Disaster Recovery infrastructure between the various options, it's clear to see that Azure Site Recovery is the most cost-effective of them all.
An Active-Active Deployment environment essentially means you're running two separate environments – one at your datacentre and one at your Disaster Recovery site. Because you're running two separate environments, this is a very expensive Disaster Recovery solution for organizations.
Storage Replication (replicating storage from one site to another) has costs associated with this option, depending on the specific replication options and storage platforms you choose. Like an Active-Active deployment, it requires maintaining two separate sites.
Third-Party options (like DoubleTake) requires you to pay for a duplicate environment, so, similar to Active-Active, it's a more expensive option.
With Azure Site Recovery, you won't need any additional infrastructure, and beyond a minimal monthly fee to host the data, you only pay when you fail over to your backup environment (e.g. in the event of an actual disaster).
Simplicity
Disaster Recovery options are only good when they're simple. In a disaster, you need a solution that's simple to use to get you back up and running in the least amount of time.
An Active-Active Deployment environment is essentially like you're running two separate environments, so there are complexities that come with this particular Disaster Recovery solution. Most of the complexities come in maintaining the environments as during an actual disaster failing over is simpler as it is already running.
Storage Replication is on level with Azure Site Recovery from a complexity perspective in the sense that at the secondary site the failed over environment will need to be brought up.
Depending on the specific vendor you're working with, Third-Party solutions can have a propensity to be more complex because, generally speaking, you'll still need to maintain multiple environments. In addition, you'll need to understand what app consistency your third-party vendor supports and doesn't support.
With Azure Site Recovery, you get protection and recovery options to restore to. Depending on the types of applications being protected, restoring is also simple in that the images are enabled and brought up in whatever order is specified during configuration.
Drill Support
It's always important to be able to test your Disaster Recovery solutions before an actual disaster strikes. These 'fire drills' help you to understand how your organization will be able to recover in the event of a disaster.
Because you're running two separate environments with Active-Active Deployment, it is impossible to initiate a Disaster Recovery test without actually 'bringing down' production and accepting risk if the second active site works.
Storage Replication typically doesn't offer the ability to actually test your environment and ensure that your system is secure in the event of a disaster.
When using a Third-Party solution, depending on the vendor you're using, there is a level of complexity involved with trying to do a disaster recovery test. Also, most do not natively support 'fire drill' capability and require interacting with other solutions (like Azure Site Recovery) to support this.
Azure Site Recovery can run Disaster Recovery drills as often as you need them. These drills can be run in a completely isolated environment that allows external users to perform UAT and ensure that the applications and data actually perform in a disaster scenario. This provides the highest level of confidence in the Disaster Recovery investment being made as there is demonstrable evidence that the plans work.
Application Consistency
In a disaster, you need to know that your applications are consistent, capturing your data and your transactions in process as they happen. Not every Disaster Recovery solution, however, offers the application consistency you need.
An Active-Active Deployment solution will offer you very good application consistency. Typically these solutions require native application awareness (or be provided by the application vendor) in order to work.
There are a variety of concerns around application consistency when using a Storage Replication solution, and it is generally understood that this is not the solution if you're looking for application consistency, or needs to be paired with application level replication.
Again, depending on the vendor you're using, you may run into issues with application consistency when using a Third-Party solution, however, for the most part you'll have good application consistency when using this solution.
An Azure Site Recovery solution will offer you excellent application consistency, and can also be combined (as necessary) with active-active solutions (like for Active Directory) to give a best of both worlds solution.
Recovery Time Objective (RTO)
This is the maximum time from which you declare a disaster to when your systems are back up and running. In a disaster, especially if your business offers any type of service, you need your systems to be back up and running as fast as possible.
With Active-Active Deployment, your systems are back up and running within a very short period of time. Because you have two separate environments running simultaneously, it's very easy to switch over from one environment to the other – that is, in fact, the main reason that most people will spend the extra money to implement this kind of solution.
Storage Replication solution RTO typically falls short against the other options, again depending on vendor and deployment. They typically require at least one additional step (restore the storage volumes) that the other solutions don't.
Similar to Active-Active Directory in the sense that you're essentially maintaining two separate environments, a Third-Party solution will offer you a relatively good RTO.
Because your system is mirrored in two virtual environments, Azure Site Recovery can get your system back up and running within minutes of failing over to your backup virtual site. The RTO will not be as good as with an Active-Active solution, however will only lag that solution by minutes.
Recovery Point Objective (RPO)
This is the maximum time in which data may be lost due to a system outage. In a disaster, especially if you're in an industry where your data is more important than the systems that run them, you need your data to be as accurate and up to date as possible.
Active-Active Deployment offers a consistent RPO.
Depending on the vendor and configuration, the asynchronous nature of Storage Replication typically lags the other solutions.
Depending on the vendor you choose, a Third-Party solution will offer a consistent RPO.
Because your system is mirrored in two virtual environments, Azure Site Recovery is fairly consistent with both active-active and third party solutions.
Let ProServeIT Help You with Your Disaster Recovery Solutions
We understand that Disaster Recovery planning can be overwhelming and confusing to many organizations. ProServeIT works with organizations like yours to provide a fully-managed Disaster Recovery as a Service (DRaaS) program to help you with adequate disaster recovery planning. Why not start today with a complimentary consultation to get your questions answered and learn how you can utilize our expertise for your Disaster Recovery planning? Contact us now!