Did you know that Azure ATP security can tell you if there are threat actors within your organization?
There's nothing more chilling than realizing that a threat actor has been sitting in the background of your IT network, spying on everything that you've been doing, and planning something nefarious. Hopefully, you're able to detect it before the threat actor does something, like embezzling funds from you by setting up a decoy website and demanding payments from your vendors (like this cautionary tale).
One question we often get from our customers is, "how do we know when there's someone in our network who shouldn't be there?" Well, thanks to Azure ATP, there's no longer the need to guess.
In this blog, we'll talk a little more about how Azure ATP security can help you to be proactive in the fight against threat actors. Read along for more information on how Azure ATP can help, plus see a case study of one of our customers who decided to be proactive in protecting their organization.
What is Azure Advanced Threat Protection (ATP)?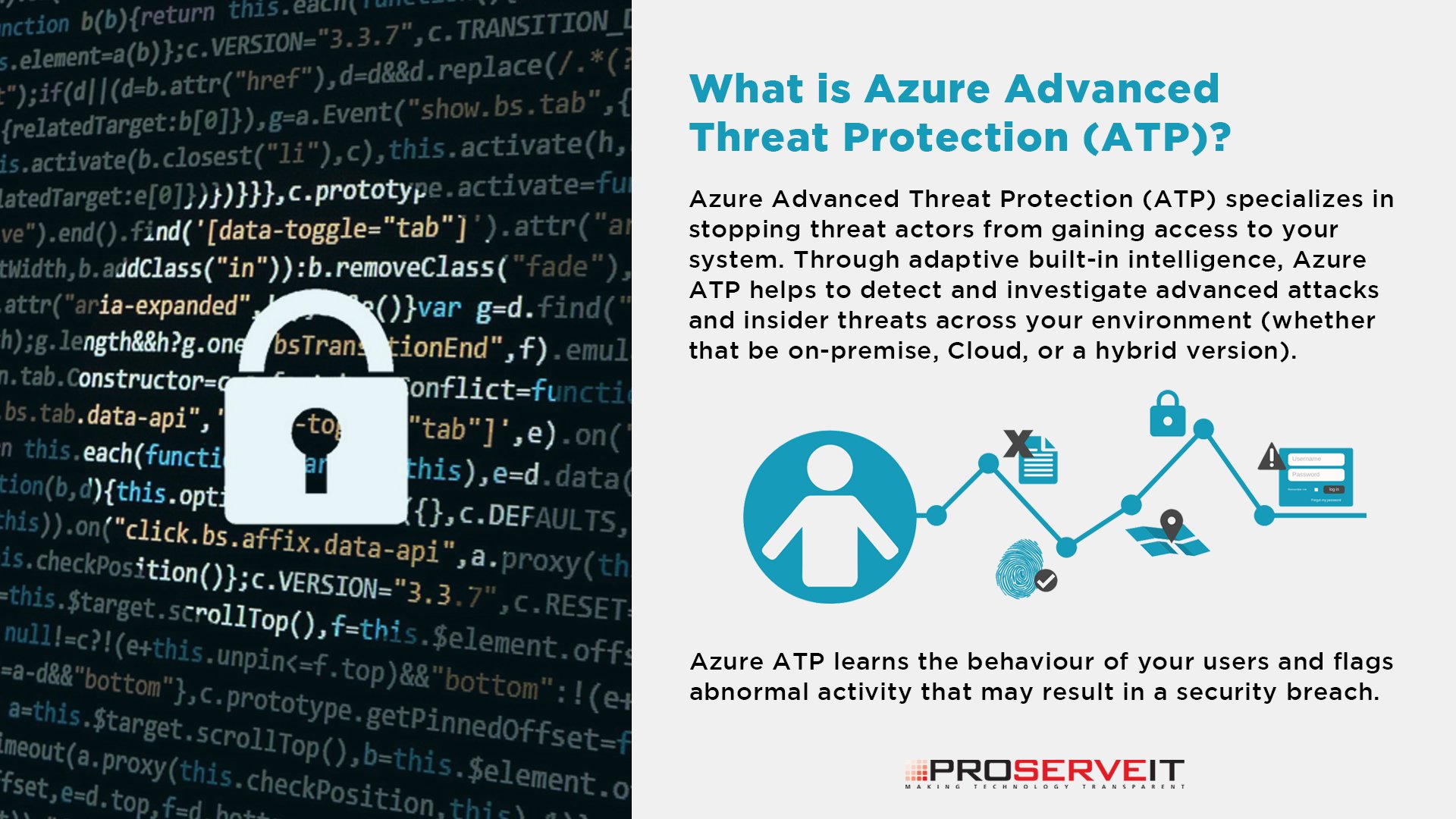 Stopping attackers from gaining access to your system is something that Azure ATP specializes in. Through adaptive built-in intelligence, Azure ATP helps to detect and investigate advanced attacks and insider threats across your environment (whether that be on-premise, Cloud, or a hybrid version).
Using information from logs and events in your network, Azure ATP learns the behaviour of your users and other entities within your organization and builds a behavioural profile about them. If your user does something that seems abnormal, Azure ATP will flag alert you of that suspicious behaviour, so you can see what's happening and confirm whether or not it's a potential attack.
Azure ATP Security: Be Proactive in the Fight Against Cybercriminals
With the ability to identify and track abnormalities within your network, Azure ATP security provides you with a great opportunity to be proactive in protecting your environment. Consider the fact that research from Microsoft shows threat actors will typically go undetected for more than 146 days in an organization's network before they're either detected, or they make their move. Your IT environment isn't like a house – there are far more "nooks and crannies" within your IT environment where threat actors are able to hide away, out of sight, out of mind.
But with Azure ATP security in place, you can identify abnormalities, illuminating those "nooks and crannies" and exposing any nefarious threat actors that may be in your system. If any abnormalities are detected, they are flagged for you to review. If desired, you can set up an automated report within Azure ATP that will send you an email whenever something's flagged that something in your network requires your attention.
A Case Study: How Azure ATP Increases Your Security Posture
Recently, ProServeIT engaged in a Cybersecurity for Executives session with a professional services firm that focuses on communication and event management. During the cybersecurity discussion, ProServeIT introduced the concepts of bad actors and the differences between building bigger walls, prevention technologies and detection technologies. These concepts led to a discussion about Azure ATP, Office 365 ATP, Windows Defender APT, and Multi-Factor Authentication (MFA) as tools that could help them with prevention and detection.
When the CEO of the organization heard the statistic about the threat actors being in a system for more than 146 days before being detected, it was quite eye-opening for her. The fact that someone could be in their network without their knowledge was something that she couldn't ignore and wanted to address immediately. To manage this risk, the CEO subscribed to a Fully Managed Azure ATP environment, Security Managed Services were a key to helping detect and protect their systems and data.
Working with ProServeIT, the company built on the deployment of Azure ATP and also implemented other security tools, like Office 365 ATP, Windows Defender ATP, and MFA to further secure their environment.
Get Started Securing Your Environment with Azure ATP Security Today!
Azure ATP, as part of a holistic approach to your organization's cybersecurity initiatives, is a great way to detect threat actors who might be lurking in the background, flag abnormal behaviour that could be a potential security breach, or identify and track abnormalities within your network. Are you concerned about the security of your IT environment and interested in how Azure ATP can help your organization? Talk to us about how you can get started using Azure ATP today.
Or, are you interested in running your own Cybersecurity for Executives engagement? We can help with that, too! Contact us to book yours today!