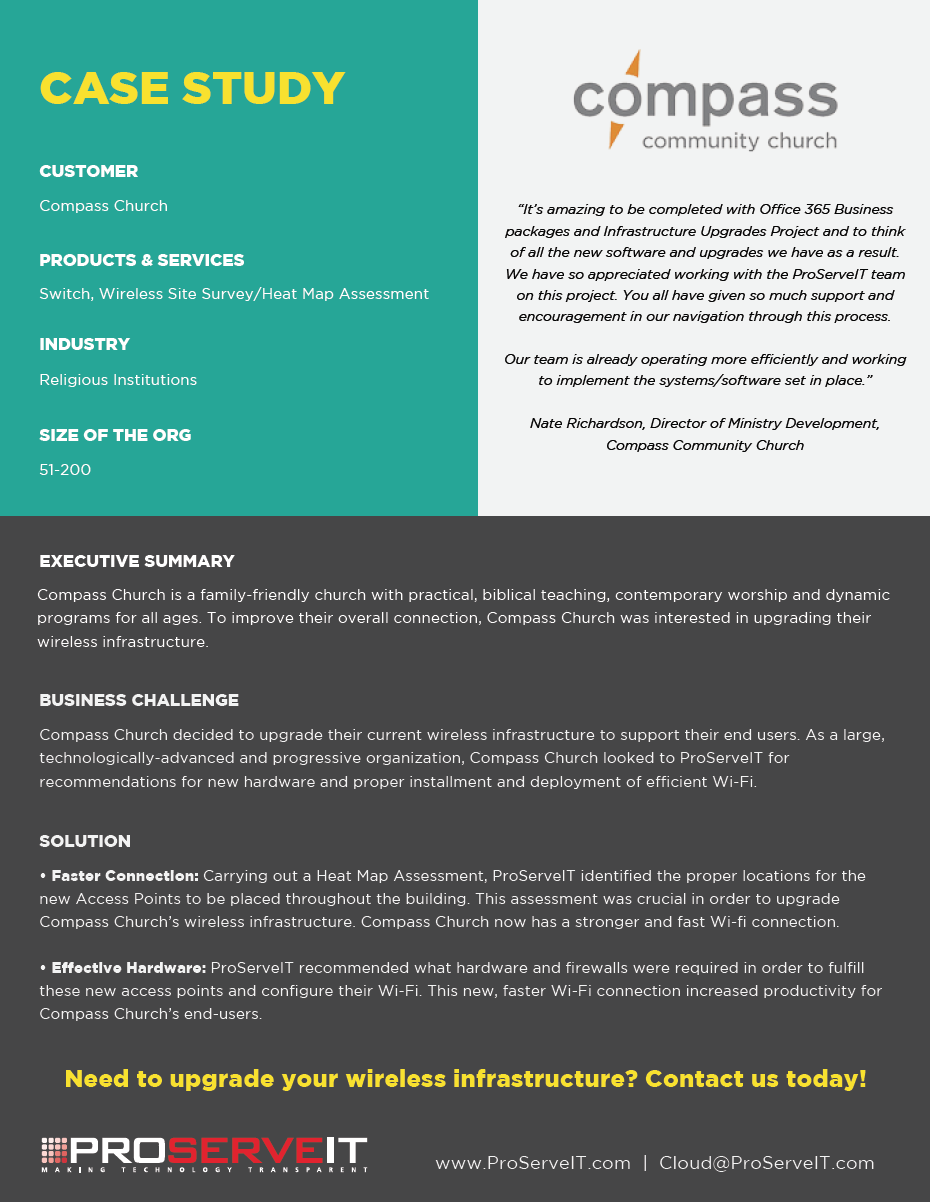 Compass Church: Office 365 & Infrastructure
"It's amazing to be completed with Office 365 Business packages and Infrastructure Upgrades Project and to think of all the new software and upgrades we have as a result. We have so appreciated working with the ProServeIT team on this project. You all have given so much support and encouragement in our navigation through this process.
Our team is already operating more efficiently and working to implement the systems/software set in place. We are very grateful to the ProServeIT team for your help in getting us to this point. On behalf of the Compass team, I just want to say a huge thank you for your service to us."
Nate Richardson, Director of Ministry Development, Compass Community Church
Executive Summary
Compass Church is a family-friendly church with practical, biblical teaching, contemporary worship and dynamic programs for all ages. To improve their overall connection, Compass Church was interested in upgrading their wireless infrastructure.
Business Challenge
Compass Church decided to upgrade their current wireless infrastructure to support their end users. As a large, technologically-advanced and progressive organization, Compass Church looked to ProServeIT for recommendations for new hardware and proper installment and deployment of efficient Wi-Fi.
Solution
• Faster Connection: Carrying out a Heat Map Assessment, ProServeIT identified the proper locations for the new Access Points to be placed throughout the building. This assessment was crucial in order to upgrade Compass Church's wireless infrastructure. Compass Church now has a stronger and fast Wi-fi connection.
• Effective Hardware: ProServeIT recommended what hardware and firewalls were required in order to fulfill these new access points and configure their Wi-Fi. This new, faster Wi-Fi connection increased productivity for Compass Church's end-users.
---
Client Compass Community Church Industry Nonprofit/Religious Institutions Size 51-200 Finished On-Going Website www.thisiscompass.com