A strategic IT Roadmap is a process that identifies gaps between your business needs/objectives and your current technology capabilities and comes up with recommendations to close the gaps. The objective of a strategic IT Roadmap is to help organizations leverage IT as a critical business advantage so that they can increase productivity and reduce unnecessary costs. Check our recent post where we outlined seven key benefits of an IT Roadmap.
A strategic IT Roadmap is helpful for not only a leadership team but also IT professionals as it can help them effectively communicate the benefits of upgrading and implementing IT infrastructure. Your IT Roadmap will provide an IT team with an opportunity to be on the same page with the leadership team and have an efficient communications around future technology investment.
Related: IT Roadmap Benefits – How an IT Roadmap Complements IT Professionals' Work
An IT Roadmap can be confusing to many, as there are other similar processes and documents out there. This post reviews common myths and misunderstandings about IT Roadmaps, explains how a strategic IT Roadmap helps to marry business leadership and IT professionals in one common cause, and talks about some of the results you'll see from going through this process within your organization.
---
5 Myths of IT Roadmaps
1. An IT Roadmap focuses on technology only
The Reality: A strategic IT Roadmap starts with interviewing an organization's executives and board, to determine what the overall business goals and objectives of the organization are. From there, we'll delve further into the technology layer of the business to determine how technology can help or support those business goals and objectives.


2. An IT Roadmap is aimed at technology professionals, not senior leadership.
The Reality: It's a known fact that technology is a critical business driver that can give organizations like yours a competitive advantage. And it is possibly only if it's closely aligned with the business's overall goals and objectives. A strategic IT Roadmap will help a business leadership team really understand the strengths and weaknesses of their current technology infrastructure, including how the technology is supporting and enabling their business goals and objectives.


3. An IT Roadmap only benefits companies in trouble.
The Reality: Just because the system seems to be working fine doesn't mean it is. If, for example, your organization has multiple points of data, difficulty tracking customers, or any paper-based processes within your organization, these are indications that there is an opportunity to make your process streamlined and a lot more efficient.


4. An IT Roadmap is too high-level without a clear sense of how to implement the recommendations.
The Reality: A strategic IT Roadmap is meant to be a clear and concise, multi-year technology strategy for your organization. The final document that you're presented with includes a comprehensive list of cost estimated recommendations that must be done, should be done, and could be done.


5. IT Roadmaps are just another way to sell your services to us.
The Reality: The recommendations we provide in the finalized IT Roadmap document can be done by anyone, using products that would work best for your organization. While we are fully capable of assisting you with the recommendations and upgrades that we suggest, our list of recommendations can also be followed by your own IT team.
A Strategic IT Roadmap: What Does the Report Look Like?
The IT Roadmap is a tangible document that fully outlines and explains all of the findings during the assessment we conduct. This document is typically 40-70 pages, and is broken down by each section evaluated.
The document will outline the key business needs that were discovered during our research, and the detailed recommendations (i.e. suggested action items) that were also identified in the order that they should be done (i.e. "Must Do", "Should Do" and "Could Do"). When necessary, we'll also provide you with a sample budgets for those recommendations.
Want to see the sample report? Join us for our IT Roadmap webinar. Our IT Roadmap executives will walk you through the report. During the review of the report, the floor will be wide open for you to ask any questions you have.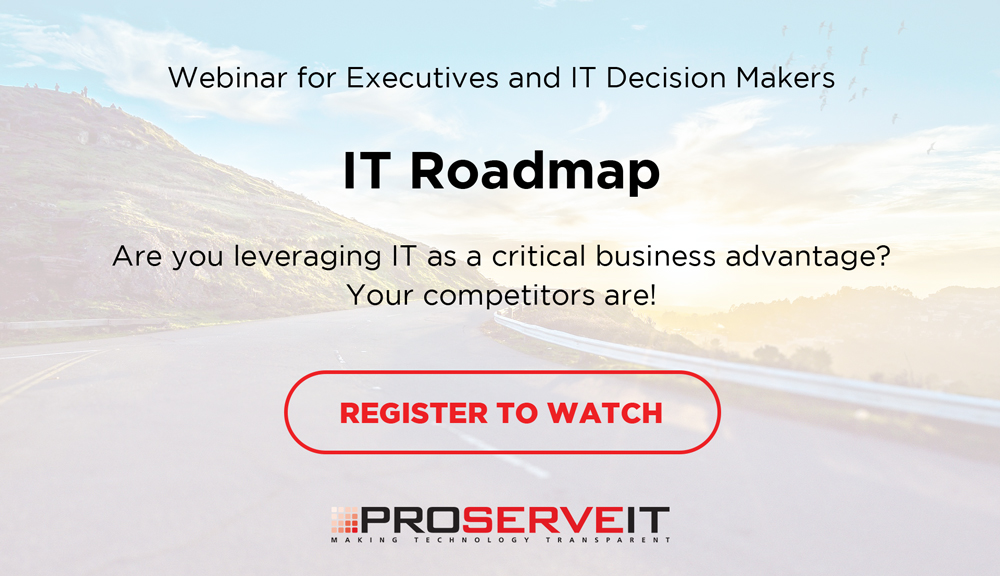 With a Strategic IT Roadmap, Leverage IT as a Critical Business Advantage
If your business leadership and technology teams are struggling to see eye-to-eye (especially about budgets), or if you feel that your technology might be holding your organization back from reaching certain strategic goals and objectives, it's time for an IT Roadmap. Don't delay – reach out to us now to begin your own customized IT Roadmap.
Related Posts:
This blog was co-written with David Reimer of Reimer Consulting Inc.
About David Reimer / Reimer Consulting Inc.
David Reimer is an independent consultant specializing in IT Roadmap assessments and business consulting. With over 35 years of experience in multiple industries, David has a strong executive perspective on technology, coupled with a deep understanding of business mechanics.
About ProServeIT
For over 15 years, ProServeIT has been helping companies of all sizes, in all industries, understand how technology can be utilized to increase productivity and drive innovation and growth within the organization.