By: Stephanie Baskerville, Content Writer, ProServeIT Corporation
Some might say that millennials and technology go together like gin and tonic – after all, Millennials were practically born with a smartphone in their hands, so why wouldn't they be tech-savvy geniuses raised on the bounty of technology? As a representative of actual Millennials (those born between 1981 and 1996), I'd like to go on record to say that nothing could be further from the truth.
Sure, we have a solid grasp on technology, compared to some of the older Gen X'ers or Baby Boomers out there, but we're also old enough to remember when a personal computer took up an entire desk, the monitor took two people to move, and the piercing noises of dial up modems still sometimes haunts our dreams. I know I'm showing my age when I say that I was 7 when I got my first Walkman, I played Duck Hunt, Track and Field, and Mario on the original Nintendo Entertainment System, and I got my first CD and Sony Discman when I turned 10.
With all the technological changes that I saw as a kid, it's fair to say that I'm not a technology guru. And just because I'm a Millennial doesn't necessarily mean I can fix your computer (something I frequently have to point out to my parents)!
But I digress. This blog isn't about the myths and misunderstandings of Millennials in the workplace (although, don't get me started on that subject!). Instead, I'd like to talk about something a little more relevant. Whether or not you want to believe the misconceptions you hear about my generation, the reality is that we'll be making up 50% of the workforce by 2020, and by 2030, that overall percentage will jump to 75%. So, given this reality, I'd like to give you four important tips for keeping Millennials happy at work.
Why Keep Your Millennials Happy at Work?
Before we dive into the good stuff, let's look at why you should be worried about keeping those Millennials who work for you happy (I mean, aside from the fact that we're going to be the majority of the workforce in 11 years).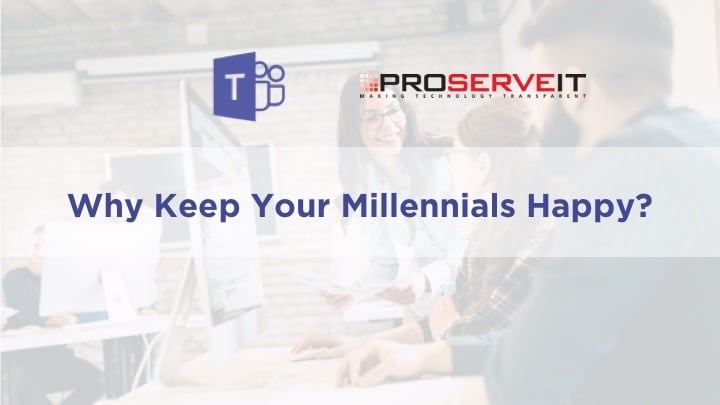 It should come as no surprise that happier employees have a direct correlation to your organization's productivity and profitability. Gallup's 2017 State of the Global Workplace report, in fact, suggests that employees who are highly involved in and enthusiastic about their work and workplace are 17% more productive, and 21% more profitable.
Happy and engaged employees also help your organization outperform your competition. In fact, according to this article on employee engagement, businesses with engaged employees outperform businesses with low engagement by 202%.
To summarize, keeping Millennials happy at work will make them more involved, more enthusiastic, more productive, and more profitable for your organization, while also giving you a leg-up on your competition.
4 Tips for Keeping Millennials Happy at Work
Now that we've understood why you should keep Millennials happy at work, it's time to look at how you can. Below, I've outlined four key tips to help you keep your Millennials happy.
#1: Encourage Collaboration in the Workplace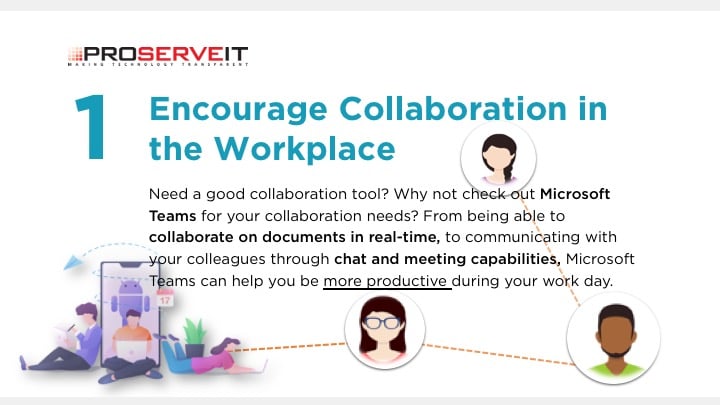 We may have another stereotype for always asking other people's opinions before making a decision (hint: we don't), but Millennials thrive in a collaborative and engaged environment. Want us to be happy at work? Offer the chance to collaborate on projects! We enjoy the chance to participate in something that will make a positive contribution to the overall success of the company.
Need a good collaboration tool? Why not check out Microsoft Teams for your collaboration needs? I can't tell you how much easier Teams has made my day-to-day interaction with my colleagues. From being able to collaborate on documents in real-time, to communicating with my manager and colleagues through chat and meeting capabilities, Microsoft Teams truly allows me to be more productive during my day. As a bonus, the Teams app for my smartphone helps me to keep my fingers on the pulse of what's happening, and through the Teams app, I can even collaborate on documents from my phone. So I can stay productive, even if I need to leave the office.
---

#2: Offer Flexible Work Hours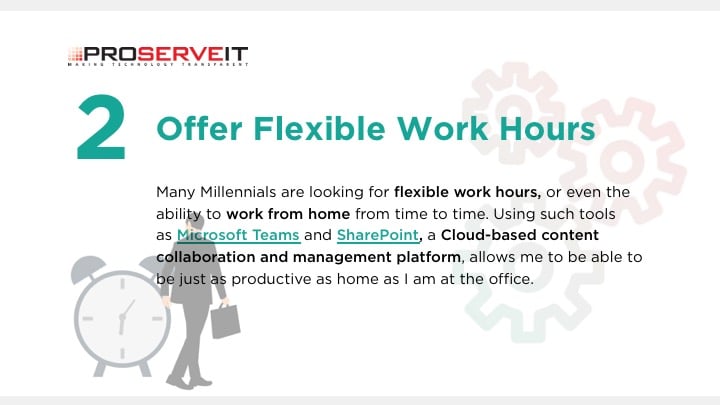 Ask anyone who knows me – my husband, my parents, even my former colleagues! – and they'll tell you that one thing I've always struggled with is getting up in the mornings. The phrase, "not a morning person" doesn't even begin to cover how much I loathe seeing 7AM on my phone ('cause, you know, who has clocks anymore?).
My aversion to early mornings isn't something that's inherent to me – many Millennials are looking for flexible work hours, or even the ability to work from home from time to time. The fact that I get this flexibility at ProServeIT has made a world of difference in terms of my happiness at work. And offering me the chance to work from home when I need to is a huge blessing. Using tools like Microsoft Teams and SharePoint allows me to be just as productive at home as I am at the office. Want to learn more about SharePoint? ProServeIT's on-demand webinar & eGuide will get you started!


#3: Four Important Letters: BYOD!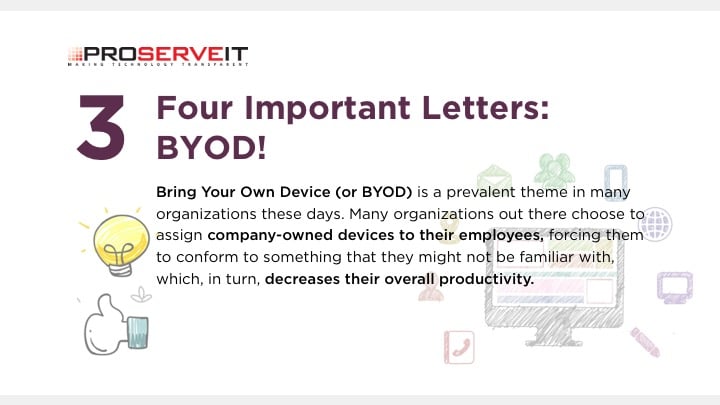 Bring Your Own Device (or BYOD) is a prevalent theme in many organizations these days. Many organizations out there choose to assign company-owned devices to their employees, forcing them to conform to something that they might not be familiar with, which, in turn, decreases their overall productivity. Many people, and Millennials especially, are more interested in working with the technology they already know and love.
As someone who absolutely adores Samsung, I would be completely, utterly lost if my employer handed me an iPhone – after all, handing me an Apple product is like handing Superman some kryptonite. It just doesn't end well for anyone (except maybe Lex Luthor!). Which is one of the reasons I was so thankful that I could choose my own smartphone when I began working at ProServeIT (hint: I chose a Samsung). Being able to choose a phone I was familiar with had me up and running in a matter of minutes!
Want to be able to provide BYOD capabilities to employees in your organization? Check out how Microsoft InTune can provide you with solid endpoint management that will protect your data no matter what device is using it.
---
---
#4: Communication is Key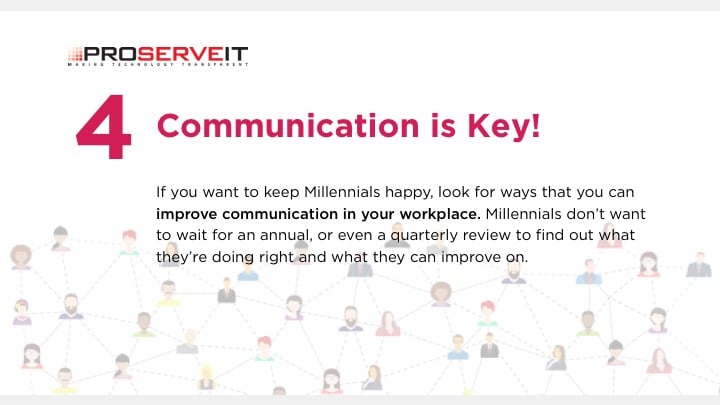 What's the first rule of any relationship? Communication is key! And we Millennials value communication a lot. We don't want to wait for an annual, or even a quarterly review to find out what we're doing right and what we can improve on. In fact, a recent study showed that, out of 1,000 employees across the U.S., 81% of them would rather join a company that values "open communication" over other perks. And a recent IBM study showed that 35% of the respondents are looking for a transparent manager who readily shares information with them.
If you want to keep Millennials happy, look for ways that you can improve communication in your workplace. At ProServeIT, our CEO holds "Open Office Hours" and "Town Hall Discussions", which provide all ProServeIT's employees with the option to not only hear about important company updates, (like policy and procedure changes or exciting news and events), but they also give us a platform to ask any pressing questions we have. In addition to this, our "no-doors" office policy has our Executive Team sitting in the cubicles right alongside us, so we can always approach them with questions or concerns we have.
Need Help with Millennials in the Workplace?
Keeping Millennials happy at work isn't all that difficult when you really consider what we're looking for. We want open communication and we want to know we're making a difference in the organization. We like collaborating with our colleagues. We appreciate flexible work hours and the ability to work from wherever we need to. And we prefer to use technology we're already familiar with.
The tools that I've discussed in this blog have helped to make my job easier and more fun. Interested in these tools, or other tools that can help you to address Millennials in the workplace? Give me a shout! ProServeIT has a lot of experience with these products and more, and our experienced staff would be happy to have a discussion with you about how you can keep Millennials happy at work!