When you hear the words "great customer service", what comes to mind? Maybe it's fulfilling your customer's requests. Maybe it's being a good listener and helping customers to resolve issues. Maybe it's being able to go above and beyond your customer's expectations. Or not playing the 'blame game' with your customers. Or making sure they leave feeling satisfied and positive about what they experienced with your company.
Regardless of how you see great customer service in your organization, there's no denying two things:
1) You need to put customer service first if you want to get ahead of your competition.
2) There are some amazing customer service tools that are available to help you put customer service first.
One such tool is Microsoft Dynamics 365 for Customer Service, and this blog looks at this tool in-depth! Read along to learn more.
What is Dynamics 365 for Customer Service?
Built to assist organizations with giving great customer service, Dynamics 365 for Customer Service provides a platform filled with features and tools that you can use to manage the services you are providing to your customers. Things like;
Tracking customer issues, creating tickets, and ensuring that various cases are seen by the right people,
Recording all the interactions that take place in relation to a specific case,
Sharing information with your customers via a knowledge base,
Creating and scheduling services, creating and tracking service levels through Service Level Agreements (SLAs), and defining service terms, and
Managing the performance and productivity of your customer service staff through various reports and dashboards that are built into the platform.
To learn a bit more about Dynamics 365 for Customer Service, check out this short video explaining how Dynamics 365 for Customer Service can help your agents solve cases faster and provide valuable support to your customers:

How Dynamics 365 for Customer Service Works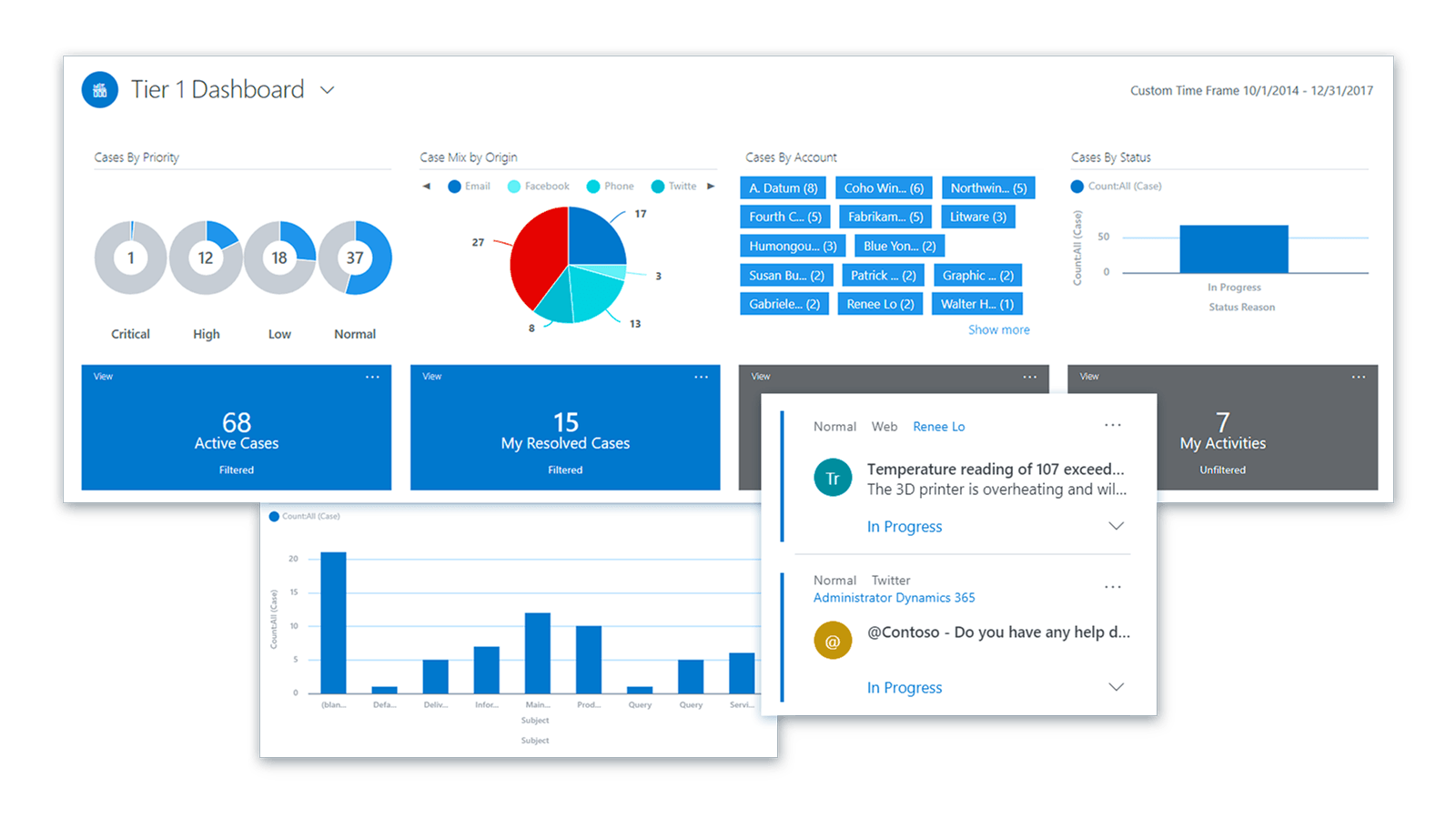 Source: https://dynamics.microsoft.com/en-in/customer-service/overview/
Dynamics 365 for Customer Service allows your customer service agents to deliver fast, personalized, professional support to your customers, regardless of the device they're using. Built-in capabilities allow your agents to see a full, 360-degree view of each individual customer's journey, giving insight into their buying processes, and helping them anticipate the needs of the customer, as well as being able to personalize every interaction they have.
There are, in fact, several other features of Dynamics 365 for Customer Service. Check out more information on how this can help your agents engage with customers on any device here, or use the button below to book your demonstration of Dynamics 365 in action!
Giving Great Customer Service through Dynamics 365
How easy are you to do business with? Do you have policies or procedures in place right now that can get in the way of the customer contacting you? One of the top customer service trends for 2019 is that customers are expecting more convenience from the companies they're dealing with. And, right alongside that particular trend, is the growing demand for self-service customer service. Customers don't just want a quick answer or resolution to their problem – they're demanding it.
Dynamics 365 is, as mentioned above, an innovative, modern, and adaptable platform that can help you adapt quickly to your customers' needs, including self-service capabilities.
Here are the top 3 ways that Dynamics 365 for Customer Service can help you give great customer service:
1. Delivering to Your Customers' Expectations
The bottom line of any organization out there is that you need to fulfill your customers' expectations. Without your customers, you don't have a viable way to sustain your business. When trying to live up to your customer's expectations, it's important to take into consideration this prevailing culture of instant gratification that we are living in. If they want a coffee, people aren't content to wait in line to order it – they've downloaded their favourite coffee store's app so they can order their coffee when they want it and pick it up at their convenience.
This culture of instant gratification doesn't necessarily need to be a bad thing for your organization, and, with the automation capabilities of a tool like Microsoft Dynamics 365, you can help your customers, even before they realize they need help! Check out this short video below for an example of what we mean:
2. Enhance Your Customer Journey
How, as a company, do you enhance your customer journey? How do you help your customers find out who you are, understand what you're offering, interact with your sales team, purchase your product or service, and come back for more? Further, are you providing them with easy ways to resolve issues that might come up, gather more information on the products they've purchased, and speak to live staff members when they have questions they can't answer themselves?
Part of enhancing that customer journey is embracing new technology, like Artificial Intelligence, in your organization. When people hear "artificial intelligence", they don't often think of how easy it can be to implement in their organization, but by implementing the AI capabilities in Dynamics 365 for Customer Service, you can reduce wait times, improve resolution rates, and increase overall customer satisfaction, which all works towards enhancing your customer's end-to-end journey.
HP Inc. deals with over 600 million contacts per year. See how they've taken advantage of Microsoft's integrations with artificial intelligence to enhance their customer journey in this short video:
3. Empowering Your Agents
Your customer service workers are arguably one of the most important points of contact for your customers to reach you. So, you want to make sure they have the best tools that empower them to do their work to the best of their ability. Above, we mentioned automation that enabled your team to proactively alert your customers to potential issues, but one of the great things about Microsoft Dynamics 365 for Customer Service is that the built-in automation works both ways.
With its intelligent automation, Dynamics 365 for Customer Service can guide your agents to the appropriate help actions, and show relevant information through the single interface, exactly when your agents need it. In fact, those built-in agent-facing bots can feed your agents the most relevant information to assist a client, use contextual data about the customer and about your business to make recommendations that would potentially avoid escalations, and make cross-selling and upselling recommendations as well.
In-app collaboration capabilities, combined with Dynamics 365's internal knowledge base can also keep your employees in-the-know, too. This short video below shows how Dynamics 365 for Customer Service makes it possible to empower your employees and give them the best chance to make a great first impression:

Great Customer Service with Dynamics 365 for Customer Service: What are You Waiting For?
Like what you've read? Think Dynamics 365 for Customer Service might be the right tool for you? There's no time like the present to explore your options, and at ProServeIT, we're all about helping you do just that! If you've been considering a Dynamics 365 implementation in your organization, our Dynamics 365 Jumpstart program is a great way to get started. Or contact us today to understand more about Dynamics 365 for Customer Service.