Technology is changing the way that many industries do business, and the construction industry is no exception to this. Whether that's using 3D printing to produce building materials, using drones to map out construction sites, or switching to robotics to work on job sites that aren't safe for humans, there's no doubt that technology will be a huge factor in the future of the construction industry.
However, those technological innovations may still be a few years away before they're considered mainstream. Here are 4 major construction industry technology trends that are happening now.

Construction Industry Technology Trend #1: Switching to Cloud-Hosted Software
In 2017, over 87% of the construction industry said they were open to using Cloud-hosted software. And it's no wonder why – the Cloud has been proven to be more cost-efficient, more agile, more flexible and more scalable than other solutions on the market today. With no servers or hardware to maintain on-site, or software that needs manual updates, the Cloud allows builders in the construction industry to get away with a smaller IT force.
Being able to collaborate with one another, share photos, documents or data, track inventory or time, or focus on logistics are just a few things that Cloud enables builders to do. The Cloud capabilities are important not only to your knowledge/office workers but also to your firstline workers (including engineers, construction workers, site managers, and architects). And giving them the right tools and technology to connect to each other digitally empowers them and increase your organization's overall productivity.
Where to start? To lower your cost as much as possible and have your journey to the Cloud as efficient as possible, start with a solid plan and roadmap that works for your organization. Talk to us if you are interested. We will walk you through the process.
Construction Industry Technology Trend #2: Understanding the Importance of Big Data
How can one truly make decisions without the data to back it up? Yet, even in 2017, 95% of all data in the construction industry is either being thrown out or just not collected in the first place. And, as it stands right now, a construction project on average spends 80% more than budgeted, which some attribute to a lack of real-time data being analyzed.
What can you do about it? In order to utilize all the data you have, implement a Business Intelligent tool, like Power BI. This will help you harness your big data to make smarter business decisions and stay ahead of the curve. Power BI, which is available on any device, at any time, can turn big data into business insights and allow you to delve deeper into your data.
---
Microsoft Power BI Live Demo

The BI Team at ProServeIT will be happy to provide you with consulting and performing a complimentary live demo of Power BI for you and your team.

---
Construction Industry Technology Trend #3: More Emphasis on Virtual Reality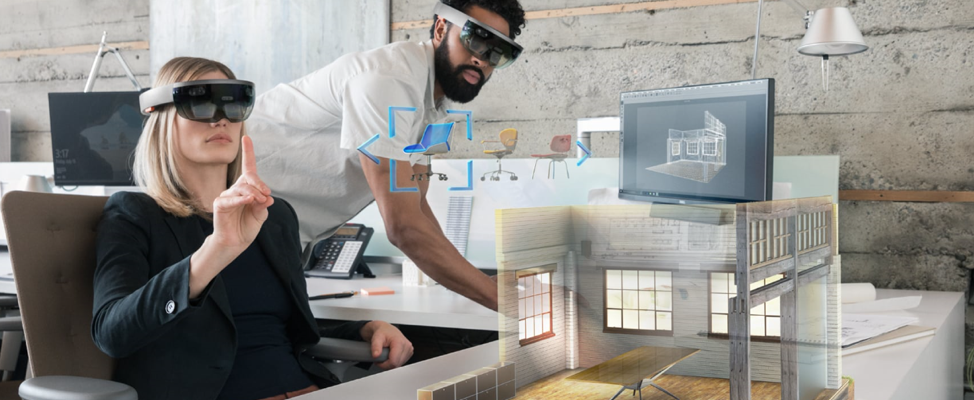 Another construction industry technology trend to be aware of is a continued emphasis on using Virtual Reality (VR). While not a new technology (VR's been a part of the Building Information Modelling process since 2015), the fact that a construction company can provide client with a virtual walkthrough of the property and talk through architectural ideas before building is becoming more and more of a selling feature for construction companies to adopt it.
As part of this technology trend, we're seeing VR being applied to provide health and safety site training and heavy machinery operation walkthroughs, too. Want more information on how to implement VR in your organization? Looking into the Microsoft HoloLens could be a good place to start. Watch the video below to see how it is currently used in the construction industry.
Construction Industry Technology Trend #4: A Shift to On-Site Mobile Capabilities
Remember when you had to send purchase orders through the mail, drive to various construction sites to pick up important documents, or play phone tag with site foremen when the client wanted a change in design? Are you still engaging in these activities? If so, you'll be happy to know that this particular construction industry technology trend aims to make all of those time-consuming, inefficient practices obsolete. Instead, construction companies will assuredly see a major shift to on-site mobile capabilities.
With a central repository (like SharePoint), work orders, purchase orders, permits, and other important documents can be accessed through any mobile device by anyone. Want to learn more about SharePoint? Talk to us to discuss how it can be used in your organization.