Within the SharePoint world, the word "branding" has a different meaning: it's not just about making it look like your branded site with your corporate colour scheme, your logo, etc., but it's also about customizing the look and feel of SharePoint so that your teams (end users) can easily adopt and utilize it to the fullest.
When your organization starts to utilize SharePoint, branding your SharePoint site is as important as an accurate, secure migration, effectively designing your SharePoint intranet portal to meet your content management needs, and using the attractive functions such as workflows to really improve the productivity within your organization.
Read along to learn why experts suggest you brand SharePoint, three key ways to brand your SharePoint site, and three ways to further customize your site to increase use adoption.
Reasons to Brand SharePoint
There's no question that SharePoint certainly can be used as-is, out of the box. But there are several reasons for why branding SharePoint to your organization's specifications are a good idea, such as:
Evoking an emotional connection from your end users, which increases employee adoption.
Branding to increase custom functionality.
Branding to support specific accessibility requirements that might be required by law.
Presenting your corporate image to the outside world (if you've got a public-facing SharePoint site, you'll need corporate branding).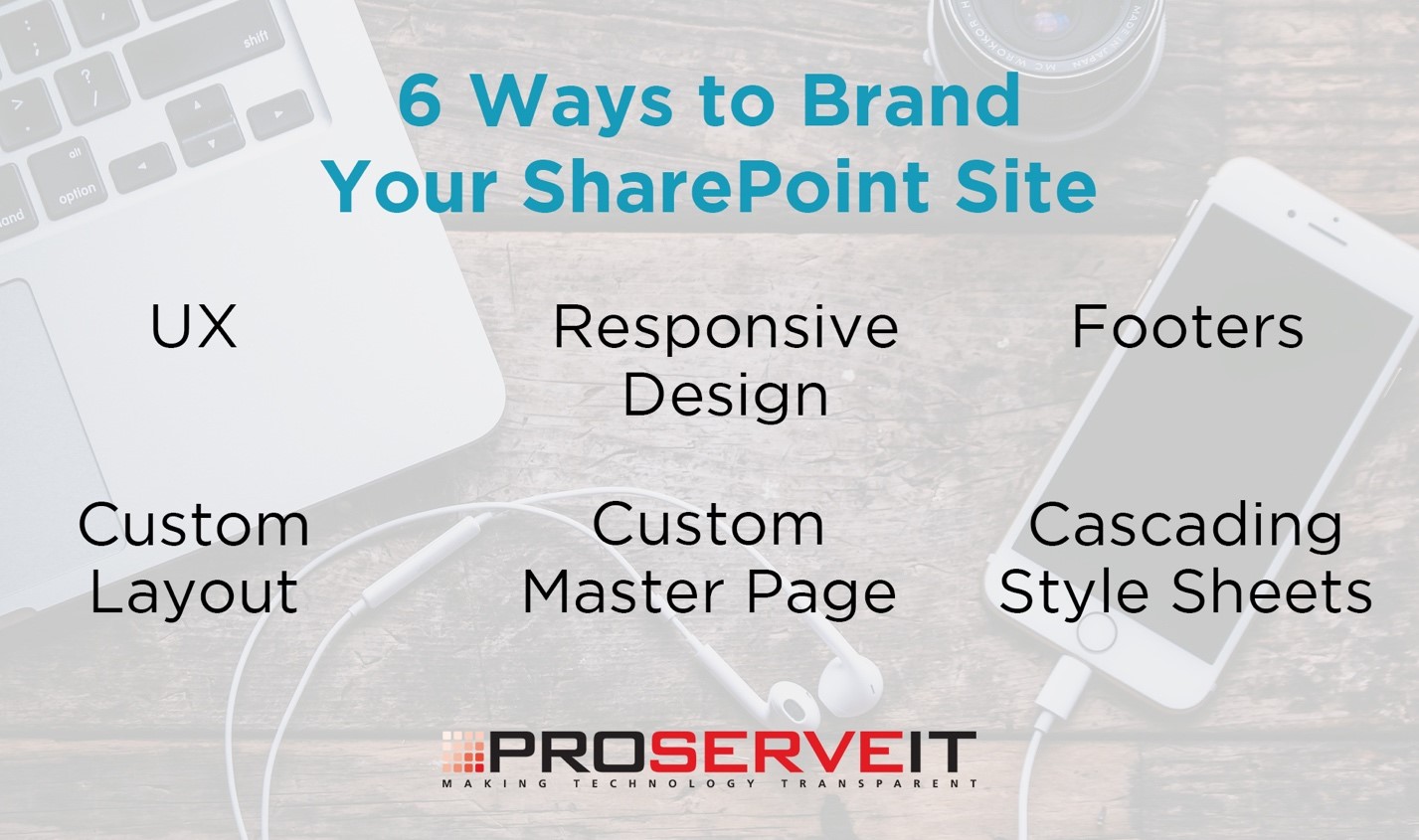 Branding SharePoint Site – 3 Key Ways
Whatever your reason for wanting to brand your SharePoint site, here are three key ways you can brand your site so that it's more user-friendly, and increases your users' adoption.
UX

The Issue: Making sure your SharePoint environment is user-friendly. Once your users disengage, it's very difficult to get them to reverse their thinking.
The Solution: Before making any changes to your SharePoint environment, carefully consider your end users. Things to think about: how easy is it for your users to access the content they need? Is there anything in the design that's tedious for them to accomplish? Are they able to navigate through SharePoint without issues? Does the flow work?
Why It's Important: Without a user-friendly SharePoint environment, adoption of the product is going to be almost impossible. Too hard to navigate, cumbersome to interact, not easy to find things – these are some of the reasons your end-users will ultimately reject SharePoint.
Responsive Design

The Issue: You want your SharePoint site to work on any device that your employees/end users might use.
The Solution: Responsive Design ensures that your SharePoint site is formatted to work on all devices, whether that be a desktop, laptop, tablet or mobile phone.
Why It's Important: Keep in mind that your end users are going to be visiting your SharePoint site from various devices. It's important to make sure that your site presents well on every device so that end user experience is consistent no matter what device they use.
Footers

The Issue: You want to make certain information, like most frequently accessed phone numbers, office addresses, and other frequently used information, accessible to your employees.
The Solution: Build in a Footer, just like many external websites you've seen.
Why It's Important: Footers keep information or links that your employees always go to at the bottom of the page. This will reduce the time that they spend on finding the necessary information, which will enhance their user experience with your SharePoint site.
Further Customization When Branding Your SharePoint Site
In addition to the three key ways to brand your SharePoint site that we mentioned above, here are three other ways you can customize SharePoint.
Cascading Style Sheets allow you to choose the fonts, styles and colours that you want to use. For example, you decide that all your internal pages should have Arial, point 12, black font, but headers on the page should be Arial, point 23, bold, and in blue font. These would be built into a Cascading Style Sheet.
Custom Layout allows you to select a layout (or type of layout) for a page. For example, you've decided that you will have a news article layout, which will be different than your document view layout or your search layout.
The Custom Master Page is the overall template for your site. This means that each page will have the same header, the same footer, and the same look and feel.
Branding SharePoint Enhances User Adoption and Increases ROI in Your SharePoint Investment
You've already invested in Office 365 (or are thinking of investing in it). So, you want to ensure that you create a good user experience for your employees, which will increase user adoption and ROI in your SharePoint/Office 365 investment. Branding your SharePoint site is an effective way to do so. Need help getting started? Give us a shout and speak to our SharePoint experts today.
If you want to learn more about how to best utilize SharePoint, here are a few relevant blog posts that will help you: