As we close out 2018, it is time to start looking ahead to what sales trends we can expect to see in 2019. After all, success is where preparation and opportunity meet.
With budgets due and strategic plans newly inked, every leader should see sales projections, marketing campaigns and tax season among the top priorities as they launch into 2019. Equally important, leaders must also think about major industry shifts and new technologies that will significantly impact the way they operate in the year ahead.
When it comes to growing your business through sales in the new year, we've identified the following 6 sales trends that leaders should keep top of mind for their business in 2019.
Sales Trend 1. Storytelling with Your Data – Take a deeper look at your CRM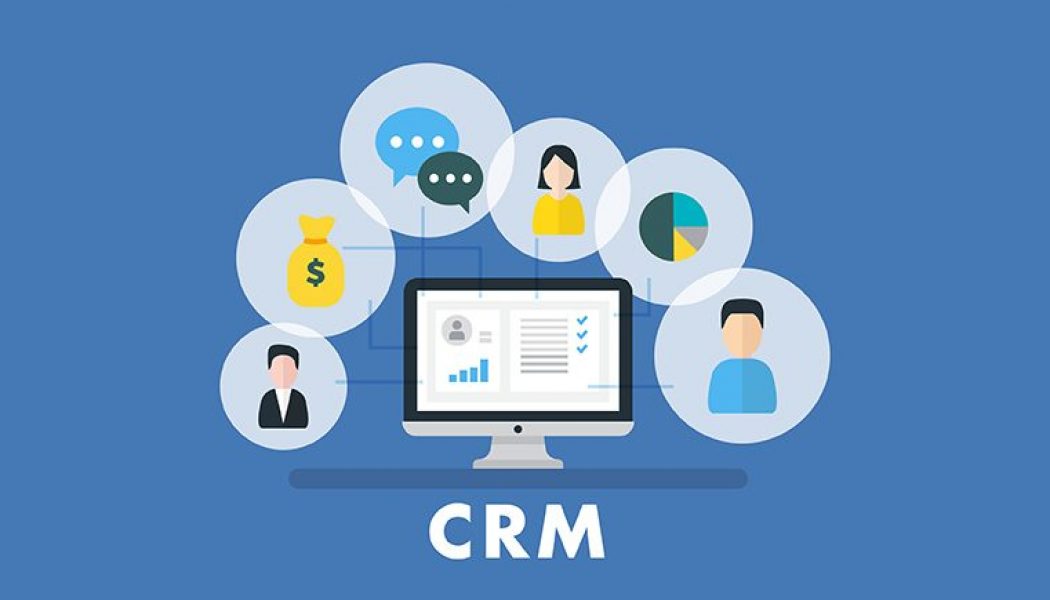 Big Data. Secure your data. Leverage your data. Data is a huge buzz-word that you've probably been hearing bandied around quite a bit in recent years, and in 2019, it's only going to get more prevalent. However, whether it's being tracked through a CRM like Dynamics 365 or through another method, data is only as good as the story you tell with it. Unfortunately, many organizations out there today are so focused on the process of collecting data, they often overlook the process of turning it into something useable!
Beyond just leveraging CRM for tracking activities and forecasting sales, we need to let the data tell a story. Dynamics 365 CRM is able to help you do just that. Arming your staff with a 360-degree customer view, you can collect specific information about accounts and opportunities from Outlook, Calendar, and Dynamics 365 CRM to weave a story of what that customer's likes and dislikes are, their spending habits, the products they're interested in, and much more!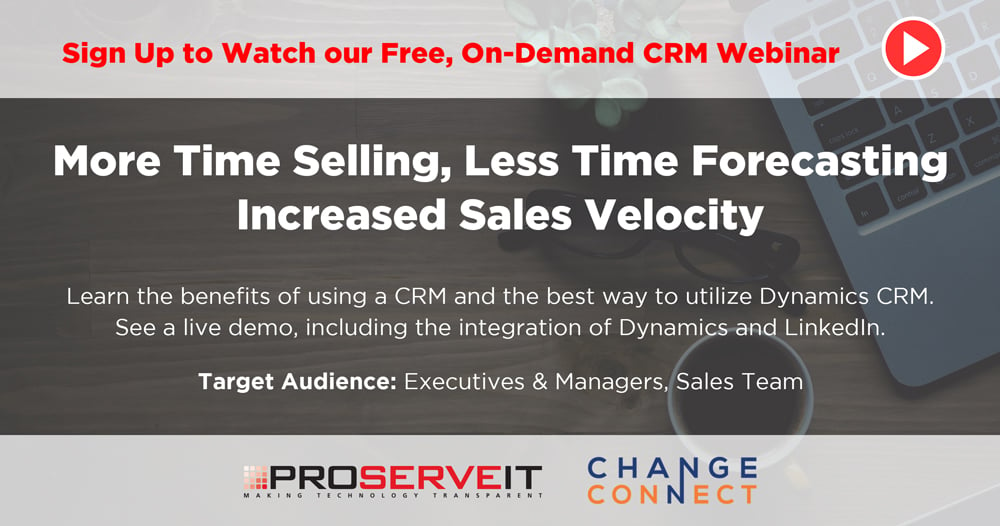 With Dynamics 365 CRM, you can better manage your business needs with more intelligent processes and predictive guidance. Want to see Dynamics in action? Check out our on-demand Dynamics 365 webinar for executives and managers to see how you can organize, analyze, and utilize your valuable data into smart business decision-making habits.
Sales Trend 2. Leveraging AI as your Real-Time Sales Team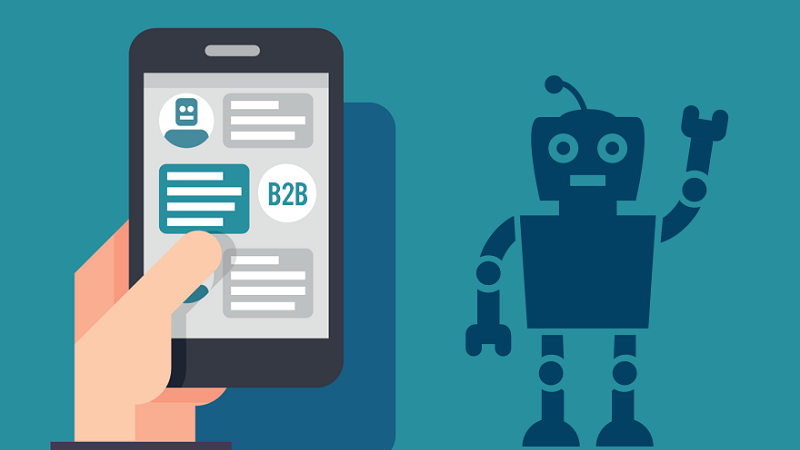 As leveraging data becomes more prevalent for small and medium-size businesses, one technology that is quickly becoming valuable is employing AI bots. Statistics from Grand View Research shows that the Chatbot market is expected to reach roughly $1.2 billion by 2025. Chatbots are able to answer and assist online consumers through a series of questions almost instantaneously. According to Forbes, 61% of baby boomers and 51% of millennials suggest that one of the main benefits of chatbots are their ability to provide a response to a question instantly, along with the aspect of the service availability 24/7. In the world of instant gratification, a 24/7 employee is pretty handy to have around.
AI has also infiltrated the CRM market this past year; in 2019, we can expect CRM tools to become more intelligent. A bot can predict multiple characteristics of a client including their churn rate, loyalty index, and even the threshold discount needed to keep a customer.
With the constant development of bots over the next few years, we can expect them to continue to play a large role in the sales and marketing world moving forward.
Sales Trend 3. It's all about the Customer Experience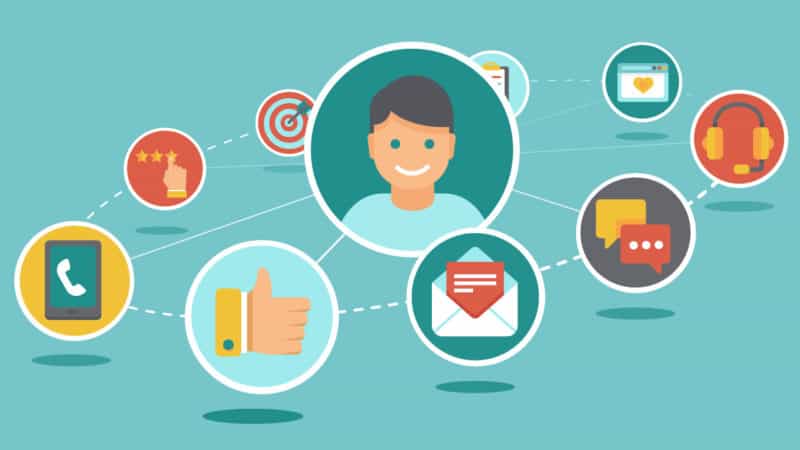 According to the 2018 ReviewTrackers Survey, 64% of consumers say that they are likely to check reviews on Google before visiting a business. With this in mind, it's fair to say that customer experience is more important than ever before.
The Forrester team said it best; customer experience is defined as how customers perceive their interactions with your company. Consider the following:
These statistics might not mean much to larger organizations out there that dominate the market they're in. But as a small to medium business? It's clear that you need to make your customers feel appreciated and do whatever's possible to positively interact with them or suffer the consequences.
The more positive experiences you can create for that customer, the more that customer is likely to become a promoter of your brand, thus increasing your brand awareness within the community. Word of mouth marketing is, after all, a timeless strategy, and is always effective.
A great way to measure your customer service experience is to use a tool like Net Promoter Score® (NPS), which gauges the loyalty of your customer's relationship with your firm and ranks it from a score of 1-10. You can complement your CRM and other metrics with NPS to gain insight into various points of the customer journey.
Sales Trend 4. Knowledgeable and Skilled Sales Representatives Are Key to B2B Selling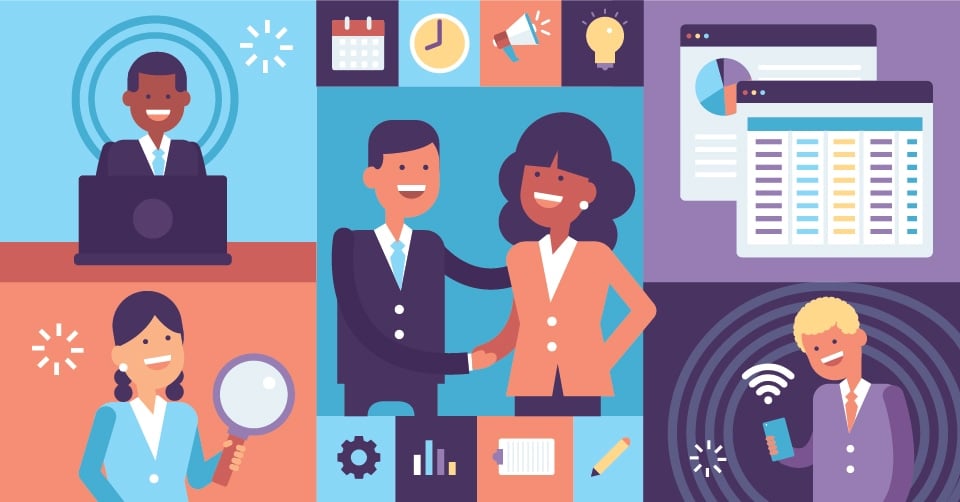 It may seem a little facetious for us to point out that you need knowledgeable and skilled sales representatives to sell B2B, but one of the more negative sales trends for 2019 is the phasing out of order-taking jobs, and the implementation of kiosks and automation. Globally, it's predicted that we'll be phasing out 1 million sales jobs by the year 2020.
We therefore need skilled and knowledgeable sales representatives that can understand a customer's needs, analyze data, drive trends, and put together a creative solution that addresses every pain point that client is currently facing. Customers are looking for someone who can help them sort through all the noise out there, who understands their unique problems, knows their industry, and can provide them with valuable, relevant, and tailored advice. A consultant, if you will, instead of a sales person. This great Hubspot article talks about how this consultative approach (also known as solution-based selling) is becoming a prevalent way to approach new and returning customers.
Sales Trend 5. Winning at Sales Recruitment
Finding talented salespeople is a challenge for many businesses in today's competitive market. Everyone wants the top people, or, more specifically, those individuals who have both the talent and the track record for being successful in sales. But how do you attract them? How do you make sure that they're the right people for your organization? Here are a few ways you can do so:
Keep an eye on your reputation. Customers aren't the only people online looking for reviews of your organization – many candidates are using sites like Glass Door to check you out before they apply for that job you're offering. So, make sure you take the time and build a solid reputation as a good employer.
Know what kind of employee you're looking for. Use a sales benchmark assessment survey or similar tool to develop a profile of your current top performers. When a new candidate gets far enough in the process, run them through an assessment to determine how close they match to your ideal profile.
Make sure you're offering competitive compensation. This can be a little tricky, especially for SMBs, but your compensation package needs to be as competitive as you can make it.
Always be interviewing. One of the worst positions you can be in is to find yourself short-staffed. So, keep potential hires close by adding them to your social networks, inviting them to your events (especially the ones that show off your corporate culture), and asking them to join your mailing lists.
Sales Trend 6. Embracing the 'Gig Economy'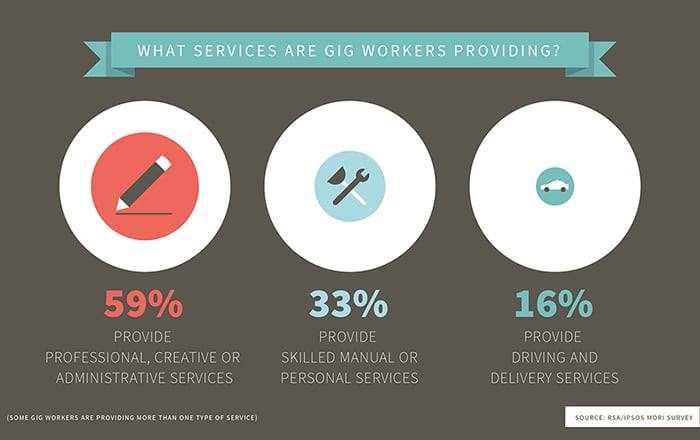 Traditional models for working are changing, and the trend towards a 'gig economy' (referring to the trend of hiring independent contactors and short-term workers and increased availability of workers for these short-term arrangements) has become more apparent. In fact, Intuit estimates that "gig" workers represent 34% of the workforce, and will grow to be 43% by 2020.
Is your organization prepared for the reality of hiring freelancers? Compared to regular employees, independent workers are said to be more engaged, more innovative, and have high worker satisfaction. But according to IBM Center for Applied Insights, the shortcomings of an independent worker are their commitment to the company and their collaborative skills, which can be potentially damaging within a team setting.
Office 365 has a great set of products that can help you bring these freelancers into your organization:
Helping freelancers become more involved in your business's core values from the minute they sign the contract will lay the foundation for a natural commitment to your company.
This blog post is co-authored by ProServeIT and Change Connect. We publish a monthly blog specifically written for small businesses. Some of the topics we have discussed include security, CRM, Cloud computing, and Business Intelligence (BI). Click here to view a list of the previous co-authored blogs for small businesses.
About ProServeIT
As a multi-award winning Microsoft Gold Partner, ProServeIT has been helping SMBs increase their efficiency for over fifteen years. We're constantly looking for ways to help our customers get the most out of their technology investments, and we love to introduce our small business clients to new tools that can help them be more productive. Interested in implementing Microsoft Teams, Office 365, SharePoint, or any of the other technology we've talked about in this blog for your small business? Talk to us to arrange a complementary demonstration of these, or other tools, that might be right for you!
About Change Connect
Change Connect specializes in helping clients to work more efficiently and effectively in pursuit of their revenue goals. We offer customized solutions for small to midsized businesses with a focus on Sales Transformation, which includes implementing strategic Sales and Marketing plans. Whatever stage your business is at, whether you're a start-up looking to expand or an established company looking to move from a plateau to record growth, Change Connect is your partner in transformation.  Change Connect – Making Sales Scalable.